Even David Frum Now Calls the Entire Project to Nation-Build Afghanistan "Hopeless"
Update: 10 Marines reported dead. Katie Pavlich hears it's 11, and expected to rise still further.
Update: 11 Marines dead, 1 Navy medic dead. Update:
8 Third explosion rocks Kabul

At least 11 US Marines, Navy Medic dead; Death toll exceeds 70

New threat reported at North Gate of airport

US officials report multiple US, civilian casualties

Suicide bomb explodes at Kabul airport gate, second explosion reported as car bomb

Taliban warned of potential terrorist threat

US State Dept warned Americans to "leave immediately" due to imminent threat

At least 3 US Marines injured

At least 12 civilians dead including kids

Gunfire reported

Posted by: SMOD
David Frum now says the US nation-building action in Afghanistan which he propagandized was always "hopeless." Incredibly, he seems to be pretending he
always
knew this.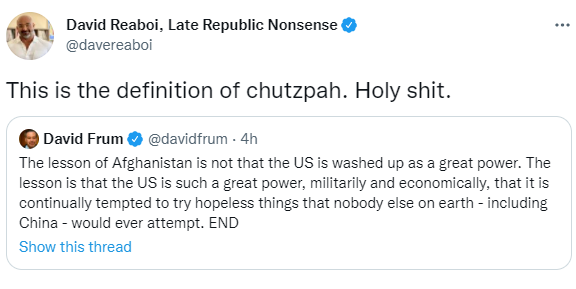 So he either is lying, because he's too narcissistic to admit he's ever made a mistake in judgment, or he's telling the truth, and admitting he concealed knowledge that a 20 year war was always "hopeless." I've pointed this out before: Our Ruling Class is so egotistical that they'd much, much rather say they just lied monstrously than admit they were merely
wrong.
Sean Davis just wrote about this disgraceful
Gollum.

Days after the invasion of Iraq in 2003, which was initially sold as a necessary pre-emptive effort to secure deadly weapons of mass destruction that Saddam Hussein planned to use against the American people, National Review ran an op-ed by former George W. Bush speechwriter David Frum attacking everyone on the Right who opposed the war as "unpatriotic conservatives." In the nearly two decades since it was published, the column has become something of a Rosetta Stone for deciphering the underlying motivations and mindset of the most ardent proponents of the idea that stable democracies can be imposed by military force from the top down. Like an insect captured in amber, Frum's essay is a near-perfect specimen of the neoconservative id, equal parts delusion and sanctimony. Frum attacked legendary conservative columnist Robert Novak for correctly predicting that America's foray into Afghanistan would be a "futile slaughter"; he attacked Pat Buchanan for correctly predicting that America's military might wouldn't be enough to overcome its ignorance of Afghanistan's culture and history; and he characterized the entire movement of conservatives who opposed the neoconservative plan to democratize the world through military conquest as Vichy apologists whose sole aim was to stand up for terrorist suicide bombers. And after tarring war opponents as Nazi collaborators, Frum transitioned to tarring anyone who opposed open borders and unchecked immigration as racist relics pining for the return of the KKK. "They began by hating neoconservatives," Frum wrote. "They came to hate their party and this president. They have finished by hating their country." "War is a great clarifier," Frum concluded. "The paleoconservatives have chosen--and the rest of us must choose too. In a time of danger, they have turned their backs on their country. Now we turn our backs on them." Frum, who was sent packing from his perch at the American Enterprise Institute for his refusal to do much of anything in exchange for his six-figure sinecure there, was right about one thing: war is a great clarifier.

Davis notes that after the successful invasions of Iraq and Afghanistan, and the overthrow of the governments in those countries, George Bush then shifted the goals of the war effort to reshaping Iraq and Afghanistan into western secular liberal democracies. And he used Frum-style rhetoric to get the troops to fall in line:
The subtext of Bush's address was no different than the overt charge leveled by Frum: if you opposed the bait-and-switch from defeating terrorists to nation-building all over the Middle East, either because you believed it be contrary to the purpose of the military or you believed it was futile and doomed to failure, you were racist and xenophobic.
Note that this was a President who had run for president largely on a critique of the liberal interventionists' keen interest in "nation-building," in using our military as social workers, local beat-cops, and under-fire construction workers to remake foreign countries to look more like Greenwich, Connecticut. And now here he was saying, "Nation-building now, nation-building tomorrow, nation-building forever!" And expecting us to go along with it. Which, I admit to my great chagrin, I personally did. I had reservations, I did notice the wrenching, lurching change in Bush's (and the GOP's, and my own) position on nation-building, but I Fell In Line as commanded and supported the New Soviet Nation-Building Program.

As we all now know, having witnessed the post-invasion debacle in Iraq, the disastrous Arab Spring, the pre-meditated murder of four Americans in Libya, the rise and spread of ISIS, and the ignominious fall of Kabul in Afghanistan, the utopian vision of Frum, Bush, and Krauthammer was a lie. It was a lie that cost two decades, trillions of dollars, and tens of thousands of American lives and limbs, and it was an incalculably destructive lie that was sold by smearing its realist opponents as condescending, racist know-nothings who lacked both the brain and the heart to understand how the new world truly worked. The fall of Afghanistan should have shocked the architects of its failure back into reality. Instead, they've moved on as if nothing much happened at all and are now arguing that America should, nay must, allow tens or even hundreds of thousands of Afghan refugees into America immediately. Being wrong means never having to say you're sorry and being wrong about every failed foreign policy endeavor of this century apparently means you get to blather your way past America's worst defeat since Vietnam so you can instead talk about the need for open borders. The solution for failing to export American democracy to Afghanistan, you see, is to import Afghanistan into America. And wouldn't you know it, the same arguments and epithets deployed against opponents of America's failed wars are now being deployed against opponents of unchecked immigration. Moral blackmail is the stock-in-trade of the failed internationalist.

How discredited is Wilsonian Idealism now? Well, discredited enough that David Frum is pretending he was always against it. And discredited enough that
National Review is now turning against it.
The Fall of Afghanistan Calls for a Return to Realism By DANIEL TENREIRO
The dismal end to our two-decade Afghan misadventure should discredit the liberal-internationalist project for good.
National Review continues living up to its new motto:
Yesterday's news, Tomorrow.
Our recent escapades in the Middle East... started with a clear mission but eventually aimed to remake the region in the image of the West. The neoconservatives who spearheaded the war effort saw the spread of Lockean liberalism as the U.S.'s raison d'etre, while Wilsonian liberals saw the defense of democracy and human rights as a prerequisite for world peace. The Taliban;s capture of Kabul has rung the death knell for both these visions of American foreign policy, not only because democracy in Afghanistan failed, but because it failed as a direct result of the war's ideological mission. It is hard to believe now that, at the start of the war, a coalition of U.S. forces and local militia defeated the Taliban swiftly and easily. Two months into the conflict, an alliance of Tajik, Hazara, Uzbek, and Pashtun warlords had, with the help of the U.S., expelled Taliban fighters from all of their major strongholds and sent Osama bin Laden fleeing. It would have been possible then to declare victory and return Afghanistan to the system of tribal patronage that governed the country before the Soviet invasion in 1979 -- under either a restored monarchy or a coalition of warlords. This approach would have required accepting uncomfortable truths about ethnic allegiance and the limits of liberal values. For the true believers in the national-security apparatus, it would have undermined U.S. legitimacy by conceding that American ideals cannot be readily universalized. So, in one of the many ironies of the conflict, the U.S. opted to complete the project initiated by the Soviets: the construction of an Afghan nation-state. Democratic reform would create "an Afghanistan that is free from . . . evil and is a better place in which to live," George W. Bush said at the time.

LOL:
For their part, neoconservative commentators see the fall of Afghanistan as a failure of American will: "Afghanistan is your fault," writes Tom Nichols, the world's expert on everything. On this view, if we'd only stayed a little longer, built a few more roads, and trained a few more platoons, we could have created a functioning Afghan state. But the reality is that no amount of money or training can fashion a liberal nation-state from a hodgepodge of ethnic tribes with competing interests.
It's nice they're getting there now. But an apology to those who got there five years ago -- while being attacked by the neocons as insufficiently patriotic -- would not go amiss. Perhaps now the neocons will stop their unsophisticated, ill-educated, childish,
cultish
worship of George W. Bush as a god and practice of Bushism and Kennebunkport "Konservatism" as a religion? Dare I dream so large?