Outlasting Woke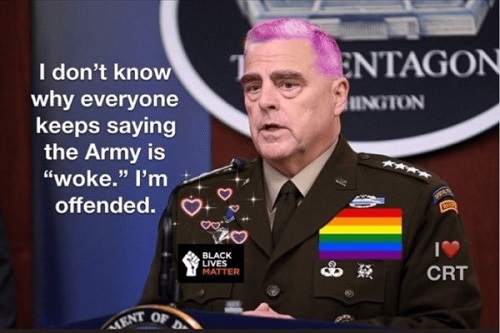 Mark Milley is furiously paging through his dog-eared copy of Robin DiAngelo's White Fragility looking for a solution to Afghanistan. Noam Blum
Check out the thread.
It's funny how frequently woke scolding comes at the expense of actually doing the thing you're supposed to be doing.
Time for Biden to go to Camp David and for the Joint Chiefs to check their Twitter feeds.
The Taliban outlasted the waffling westerners. We can outlast the woke.
QUOTES
J.J. Sefton pull-quote from Victor Davis Hanson, (Above the Fold 8/2):
Politically correct ideology is masking and contributing to the widespread failure of our institutions.
Seen on Facebook
- The late Neal A. Maxwell, an official in the LDS Church, speaking to students at BYU in 1974:
You're soon going out into a world full of marshmallow men. . . there is no core to these men, there is no center, . . . We are in a world of people who want to yield to everything - to every fad and to every fashion.
From a piece by Matt Taibbi on the vanishing legacy of Barak Obama, party animal.
It is amazing how complete is the delusion that beauty is goodness. -- Leo Tolstoy
Interesting piece by Peter Wood from a couple of days ago: From 9/11 to 1/6:
As the Taliban move in for the kill in Afghanistan, we once again turn away from the hard questions about how to sustain American pride in the face of people who abhor us and what American values mean if the world meets our ideals with contempt. One answer to these questions is a counsel of capitulation. Let us admit that we are now and always have been a rotten nation made up of hateful, conniving people who only pretended to be good. That answer has always had a few cynics in its corner, but it has become the presiding doctrine of the American left, a development which is itself one of the defining consequences of 9/11. At some point in the months following the attack, as the momentary sense of national unity cleared, the left began to adopt the 'we-deserved-it' narrative. Not everyone was as outspoken as Ward Churchill who called the office workers in the World Trade Towers 'little Eichmanns' or the Revd Jeremiah Wright who preached a sermon shortly after 9/11 that said of the attack, 'America's chickens are coming home to roost'. But in a quieter way, these ideas took hold. President Bush's wars in Afghanistan and Iraq crystalized the left's narrative that America's bellicosity was the problem. We had more to fear from domestic mistreatment of innocent Muslims than we had from Muslims bent on mass murder. This muddled view has birthed a generation that has nothing but misgivings about American virtue and American power. And it lies in the background of a brand new attempt to sacralize a new date: January 6, 2021.
The irony is that the Democrats' relentless exaggeration of what happened on January 6, 2021 might succeed in giving us the breakthrough realization of what happened on September 11, 2001. We will see that our leftist elite hates America and fears and despises that broad swath of the American people who reject their betters.
Then came this: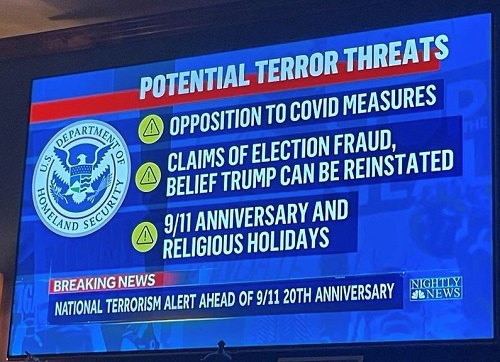 There are some details at the link above. At least if you believe the government's public statements, our intelligence agencies and military totally missed the Taliban's plans to rapidly take over Afghanistan (along with all that sophisticated military equipment we failed to remove). But they are certainly right about the threats above, don't you think? Peter Wood doesn't think so. He is writing a book.
Random Note:
It was apparently the 500th anniversary of the
fall of the Aztecs
yesterday. You may recall that the Ethnic Studies folks in California want to revive the Aztec gods to replace the white Christian God, but as woke gods - not as true Aztec gods.
Music
Don't let them take over your life. Their ideology is not sustainable. Here's some
street music.
Rodney Dangerfield
Can you sing it better than him? Know anybody who can? Under what circumstances? Here are the
lyrics.
The original version was composed for the opening of the first funicular on Mount Vesuvius in 1880. It was destroyed in an eruption in 1944. The current popular lyrics are not tied to the mountain.
This is the Thread before the Gardening Thread.
Serving your mid-day open thread needs
Hope you have a good weekend.
Posted by: K.T. at
11:23 AM