Saturday Gardening and Puttering Thread - March 20 [KT]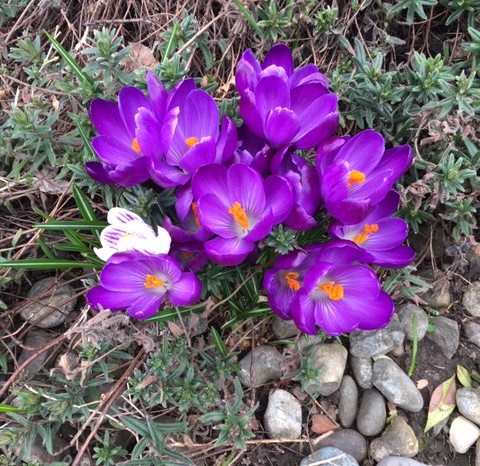 Diogenes
has some great looking crocus now! Is it getting to be spring where you are?
Wildlife
Not a lot of gardening pictures, after everything here in East Texas got wiped out by Winter Storm Younger Dryas! But here's some pictures from my birdfeeder that the birds were clustered around, when all was ice. A robin that just sat on my porch, wishing I would let him in; a cardinal in
the snow, a downy woodpecker; and a little olive green bird I haven't
quite been able to identify, although I believe it's a type of warbler.

- Tom Servo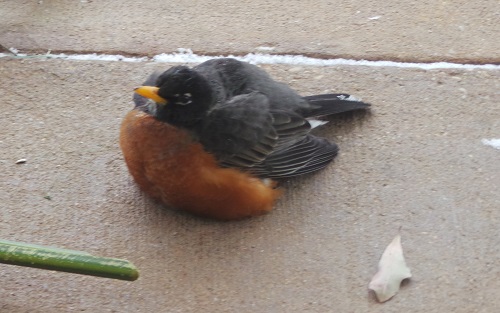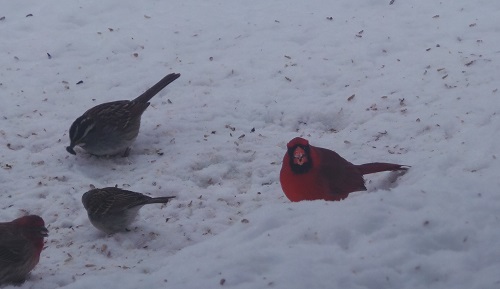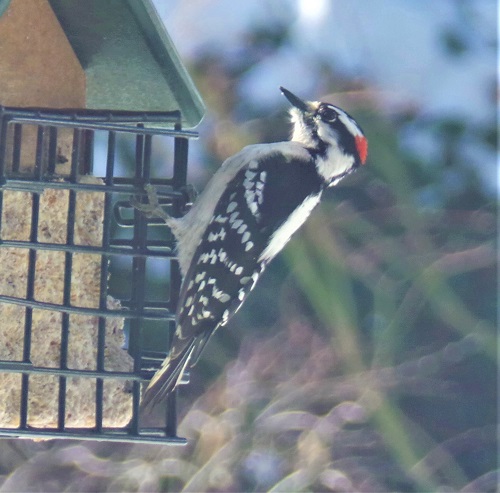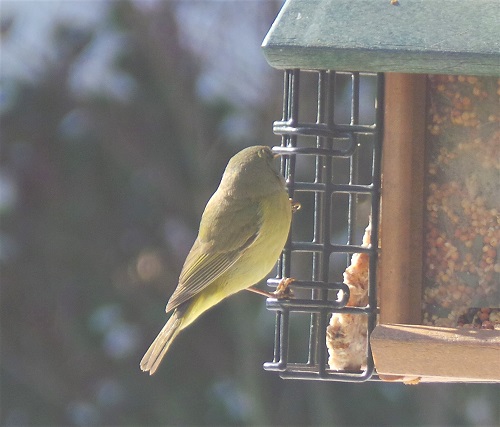 Anybody know what that last bird is?
Last Week
Great comment on
herons and a titmouse.
Heh.
Freezing raspberries.
Mmmmm Pat* wondered how deep we wanted to go with ideas on
Prepping.
redc1c4 (IRL)
sends in tips on solving the seed shortage through swapping from
Garden & Gun.
Perhaps this video featuring VDH might inspire some thoughts. Take Me Home, Country Roads. It doesn't just discuss farming. It also discusses small businessmen, craftsmen and people who work with them -- people who are responsible for all facets of their own business. He suggests that you need a strong minority of these people to keep a civilization strong.
The video was inspired by an article on
The Triumph of the Country Mouse.
From June, 2020.
But millions will increasingly seek to avoid cities and will appreciate their virtual upsides from a distance without having to endure their real downsides. Wherever we live, in our dreams at least, we are all country mice now.
Meanwhile, City Journal tries to provide some
hope for the cities.
NYC has endured a lot. With a bleak scene of Central Park during the Great Depression. Our city brothers and sisters might want to keep some suburban and rural connections, though.
Maple Syrup
Tips for city slickers (and the rest of us) from
PointyHairedBoss:
This is what happens when it's too cold.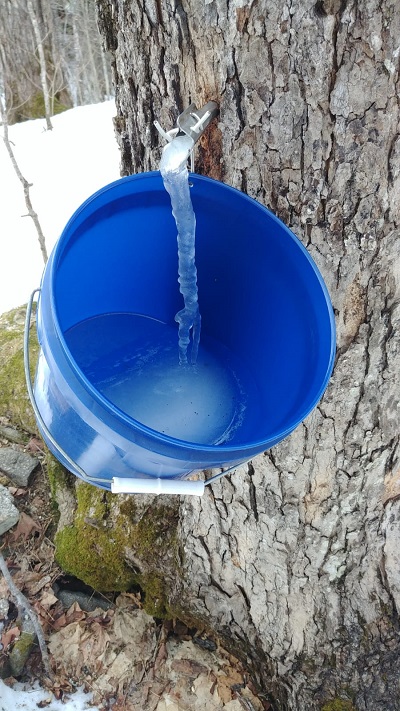 We just bottled our first batch of maple syrup - 3 1/2 liters. We usually wait until we have enough sap to get a 10-20 liter batch but it got too cold & the trees shut down for a few days. Better sap weather is on the way.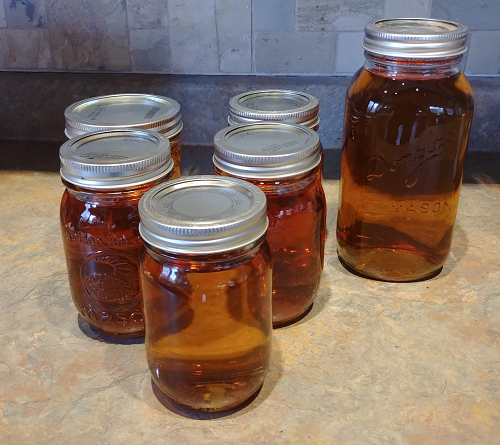 CBD's mouth is watering already.
Gardens of The Horde
Hey KT, Just sending another agave update. This picture is 10 days after the last one I sent in and it looks to me like it has grown 2.5 feet. I don't know how far back I will have to stand to get the next shots. I took a close up of the stem (not my best photography, still learning my camera I am afraid) so you can see the little flower buds forming. These will bloom and then all those flowers will become baby agave pups. The first time one of my agaves did this I planted two whole flats with pups making 50 agaves. Everyone I knew got a plant. Now I am more reserved and I only plant about 5. We are full on into spring here. Last night was 39 degrees but now it looks like we are headed for 80 degree days with lows no lower than 50 so it is off to the races for my spring garden. Hope the rest of the horde can get their hands dirty soon! Wee Kreek Farm Girl
Fascinating.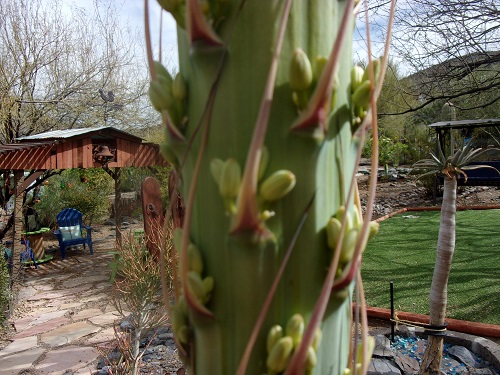 Getting Tall!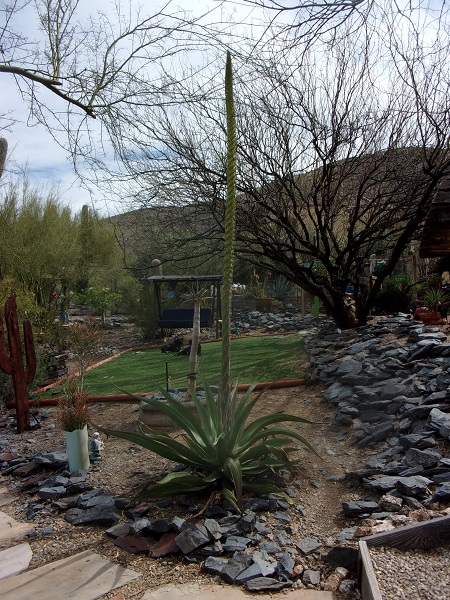 Here in the Central Valley of California, our Silky Gold tropical milkweed has finally produced a couple of seedpods, after blooming all fall and winter.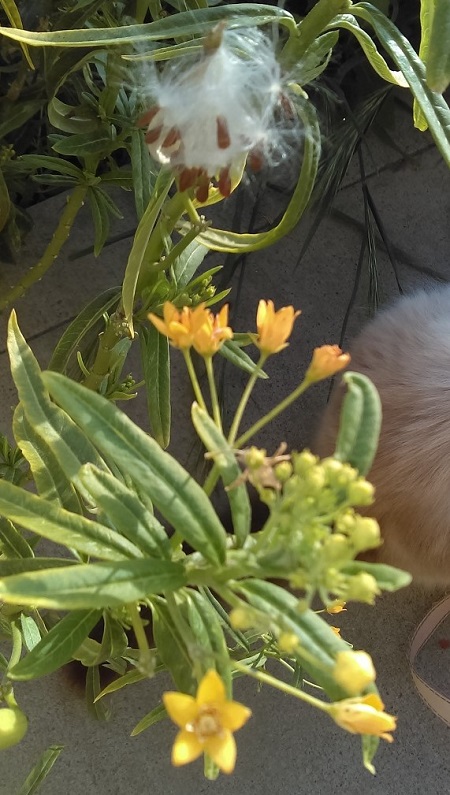 From our special friend in Florida, a more vibrant plant, with a ladybug.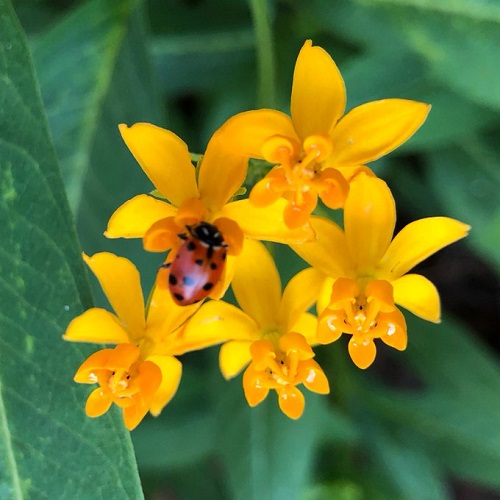 And a more traditionally-colored flower with a little Monarch Butterfly caterpillar. I don't think we are in the flight path here.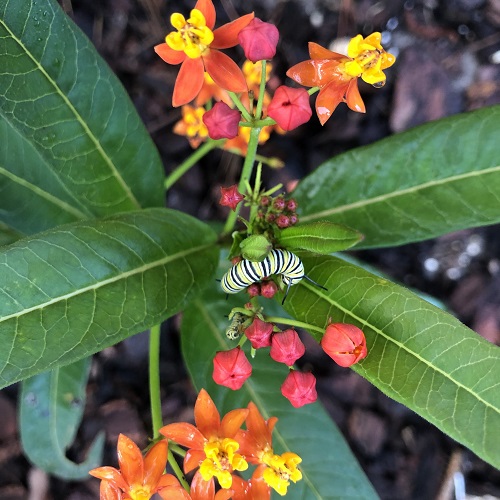 If you would like to send information and/or photos for the Saturday Gardening Thread, the address is: ktinthegarden
at that g mail dot com place Include the nic by which you wish to be known when you comment at AoSHQ,
unless you want to remain a lurker.