White adjacent? [KT]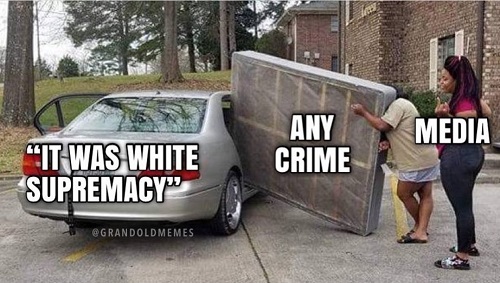 White supremacy, white privilege, white . . .
Last week, we talked about Critical Race Theory in Schools. Including the plan to implement
cultural "countergenocide"
against "White Christianity" in California schools. Since then, there has been some positive and some negative news on the Critical Race Theory front. Then there were the shootings in Atlanta. The news seems to be dominated by racial and ethnic issues. The insane Ethnic Studies program for California was passed by the authorities on its third try. Wenyuan Wu, the Executive Director at Californians for Equal Rights for Foundation writes at Legal Insurrection:
Two days before the California Board of Education voted to adopt a revolutionary Ethnic Studies Model Curriculum, a delusional white man in my home state of Georgia shot and killed eight people including six women of Asian descent in three massage parlors. Some connect the two events, positing that they demonstrate the ruling elites' pathological obsession with race, masqueraded as symbolic acts to help Asian Americans. This addiction to examining all social issues through the prism of race is harmful as it seeks to legitimize a claimed victimhood into our already balkanized society, inaccurately depicting historical and current events, and deflecting from a genuine search for meaningful redress.
California's Ethnic Studies Model Curriculum, aside from other glaring issues rooted in its foundational framework of critical race theory, also capitalizes on the "model minority myth" as a stereotype to highlight systemic oppression against Asians and a racial wedge between Asians and other people of color. Instead of celebrating best practices of many Asian Americans in defiance of historical marginalization, the ethnic studies curriculum points to 'white adjacent' power and privilege as the plausible explanation for Asian American success, stoking racial animosities and tensions. The radical narrative caricatures Asian Americans' reliance on hard-work, initiative, and emphasis on education, not as the agency of Asian Americans, but as the features of an oppressive system that strongarms Asian Americans into 'white adjacency,' separating them from other victim groups.
Could this become a factor in the Gavin Newsom recall?
More on the Asian angle:
Good. Now put it into action and
start firing them.
From the Richest County in America
During the week, Ace picked up the Loudon, Virginia Teachers Plotting to "Infiltrate" and "Expose" and Use "Hackers" to
Silence Parents Who Object to Critical Race Theory.
1. Fire them. 2. Ban them from ever teaching in a public school again. 3. Arrest and prosecute them for conspiracy to violate civil rights.
Here's a new development in this county, identified as the richest in the country in the linked piece:
Fighting Back
Ron DeSantis:
Let me be clear, there's no room in our classrooms for things like critical race theory, teaching kids to hate their country and to hate each other is not worth one red cent of taxpayer money.
That's how you do it.
Via Maggie's Farm,
Now it's really time to disrupt education.
Glenn Reynolds in the New York Post: To beat the woke tyrants,
we must treat them like the monsters they are.
He actually called them monsters. He referred to Taleb on
how the most intolerant win.
Interesting reading when you have some time. A couple of good videos
here.
A black woman confronts an Ohio school board for critical race theory indoctrination, plus Shelby Steele. Legal Insurrection has been doing some other good work on the Critical Race Theory front, too. They are now developing information on primary and secondary education to go with their information on higher education.
The video at this link
includes a simplified explanation of Critical Race Theory, without the postmodern complications. One thing that they have pointed out is that parents may have more legal recourse in public schools that in private schools.
Prep Schools and the Ivy League
The Legal Insurrection piece brings us back to the piece by Bari Weiss on
ultra-expensive Prep schools
that Ace picked up earlier in the month. A couple of quotes from that piece, about Critical Race Theory:
In this worldview, complexity itself is a kind of racism, nuance is a phobia, and skepticism merely a type of false consciousness. Ibram Kendi, author of How to Be an Antiracist, plainly spelled out the logic on Twitter recently: "The heartbeat of racism is denial. And too often, the more powerful the racism, the more powerful the denial." One teacher told me that he was asked to teach an antiracist curriculum that included a "pyramid" of white supremacy. At the top was genocide. At the bottom was "two sides to every story." "'Two sides to every story,'" he said. "That was on the racist pyramid.
"The Racist Pyramid"
sounds like a model for destruction of the capacity to think. We REALLY don't want these children growing up to run our country and educate our teachers. Time for alternatives to the Ivy League.
. . . Fluency in woke is an effective class marker and key for these princelings to retain status in university and beyond. The parents know this, and so woke is now the lingua franca of the nation's best prep schools. As one mother in Los Angeles puts it: "This is what all the colleges are doing, so we have to do it. The thinking is: if Harvard does it, it must be good."
"I am in a cult. Well, that's not exactly right. It's that the cult is all around me and I am trying to save kids from becoming members." He sounds like a Scientology defector, but he is a math teacher at one of the most elite high schools in New York City. He is not politically conservative. "I studied critical theory; I saw Derrida speak when I was in college," he says, "so when this ideology arrived at our school over the past few years, I recognized the language and I knew what it was. But it was in a mutated form." This teacher is talking with me because he is alarmed by the toll this ideology is taking on his students. "I started seeing what was happening to the kids. And that's what I couldn't take. They are being educated in resentment and fear. It's extremely dangerous." . .
Genocide Watch does not include "two sides to every story" on its
10 Stages of Genocide.
Where do you think the California Ethnic Studies Program, or the Criticial Studies Programs in elite prep schools fall?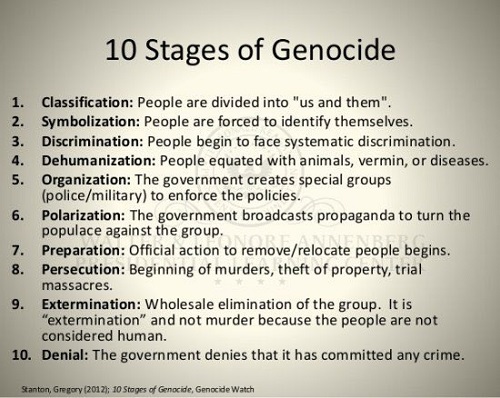 Another perspective: A piece in The Atlantic blasts the parents -- anxious, demanding elite parents who feel that their children have fewer prospects than they did. Well, The Atlantic piece blasts the schools, too.
Glenn Reynolds comments:
"As with the Ivy League itself, I wouldn't mind so much if they produced a higher class of graduates."
O.K. If the Ivy League wants to lead the way in destroying Western Civilization, require all Ivy League faculty and students to spend at least one year out of every four in Ghana, checking their privilege and just listening.
Maybe you can think of another good location for those "We Are Privileged" years abroad for the Ivy League.
Hope you have a great weekend. This is the Thread before the Gardening Thread.
Serving your mid-day open thread needs