Politicians "instilling confidence" by taking Covid vaccine are just instilling further hatred of our ruling class
[Buck Throckmorton]
Politicians getting Covid vaccinations to "instill confidence" is shaping up to be an epic face plant, making our loathsome rulers somehow look even more out of touch with the country they are aggressively destroying, all in the name of saving us from the Wuhan Flu.
In the various family and social circles of my wife and mine, there are many health care workers and several seniors, along with the normal collection of people with various health issues and stages of disease recovery. Some have had Covid. A few got very sick, but most didn't. Some have probably had it asymptomatically and never knew it. The husband of one social acquaintance died of it. He was an EMT and was likely infected on the job. While some seniors and health care workers that we know have stated that they will not take the vaccine, a strong majority plan to do so, and quite a few are desperate for it. (Thank you Donald Trump and Project Warp Speed for getting it rolled out before the end of 2020!) The passion and anger they feel toward politicians and elites jumping the line ahead of front-line healthcare workers and seniors is the most intense anti-politician hostility I can recall in a long time. These are polite people who don't discuss politics. They are livid. The AP reported that "All members of Congress are being offered the vaccinations as part of protocols to ensure the continuity of government operations." Continuity of government operations?? Oh no! How awful would it be if our ruling class was home sick in bed and too weak to pass a "Covid Relief" bill that sends $10 million to Pakistan for "gender programs"? Who would tax us and regulate our lives? Who will spend $2,700 of my money to send me a $600 check? If our rulers were sick in bed, who would shut down small businesses deemed "non-essential"? Who would you rather have unable to work because he is stricken by Wuhan Flu? A front-line health care worker or a member of Congress?
We can all breathe easier now that 49-year old Marco Rubio has shown us that the vaccine is safe. I know several nurses who desperately want the shot that he got. They'll be treating Covid patients again tomorrow, hoping they avoid getting Covid for one more day. Marco thinks we're impressed with his bravery. Sorry Marco, all we feel toward you is pure seething contempt.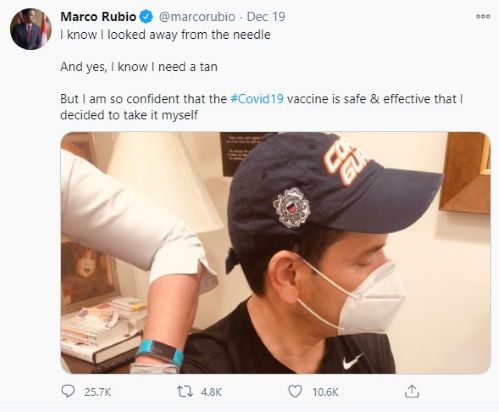 Oh looky here.
Gov. Greg Abbot of Texas will get Covid vaccine live "to instill confidence"
I'm not sure what Governor Weathervane could do at this point to instill any confidence in his handling of Covid, but jumping to the front of the line to "instill confidence" surely isn't it. AOC has already had her vaccine, to show us that she would never ask lesser comrades to do anything that she wouldn't do herself. Well, some communists are more equal than others. Does she even know that Animal Farm is not an instructional manual?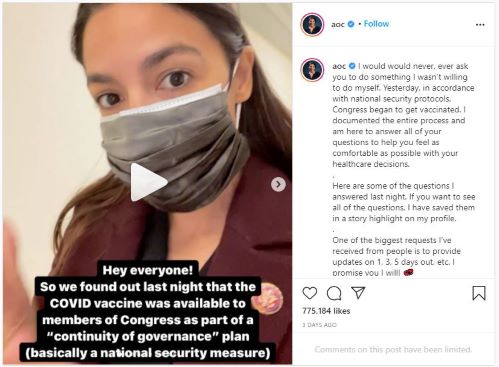 Texas State Senator Eddie Lucio Jr, who jumped the line to get his shot in the round of doses that was reserved exclusively for front line health care workers,
was quick to adopt the "I'm instilling confidence" defense.
"I hope that by demonstrating to everyone that there is nothing to fear, I can help set the tone for getting vaccinated so that more Texans will accept the vaccine as it becomes available," Lucio said.
Retiring Congresswoman Tulsi Gabbard of Hawaii has sided with the American people over Congress and our ruling class. Good for her.
"Heartless, arrogant, unelected CDC bureaucrats have decided the lives of elderly just don't count…that members of Congress like me — that we can get the vaccine before at-risk seniors can."
"I planned to take the vaccine but will now stand in solidarity with our seniors by not doing so until they can. I urge my colleagues in Congress who are under the age of 65 and healthy to join me."
(btw – Tulsi's economic views may be left of center, but she understands the populist revolt against globalism, permanent wars, corporatism, and the left's bizarre culture war extremism. She will likely be an important player in the ongoing political re-alignment. She is not on Team Washington Swamp – they hate her, and that will cause a lot of deplorables to rally around her in her next endeavor. This shot against vaccine line jumpers is her strategically showing that she has her finger on the pulse of the continuing populist revolt.)
Senator Rand Paul has also sided with the American people.
"I was asked about getting vaccinated with others in Congress: It is inappropriate for me — who has already gotten the virus/has immunity — to get in front of elderly/healthcare workers. Same goes for AOC or any young healthy person. They should be among last, not first."
Shame on our politicians who have jumped the line to get vaccinated before front line workers.