Saturday Gardening and Puttering Thread, December 12, 2020 [KT]
We have some thoughtful and inventive people in The Horde. Misanthropic Humanitarian sent along
this link
about Yulan Magnolias. From
Shibumi.
Animal lovers sometimes love plants, too.
This is what the flowers look like when they open. The tree is hardy, but the flowers are susceptible to early frosts. More photos and cultural directions at the link.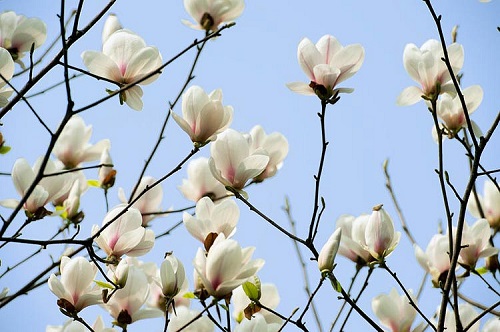 Real Birds
Our main feature for today, though, is another of those wonderful slow motion videos from
PointyHairedBoss:
Not much to report about our gardens - they've all been put to sleep for a while & are now under a foot of snow. With the crappy weather outside at this time of year I can finally get to editing the raw video footage I collect over the summer. If the horde has any hummingbird fans they might enjoy this:
The music is perfect about now, too. Thanks so much.
Christmas Decorations
Skip
and family did something wonderful after Thanksgiving. Christmas grave wreaths:
Here is the lot made by 7 of us all in a hour and half. Many parts, bows, balls, flowers and ribbons and such are recollection after the holiday. They are made for past family members a few taken immediately away. I made the red/ white rose setting in front, before that was the branch cutter.
This has been a family tradition for a lot of years.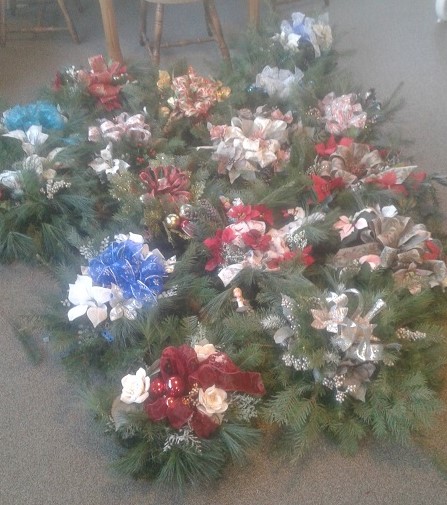 Just beautiful. If you have any interesting decorations for your yard or garden, send us a photo. Or grave wreaths, for that matter.
Hand Made Gifts
Sal reminded us last week of the Southern Exposure Seed Exchange. Their site includes a blog, which has a recent post on
DIY Gifts for Gardeners and Foodies.
Things you could make for other people. Things other people could make for you. Or things you could help kids make for other people. Think about it. Bet you could come up with some other ideas.
Gardens of The Horde
Thanks again to Pat* and Hubby for the compost tutorial last week and the
detailed comments.
We enjoyed learning about slimy Nigerian Okra last week, too. Cooking or preserving anything from the garden this week? Our Tropical Milkweed is still blooming. Hard to believe. Anything happening in YOUR yard or garden? If you would like to send information and/or photos for the Saturday Gardening Thread, the address is: ktinthegarden
at that g mail dot com place Include the nic you use to identify yourself when you comment at AoSHQ unless you want to remain a lurker.