Wednesday Overnight Open Thread – 9/09/2020 [Buck Throckmorton]
*****
FEELING GROOVY – IN THE 1940s How Early Did The Word "Groovy" Appear In Movies?
*****
NFL IS RE-EMBRACING SEXUAL ASSAULT
NFL to honor violent sexual offenders by putting their names on helmets
Per a source with knowledge of the situation, players may display the names of victims of police violence and/or systemic racism on the padding along the bottom of the backs of their helmets.
Drew Brees has chosen to honor alleged rapist Jacob Blake on his helmet.
For a while the league was struggling with an image problem, because it had numerous players who had beaten and assaulted women. Apparently "Me Too" is now yesterday's news, so the NFL has decided to fully embrace battery and sexual assault.

*****
PATRIOTIC YOUNG SINGERS In last Saturday's Overnight Thread I mentioned that this country is ready for some patriotic popular music to counter the left-wing hatred of America. Mrs. Throckmorton suggested I check out an a capella singing group named Anthem Lights – four young men who do some beautiful harmonizing on traditional patriotic and religious songs. They're good. America The Beautiful
My Country 'Tis Of Thee
*****
THERE'S STILL TIME FOR THIS EXECUTIVE ORDER Gas cans that can't pour without spilling may be the most despised federal regulation imposed on Americans since the 55-mph federal speed limit. Across racial and income demographics, anyone who uses a gas can loathes these abominations and curses the scientifically illiterate bureaucrats who outlawed functioning gas cans.
This post
got picked up by Instapundit and many other blogs, but I guess it didn't make it to the President. I know there are folks in the President's orbit who read Ace of Spades. All we need is 5 minutes of the President's time to issue an Executive Order to restore functioning gas cans. Mr. President – you will be a hero to so many millions if you give us back our freedom to buy functioning gas cans. (Remember – if you hit that link, you may not comment on old AOS threads.)

*****
WORST DATES We've all been there. You're not even 30 minutes into a date, and you realize that not only will you not want a second date, but the next several hours are going to be excruciating. Or worse, the date that takes a really bizarre turn at some point. Alcohol is often involved. The most torturous is the all-weekend date that you realize was a horrible mistake, and you crave nothing more intensely than for that person to go home. I'm guessing the horde has some real doozies. Any awful dating stories you want to share?
*****
INSTITUTIONAL RACISM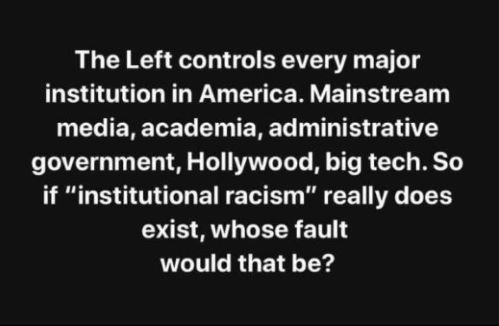 *****
PEACE – NOT A "PEACE PROCESS"
It's weird, but all the previous Mideast "Peace Processes" seemed to only result in western dollars flowing to Arab politicians and terrorists, who then used the money to line their pockets and to murder Jews. Of course, none of the western politicians and diplomats actually wanted peace, they just wanted endless Israeli concessions, with payoffs to their Arab terrorist friends, and a steady river of spilled Jewish blood. That is what the "peace process" was. When President Trump finally moved the US Embassy to Jerusalem, the "experts" all warned of the awful events he was unleashing.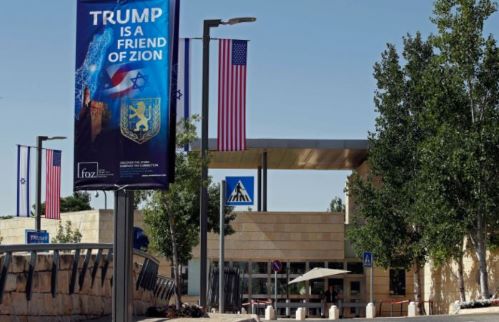 And the events he unleashed are indeed awful to those who wish harm to Israel – because peace is breaking out all over the Mideast. Thanks to Trump, there is no money now to be gained from killing Jews or bashing Israel. And just like that – Arab nations now want to make peace with Israel. Weird. First the UAE established diplomatic relations.
Now Saudi Arabia is warming up to Israel.
But the kingdom has already cultivated covert ties with Israel in recent years, a shift spearheaded by Crown Prince Mohammed bin Salman even as his father King Salman has voiced steadfast support for an independent Palestinian state.
A shared animosity toward Iran, along with Saudi attempts to attract foreign investment to fund Prince Mohammed's ambitious Vision 2030 economic diversification plan, appear to be pushing the kingdom closer to Israel than ever.
But what about the Palestinians?
Like the UAE's move, such a step would be seen by Palestinians and their supporters as a betrayal of their cause.
The Palestinians were offered a state of their own, but they refused it. Time has finally run out on their corrupt peace process gambit.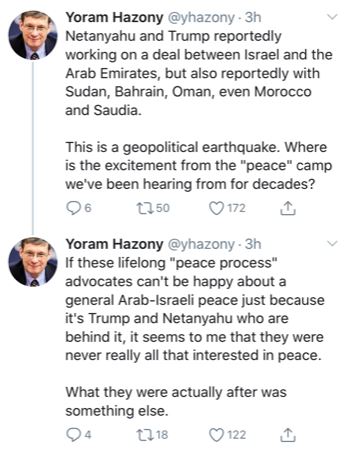 *****
MOTIVATION
(h/t – despair.com)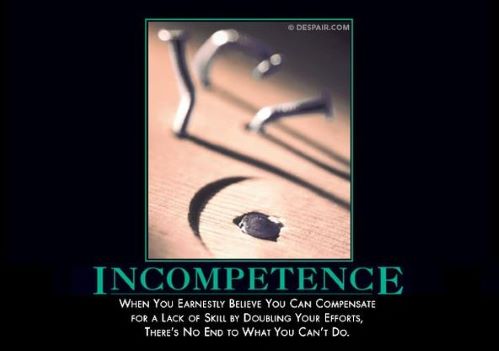 *****
BUCK THOUGHTS An organization that seeks to develop its employees by pushing them to "escape their comfort zones" will soon learn which of its managers are sadists who thrive on making employees uncomfortable.
*****
MEAN JOE GREENE – HAVE A COKE AND A SMILE I miss the days when football players earned our respect for their rugged work ethic, and we didn't know a thing about their politics. https://www.youtube.com/watch?v=xffOCZYX6F8
*****
THROCKMORTON'S FIRST LAW OF LIVE MUSIC: IF THERE'S AN UPRIGHT BASS IN THE BAND, IT'S PROBABLY GOING TO BE GOOD Robert Earl Keen dabbles in pretty much all types of country music – except for the kind found on country music radio stations. Fortunately, his music has received lots of airplay on Americana, College, Public, and Red Dirt radio stations. He's a great storyteller and puts on a very entertaining show if you're lucky enough to catch him when he comes through your town. The Road Goes On Forever And The Party Never Ends
Footprints In The Snow
*****
Tonight's overnight thread has been brought to you by the saddest cookbook of all time.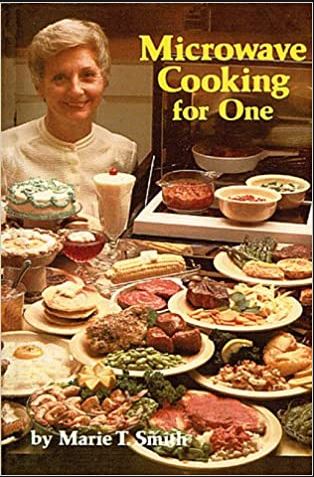 *****
Thanks again to the horde for letting me play host. Please feel free to offer any helpful feedback, insults, or tips at buck.throckmorton@gmail.com