Sunday Overnight Open Thread (8/16/20)
***
The Quotes of The Day
Quote I
But I'm a science fiction writer and that means I can tell the difference between "thought experiments" and "real things." Alas, the same cannot be said of corporate America.Cory Doctorow
Quote II
"Guns are flying off the shelves and now bullet-resistant vests. Bring back cast iron tubs. That's where mothers used to put their kids to sleep to deflect the bullets."Retired NYPD police sergeant Joe Giacalone
Quote III
Supposedly, summer vacation happens because that's when the kids are home from school, although having the kids home from school is no vacation. And supposedly the kids are home from school because of some vestigial throwback to our agricultural past. P. J. O'Rourke
Quote IV
"These all seem to be separate, independent incidents, but horrific and tragic that we have this much violence and potential for that much loss of life in our city," "One extremely violent night in the city of Cincinnati," Neudigate said. "Why? That's going to be the question." Assistant Police Chief Paul Neudigate
Why? If you don't know you don't deserve to be assistant Police Chief. Just a hint. It has nothing to do with an inanimate object but the people who pick up that object.
Quote V
"Over the past several months, I have opened my ears, mind, and heart and it has opened my eyes to see how wrong I was and for that I am sorry," "This systematic (sic) racism is not going away unless we ALL work on it by working on ourselves and those around us. It's time for everyone to do their part to help end this system."Kelly Stafford
F*ck the NFL.
***
What if ordinary people talked like Joe Biden.
***
The State of California's government could screw up a one car funeral.
It's looking like they legislated Uber and Lyft out of service in their state.
NoNo Uber and Lyft rides in California? After a judge rejected the companies' effort to delay an order that they classify drivers as employees, it seems inevitable. Uber and Lyft have until August 20th to comply with the order. But the companies have said they will need to go dark in the Golden State in order to retool their business. The judges may not have the last word. Uber and Lyft are counting on California's notoriously mercurial voters to help them circumvent AB5, which went into effect in January and makes it more difficult for companies to use independent contractors. Uber and Lyft built their respective businesses on the concept of using freelance drivers who aren't eligible for traditional benefits like health insurance and paid leave.
***
Massholes and Covid-19 explained............
***
Hmmm.......
When you have a good idea, do you implement it or perhaps run it by another person to see if it is good?
A restaurant in central China has apologised for encouraging diners to weigh themselves and then order food accordingly. The policy was introduced after a national campaign against food waste was launched. The beef restaurant in the city of Changsha placed two large scales at its entrance this week. It then asked diners to enter their measurements into an app that would then suggest menu items accordingly. Signs reading "be thrifty and diligent, promote empty plates" and "operation empty plate" were pinned up.
Probably not a good idea in the "Food deserts of America".
***
Death wish? Brave? Stupid?
What possesses Antifa idiots to got to the biker rally in Sturgis, SD?
According to video footage that has emerged, it appears a tiny group of Antifa and Black Lives Matter extremists almost got their world rocked to pieces either last weekend or this weekend at the 350,000+ strong Sturgis Motorcycle Rally. One of the two video clips that emerged shows Antifa/BLM activists holding up signs in the middle of the rally as police protect them from the tens of thousands of bikers.
***
Sandia National Laboratories is a multimission laboratory managed and operated by National Technology and Engineering Solutions of Sandia, LLC., a wholly owned subsidiary of Honeywell International, Inc., for the U.S. Department of Energy's National Nuclear Security Administration under contract DE-NA-0003525
After reading this, they are pretty damn un-American if you ask me.
Last year, Sandia National Laboratories—which designs America's nuclear weapons—hosted a 3-day reeducation camp for "white males," with the goal of exposing their "white privilege" and deconstructing "white male culture." I've obtained exclusive whistleblower documents revealing that last year, the national laboratory sent its white male executives to the La Posada luxury resort to undergo a mandatory training called "White Men's Caucus on Eliminating Racism, Sexism, and Homophobia in Organizations." In the opening thought-work session, the trainers demand that the men make a list of associations about white male culture. The trainers write "white supremacists," "KKK," "Aryan Nation," "MAGA hat," "privileged," and "mass killings." The trainers insist that white males must "work hard to understand" their "white privilege," "male privilege," and "heterosexual privilege." They claim that white men benefit from positive stereotypes that "far outweigh the Tim McVeighs and Ted Kaczynskis of white maleness
***
If I had $110,000 to spend on a set of wheels.
This would not be it. Your mileage may vary.
Minis are probably some of the most recognizable cars on the road, even though they're not all that common anywhere anymore. Most of the Minis you see today are probably driven by enthusiasts rather than commuters, and some of the most extreme versions are currently being made by David Brown Automotive in England. The Mini Remastered, as it's called, is said to be the last word in classic Minis. And at nearly $110,000, it had better be. (Full disclosure: David Brown Automotive invited me to have a spin in the Mini Remastered on a sunny London afternoon. I met them at a fancy hotel by Battersea Park, was given some fizzy water, and thrown the keys to a manual and an automatic-transmission car for a few hours of play.) First, you may be thinking that the David Brown in David Brown Automotive is a play on the David Brown of Aston Martin. Not so, though you could be forgiven for making the assumption.
***
I believe this fellow, Kevin Nicks, should be made an
Honorary Moron.
Not content with already holding the record for building the world's fastest shed, a gardener from Oxfordshire has created a souped-up wheelbarrow to go in it. Kevin Nicks, 55, believes he's set a new speed record after clocking 44 miles per hour on the back of his wheelbarrow earlier today. He's called it the 'Barrow of Speed' and thinks he can go even faster when a Guinness World Records representative comes to verify the accolade in six weeks time. His custom-built contraption, which uses a moped engine, was competing at a Straightliners event at Elvington Airfield in North Yorkshire.
***
The ONT Musical Interlude
On this day: August 16, 1977 - Elvis Presley
Elvis Presley was found dead lying on the floor in his bathroom by his girlfriend Ginger Alden, he had been seated on the toilet reading 'The Scientific Search For Jesus'. He died of heart failure at the age of 42. His first record for RCA, 'Heartbreak Hotel' was also his first US No.1. He starred in 31 films. Elvis holds the record for the most entries on the US Hot 100 chart with 154. Elvis became the first rock 'n' roll artist to be honoured by the US Postal Service with a stamp. via thisdayinmusic.com
&&&
On this day: August 16, 2018 - Aretha Franklin
American singer and songwriter Aretha Franklin died in Detroit at the age of 76. Known as 'The Queen of Soul' and one of the best-selling musical artists of all time, having sold more than 75 million records worldwide was diagnosed with cancer in 2010. During her career she scored over 15 Top 40 hits and won 18 Grammy Awards. Hits include the 1967 US No.1 & UK No.10 single 'Respect', the 1968 UK No.4 single 'I Say A Little Prayer' and the 1987 UK No.1 single with George Michael, 'I Knew You Were Waiting'. In 2010 Rolling Stone magazine ranked her number one on their list of the '100 Greatest Singers of All Time'. via thisdayinmusic.com
***
Well, that certainly didn't work out well.
Genius Award Winner.
***
Mmmmm.
Tonight's Feel Good Story of The Day.
OMG the meme is finally real! Via New York Upstate: Craving bacon at 3 a.m.? Now you don't have to wait for the store to open in one Upstate New York town. Saratoga Living reports Oscar's Smokehouse, a family-owned specialty meat and cheese shop in Warrensburg, N.Y., has launched a new refrigerated vending machine featuring hickory bacon, 3-year-old cheddar cheese, smoked pork chops, sausage, and more. The prices are the same as they are inside the store, giving customers a 24/7, contactless option for meats after stores, including Oscar's, reduced hours due to the coronavirus pandemic.
***
Tonight's ONT has been brought to you by the Best Wedding Invitation Ever?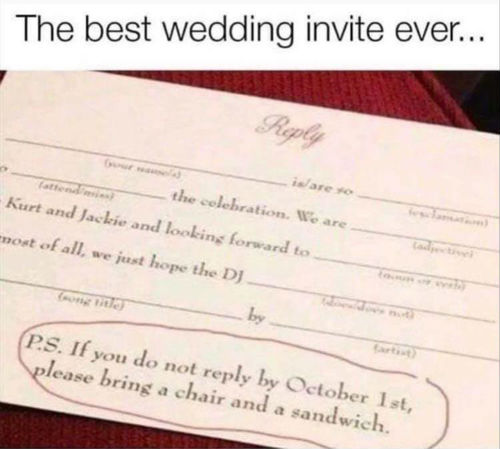 Notice: Posted with permission by the Ace Media Empire and AceCorp, LLC. No hits, runs or errors.
Posted by: Misanthropic Humanitarian at
09:51 PM
MuNuvians
MeeNuvians
Polls! Polls! Polls!
Real Clear Politics
Gallup
Frequently Asked Questions
The (Almost) Complete Paul Anka Integrity Kick
Top Top Tens
Greatest Hitjobs
News/Chat