Monday Overnight Open Thread (8/3/20)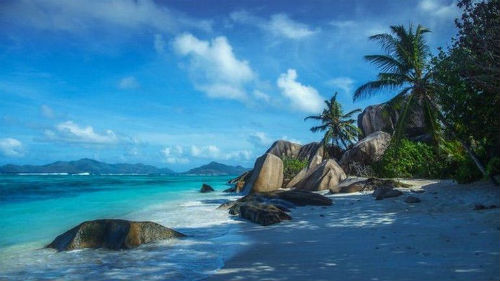 ***
The Quotes of The Day
Quote I
"Some of the conversations I've had over the past three days, quite literally, have been the most difficult. "I am with the Black Lives Matter movement and I love and support the military and my brother and the people who have fought to defend our rights in this country."Meyers Leonard
Quote II
Americans are just not going to pony up for Deutschland in perpetuity. To quote noted political philosopher Kang, the politics of failure have failed. Not penalizing the Huns for their deadbeatery hasnít worked. Maybe turning off the cash spigot will. And if it doesnít, at least we get to keep our money. Kurt Schlichter
Quote III
"Oh, we just have to do it. Really? Fauci is 79 but maybe if he had like 22-year-old kids who were trying to make their way in this world in an economy that is headed down the tubes, thanks largely to his recommendations, he would feel differently. It's not merely an inconvenience when your economy collapses. It's the end of the American Dream. That's not a small thing. Maybe it's worth it. Maybe it's not but if it is, then you probably shouldn't take a pass on the question 'Are protests and riots okay?' unless you're a total fraud, a complete fraud.'"Tucker Carlson
Quote IV
"I'm more the second responder, so the officer responds first. "There are times that I do go on scene with the officer but that's only after it's secured and safe for me to enter. But I try to assist the family in whatever services they need so they don't have to, whenever they're having a crisis, or having a situation where they need law enforcement, they don't have to call 911." Kelly Pompilio
***
If he had only followed instructions. But no...........Leaked Minneapolis PD body cam footage of the George Floyd arrest.
***
A real 'Honest to God' Nazi sympathizer gets involved with the St. Louis prosecutor Kimberly Gardner campaign.
Liberal billionaire George Soros has contributed $116,000 to a political action committee supporting St. Louis prosecutor Kimberly Gardner, whose pursuit of Missouri's former GOP governor and a couple who displayed their guns during Black Lives Matters protest have stirred national controversy and legal repercussions. A Missouri Ethics Commission filing on Saturday showed the Soros donation to the Missouri Justice and Public Safety PAC formed to support Gardner, and indicated the liberal philanthropist was the sole donor to the group so far. The PAC reported it has spent about $104,393 so far, including about $77,804 directly on Gardner. Soros' donation allowed the group to pay off prior debts it incurred in supporting Gardner, who faces a primary this Tuesday, the new report showed.
***
Tweet of The Day.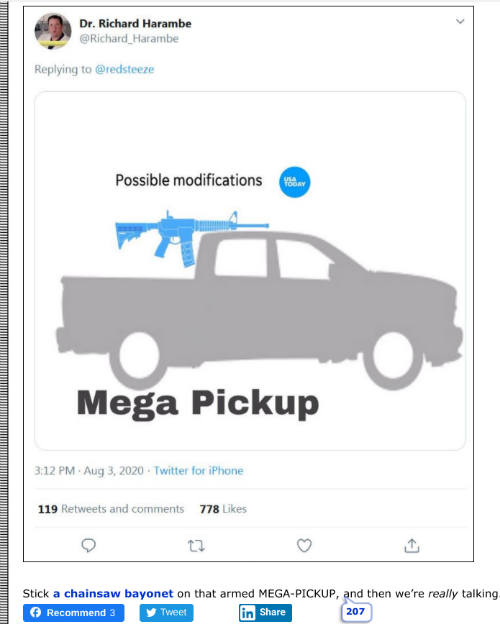 ***
People won't remember how bad the product was.
However, they will remember the company by it's audacious advertising campaign.
A vegan food company is sparing no blushes with what it calls a "light-hearted" advertising campaign to encourage more Britons to avoid eating meat. Meatless Farm says it is targeting people who have cut down on bangers and burgers during lockdown with its provocative slogan M*** F***, launched on Monday with a national campaign. The words will appear on TV and radio adverts, electric cars, social media and supermarket packaging. The Leeds-based brand, which claims that its meat-free or fake burgers, mince and sausages (made from pea protein) taste and look like the real thing – is seeking to build on huge growth in the UK, and as shoppers' interest in plant-based alternatives has risen during lockdown.
This still cracks me up after all these years....................
***
As I was seated in my orthopedic doctor's waiting room some guy had the remote. He kept flipping between Days of Our Lives on NBC and CNN.
Of course the following story is provided with a one sided slant.
President Donald Trump speaks during a meeting with U.S. tech workers, before signing an Executive Order on hiring American workers, in the Cabinet Room of the White House, Monday, Aug. 3, 2020, in Washington.(AP Photo/Alex Brandon)
WASHINGTON (AP) — President Donald Trump said Monday that he had fired the chair of the Tennessee Valley Authority, criticizing the federally owned corporation for hiring foreign workers. Trump told reporters at the White House that he was formally removing chair Skip Thompson and another member of the board, and he threatened to remove other board members if they continued to hire foreign labor. Thompson was appointed to the post by Trump. The TVA was created in 1933 to provide flood control, electricity generation, fertilizer manufacturing and economic development to the Tennessee Valley, a region that was hard hit by the Great Depression. The region covers most of Tennessee and parts of Alabama, Mississippi and Kentucky as well as small sections of Georgia, North Carolina and Virginia.
11 years ago pressuring CEO's was the best thing since sliced cheese.
***
A very interesting interview. Milo Y interviews Bevelyn Beatty.
***
Obviously congress critters put on their pants differently than you or I do.
Their shit doesn't stink and rules are not meant for them.
***
On the bright side, it was a memorable vacation.
The pair, both 16 and from Eritrea and Guinea, had broken into the box of a Brit-registered BMW in Calais hoping to reach Britain - but ended up heading 100 miles further back into France. But the Midlands couple in the car had only just arrived and the migrants only realised when they jumped out at a French motorway services. Footage of the incident shows the fuming family accusing the migrants of breaking the roof box and asking whether they'd stolen anything. "What the f*** are you doing, you c***," the man named 'Colin' says before telling one to "get out of my sight".
***
Science continues to amaze.
Oral device is a digital joystick.
When someone refers to a people born into wealth and privilege, they might use the expression "born with a silver spoon in their mouth."
But will the day come when accomplished virtual reality game players are referred to as having been "born with an intraoral digital interface in their mouth"? The expression may be a bit of a mouthful, but the notion is not so far-fetched. Graduate student Dorothee Clasen imagined constructing a tool that would allow users to bypass their hands or feet and control digital devices with their tongue. As part of her master's degree thesis at the Köln International School of Design, an institution of the Cologne University of Applied Sciences, Clasen came up with [In]Brace, a plastic retainer attached to a wireless transmitter.
***
Troll Level Status: Master
H/T Bitter Clinger
ASHEVILLE, N.C. (WLOS) — A local group of activists is outraged after a black bear was recently seen in Asheville with a political sticker on its collar. "Help Asheville Bears" (HAB) is offering a $5,000 reward for anyone who can find out who put a 'Trump 2020' sticker on the bear's collar.
FFS a reward, really Karen? There is no truth to the rumor that Mike Hammer is responsible for this God awful dastardly crime of animal abuse.
***
Yes,
It has been one of those days.
***
Florida Man strikes again.
There has to be money in the account, I still have checks printed my own checks.
A man allegedly used a check printed off his home computer to buy a Porsche in Okaloosa County, Florida, on July 27. The Walton County Sheriff's Office (WCSO) said Casey William Kelley, 42, (pictured) was arrested Wednesday for grand theft of a motor vehicle and uttering a false banknote, according to nwfdailynews.com.
***
This Florida Man says, "Here, hold my beer while I hold your semi tractor."
***
The ONT Musical Interlude
On this day: 3 Aug 2015
Former AC/DC drummer Phil Rudd pleaded not guilty to breaching the conditions of his current home detention by drinking alcohol. Rudd had been under house detention since being sentenced for drug possession and making threats to kill in July of this year. The 61-year-old could face further sanctions, including jail time, if the judge decided he did violate his conditions. via thisdayinmusic.com
&&&
Born on this day: 3 Aug 1963
James Hetfield, guitar, vocals, Metallica, (1991 UK No.5 single 'Enter Sandman', 1991 US & UK No.1 album 'Metallica'). via thisdayinmusic.com
***
Nope, he didn't think that one through.
Genius Award Winner.
Meet Steven Lee Donovan. The 22-year-old pizza deliveryman was allegedly pleasuring himself Tuesday night while seated behind the wheel of a 1996 Honda Civic parked outside a Circle K in Fruitland Park, Florida. While Donovan was masturbating, a woman whose car was parked next to the Honda noticed that the vehicle's sole inhabitant had penis in hand and was stroking himself in "up and down motions." Unfortunately for Donovan, the witness was an off-duty cop from a neighboring city. She copied down the Honda's license plate (JACR06), which she subsequently provided to police dispatchers. A Fruitland Park Police Department report notes that a review of surveillance footage captured the suspect--who wore a black mask--"pulling his pants down as he grabs his genital area" and "making a continual motion with his genital area."
***
People can be amazing at times.
Tonight's Feel Good Story of The Day.
He Wanted One Of His Last Meals At His Favorite Restaurant, Then Everyone Starts Singing ' Amazing Grace'
An elderly gentleman who is very ill wanted to visit his favorite restaurant, The Little Big Cup, in Arnaudville, Louisiana for what might be the last time. When the employees and customers there heard about this, they sang "Amazing Grace" for him.
***
Tonight's ONT has been brought to you by Self-Incrimination.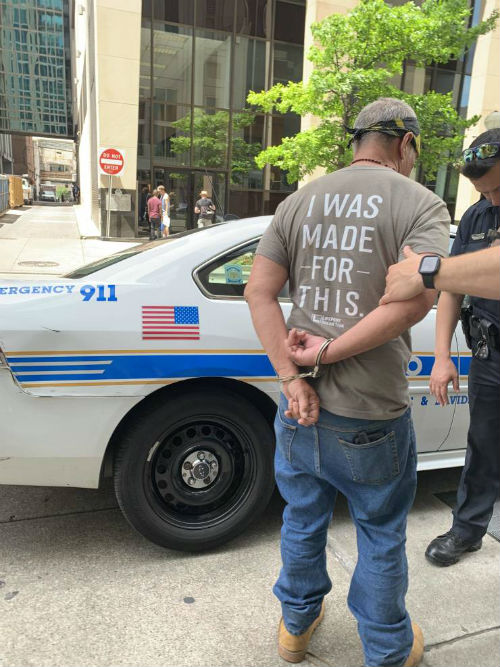 Notice: Posted with permission by the Ace Media Empire and AceCorp, LLC. Do not taunt. Do not pass go. Do not collect valu-rite.
Posted by: Misanthropic Humanitarian at
10:01 PM
MuNuvians
MeeNuvians
Polls! Polls! Polls!
Real Clear Politics
Gallup
Frequently Asked Questions
The (Almost) Complete Paul Anka Integrity Kick
Top Top Tens
Greatest Hitjobs
News/Chat