Wednesday Overnight Open Thread (7/29/20)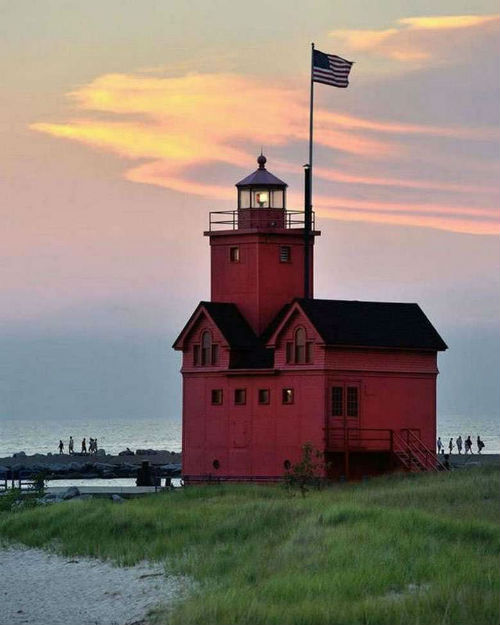 ***
The Quotes of The Day
Quote I
"If I think something's not factually correct or a misinterpretation of reality my job is to tell people the truth as I know it,"NYC Mayor De Blasio
Quote II
"In many areas, we are behind our competitors. The most popular messaging service in the U.S. is iMessage. The fastest growing app is TikTok. The most popular app for video is YouTube. The fastest growing ads platform is Amazon. The largest ads platform is Google. And for every dollar spent on advertising in the U.S., less than ten cents is spent with us."Mark Zuckerberg
Quote III
My friends, this election is about more than who gets what. It is about who we are. It is about what we believe, and what we stand for as Americans. There is a religious war going on in this country. It is a cultural war, as critical to the kind of nation we shall be as was the Cold War itself, for this war is for the soul of AmericaPatrick J. Buchanan
***
Quote III, Pat Buchanan was right in 1992.
The proof is in the pudding.
CBS News Poll: Majority Now Find Kneeling During the National Anthem an Acceptable Protest A new CBS poll finds that a majority of Americans now believe kneeling during the national anthem as a form of protest is acceptable. A stunning 88% of Democrats are ok with kneeling during the anthem compared to only 23% of Republicans. CBS News reports most Americans view professional athletes kneeling during the national anthem to protest racial discrimination as an acceptable form of protest, but there are divisions along political, racial and generational lines.
***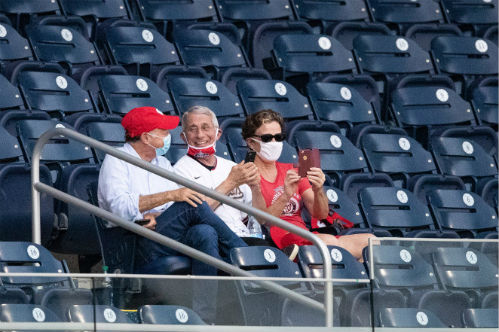 Dr. Make Shit Up Fauci is at it again.
Americans can't seem to handle wearing masks to stop the coronavirus. Now, imagine if the CDC changed its guidelines to also call for "eye protection" like medical goggles to stop the spread of the virus (and protect your neighbor, as well as yourself). Well, Dr. Fauci is apparently preparing to do just that. During an interview with ABC News, Dr. Fauci said Wednesday that he may soon advise Americans to wear 'eye protection' to avoid being infected by COVID-19 as deaths along the Sun Belt climb to record highs. "If you have goggles or an eye shield, you should use it," the doctor said, before adding that it's not universally recommended, "but if you really want to be complete, you should probably use it if you can," he said.
***
It's nice to see some other problems in the news.
Never let a crazy pussy tell you what kind of pussy you can have.
***
If you are headed to St. Louis,
you have a better chance of being murdered than you do dying of Chinese Kung flu.
***
Will Paste Eatin' Uncle Joe cross the finish line?
I doubt it. Should we have a Moron Pool?
***
If you thought things were bad at 29.
Just wait until you're 30.
In the mid-to-late-20th century, the American economy and culture were ripe for 30-year-old men, who — more than European and Japanese — typically landed well-paid careers, bought homes, and supported large families. But since then, getting ahead has become much harder.
***
Sometimes, crime pays.
And sometimes it doesn't.
David Tyler Hines is the Florida man accused of using money from the Paycheck Protection Program, which was established to help business owners pay their employees amid the coronavirus pandemic, to buy a Lamborghini and other luxury items for himself. Hines is facing federal charges for bank fraud, making false statements to a financial institution and engaging in unlawful transactions, according to a Department of Justice news release. Hines appeared before a judge in the Southern District of Florida on July 27. He was released from custody later that day, according to federal inmate records.
***
The Hodge Twins
Language warning-NSFW
***
It's time to leave Afghanistan. Now.
In his yearly Eid-ul-Adha message, Taliban emir Mullah Haibatullah Akhundzada issued a rallying cry to his fighters, saying the Taliban is "on the threshold of establishing an Islamic government" after two decades of fighting. The Taliban has been adamant that the only acceptable outcome for the country is the return of the Taliban's Islamic Emirate of Afghanistan with Haibatullah at its helm. In his statement, Haibatullah yet again called for the establishment of a "pure Islamic government" and an "Islamic system" for Afghanistan. His message was released on July 28 on Voice of Jihad, the Taliban's official website. Haibatullah mentioned the return of an "Islamic government," "pure Islamic government," and an "Islamic system" five times in his short statement. Now, after signing a so-called 'peace' deal with the U.S. that facilitates the Americans' withdrawal from Afghanistan, Haibatullah says the Taliban is finally close. But contrary to the popular opinion that peace will be at hand once the Taliban conducts "intra-Afghan negotiations," Haibatullah says that there will be peace once "a pure Islamic government" is established [emphasis ours]: We do not hold personal vendetta against anyone but have raised arms to defend the sovereignty of our homeland and establish a pure Islamic government. We seek a peaceful life with everyone once those objectives have been met. Message of Felicitation of the Esteemed Amir-ul-Mumineen, Sheikh-ul-Hadith Mawlawi Hibatullah Akhundzada (may Allah protect him), on the occasion of Eid-ul-Adha, Voice of Jihad. July, 28, 2020. [PDF]
***
Reason 872 not to visit Pakistan.
A Pakistani man on trial for blasphemy has been shot dead in a courtroom, in the latest violent incident connected with the country's blasphemy laws. Tahir Ahmed Naseem had been in prison since his arrest in 2018, allegedly after claiming he was a prophet. He is a member of the Ahmedi sect, which is persecuted in Pakistan where they have officially been declared non-Muslims. The shooting took place at a high-security complex next to the Peshawar high court. "I was sitting on my seat in the office around 11.30 when I heard the firing," said Saeed Zaher, a lawyer, who rushed to the site of the attack, and said the victim appeared to have been shot once in the head. "The killer was caught by the police and the body was lying on a bench within the courtroom."
As Pakistan should not be on your Bucket List of places to visit.
You may want to put Williston, ND on that list of places not to visit either.
***
I've never shot a motor vehicle.
Yet.
Imagine you're on your daily commute to work, driving along a crowded highway while trying to resist looking at your phone. You're already a little stressed out because you didn't sleep well, woke up late, and have an important meeting in a couple hours, but you just don't feel like your best self. Suddenly another car cuts you off, coming way too close to your front bumper as it changes lanes. Your already-simmering emotions leap into overdrive, and you lay on the horn and shout curses no one can hear. Except someone—or, rather, something—can hear: your car. Hearing your angry words, aggressive tone, and raised voice, and seeing your furrowed brow, the onboard computer goes into "soothe" mode, as it's been programmed to do when it detects that you're angry. It plays relaxing music at just the right volume, releases a puff of light lavender-scented essential oil, and maybe even says some meditative quotes to calm you down. What do you think—creepy? Helpful? Awesome? Weird? Would you actually calm down, or get even more angry that a car is telling you what to do? Scenarios like this (maybe without the lavender oil part) may not be imaginary for much longer, especially if companies working to integrate emotion-reading artificial intelligence into new cars have their way. And it wouldn't just be a matter of your car soothing you when you're upset—depending what sort of regulations are enacted, the car's sensors, camera, and microphone could collect all kinds of data about you and sell it to third parties.
The ONT Musical Interlude
Born on this day: 29 Jul 1953
Geddy Lee, bass, vocals, Rush, (1980 UK No.13 single 'Spirit Of Radio' 1982 US No. 21 single 'New World Man'). Lee was made an Officer of the Order of Canada on May 9, 1996. The trio was the first rock band to be so honored, as a group. via thisdayinmusic.com
&&&
On this day: 29 Jul 1974
Mamas & the Papas singer Cass Elliot died in her sleep from a heart attack after playing a sold out show in London, England. She was staying at Harry Nilsson's London flat when she died. Her solo hits included 'Dream a Little Dream of Me,' which also featured the rest of The Mamas & the Papas and 'It's Getting Better'. Had also been a member of The Mugwumps. via thisdayinmusic.com
***
Usually taking the dog for a walk is an uneventful experience. Unless you're a
Genius Award Winner.
HOPKINTON – An early morning nude walk on Monday eventually led to a fight with cops and a Hopkinton couple facing numerous charges, authorities said. Police arrested Mariel Kinney, 32, and Kevin Pinto, 30, after the 6:30 a.m. incident on Hayden Rowe Street. "It was kind of wild," said Police Chief Joseph Bennett. "It wasn't the typical day in Hopkinton, that's for sure. They were buck naked." Police went to Hayden Rowe Street after receiving calls about two naked people walking a dog. Officers saw Kinney and Pinto, who were completely nude, walking down the street with a medium-sized black dog named Lucy. "According to the officers she is a very good dog," Bennett said. Questioned if they were OK and why they were unclothed, Kinney and Pinto either said they didn't want to answer or answered incoherently, Bennett said.
***
Capitalism, alive and well in a 13 year old.
Tonight's Feel Good Story of The Day.
Gabriel, 13, mows as many yards as he can to earn money. He was buying mowers at yard sales and pawn shops to keep him going, only to have them break down. Then he met Shannon Ingram, who works at Lowe's in Cleveland, TN. Ingram and Gabriel chatted in the aisle while the teenager browsed the store's lawnmowers. "Y'all know how hot it was yesterday. He mowed 7 yards yesterday and his mower died," Ingram wrote in a Facebook post. "So, he went to help level a yard for a pool, working until 11:00pm. Needless to say, when he came in to buy a mower, we were going to sell him this one for what he had saved." But Ingram and her team at Lowe's decided to reward him for his hard work and gave him the mower for free.
***
Tonight's ONT has been brought to you by Multi-Tasking.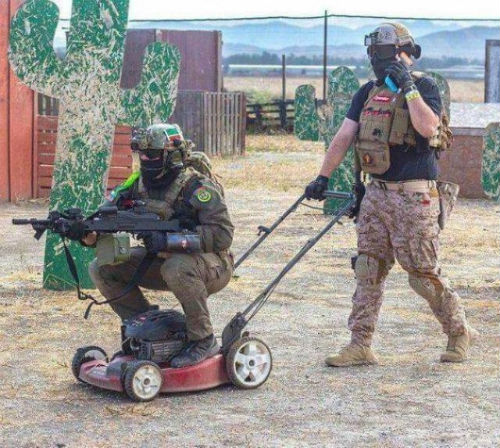 Notice: Posted with permission by the Ace Media Empire, AceCorp, LLC and International Union of Operating Hamsters. No hamsters were injured in the production of this ONT. Nor was any overtime earned.
Posted by: Misanthropic Humanitarian at
10:00 PM
MuNuvians
MeeNuvians
Polls! Polls! Polls!
Real Clear Politics
Gallup
Frequently Asked Questions
The (Almost) Complete Paul Anka Integrity Kick
Top Top Tens
Greatest Hitjobs
News/Chat