Sunday Overnight Open Thread (7/19/20)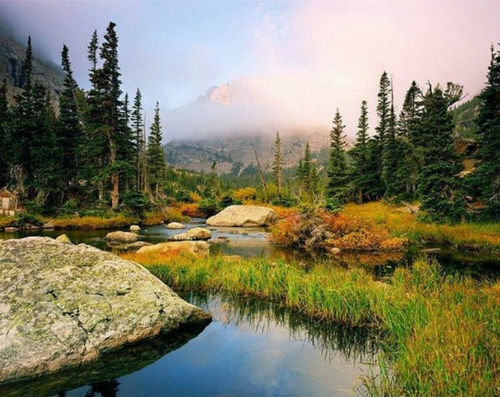 ***
The Quotes of The Day
Quote I
"Let Biden sit through an interview like this, he'll be on the ground crying for mommy. He'll say, 'Mommy, mommy, please take me home,'"President Donald J. Trump
Quote II
"It's not connecting to the science. It's propaganda. I trust myself. I am the science," Ohio resident Cherrelyn Pierson
Quote III
"I don't understand how you beat hatred with more hatred" Charles Barkley
Quote IV
"I've found myself very annoyed with the rise of right-wing populism," he said. "So I thought I'd do my own thing to push back against them."Adam Rahuba
***
Comments of The Week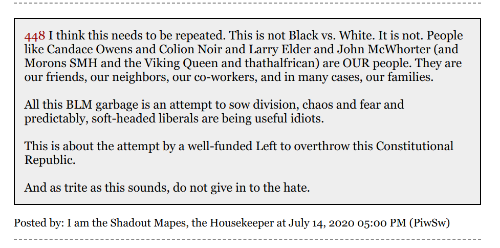 &&&

***
So Karen's sad and bitter life,
just took a turn for the worse.
After the video of Juan Andrade where it shows a racist incident between him and a woman from Rancho Mirage at the Parkview Villas circulated,the city has taken action on the disturbing incident. The City Attorney Steve Quintanilla along with the Housing Authority's Manager Marcus Aleman say they will initiate an investigation process. They said "The Rancho Mirage HOusing Authority has a zero-tolerance policy for this type of behavior and the harassment of any one, including other tenants, visitors, guests and contracted vendors conducting work at its affordable senior housing properties." Several Neighbors from the community have also reacted to the video that is now circulating on social media. "We don't need people like that living here," said Evelyn DeMaria, who lives near the Parkview Villas. And Luis Medina who does live in the villas said "We live around the neighborhood and we are supposed to be more together and more friendly."
***
It looks like the summer of peace, love and understanding criminality in Seattle continues.
***
I doubt if either one of these gals is a Karen.
A new twist to drinking playing rock, paper, scissors.
***
Hey Navy,
please tell us you had full coverage.
Photos have emerged online this week of the charred insides of the amphibious assault ship Bonhomme Richard, which burned for more than four days this week. A Navy official confirmed the authenticity of the images. The collection below was gathered and posted on Twitter by @Osinttechnical.
***
Just thinking out loud here.
When does the New York Times get burned to the ground? Surely, the Times is just as bad as a local Target store.
It's far worse than I thought. In addition to the many links between the family that owns The New York Times and the Civil War Confederacy, new evidence shows that members of the extended family were slaveholders. Last Sunday, I recounted that Bertha Levy Ochs, the mother of Times patriarch Adolph S. Ochs, supported the South and slavery. She was caught smuggling medicine to Confederates in a baby carriage and her brother Oscar joined the rebel army. I have since learned that, according to a family history, Oscar Levy fought alongside two Mississippi cousins, meaning at least three members of Bertha's family fought for secession. Adolph Ochs' own "Southern sympathies" were reflected in the content of the Chattanooga Times, the first newspaper he owned, and then The New York Times. The latter published an editorial in 1900 saying the Democratic Party, which Ochs supported, "may justly insist that the evils of negro suffrage were wantonly inflicted on them."
***
Here I thought Disney World was supposed to be fun. Guess I was wrong.
Add "eating and drinking while walking" to the list of things you can't do at Walt Disney World in the pandemic era. Like some Las Vegas casinos, the park has banned consumption of food and drink on the move in order to ensure masks are worn at all times. Disney World has been under fire in some quarters for reopening at a time when COVID-19 cases are spiking, particularly in its home state of Florida. To minimize the potential spread of the disease, the theme park has instituted many new rules on social distancing, capacity, and cleaning. It is also requiring masks to be worn at all times. Previously, the rule's exception on masks was limited to eating and drinking. But that loophole has now been closed, as patrons were seen walking throughout the park with beverages and food sans masks.
***
A real leader elected to a position of governance
would have used every method available including deadly force to stop this bullshit. However, white guilt enablers have to enable.
On Saturday evening, two groups of antifa and Black Lives Matter rioters terrorized Portland, squaring off against police and federal troops. One group attacked the Portland Police Bureau's North Precinct and the Portland Police Association (PPA) — the police union — while the other group targeted the federal courthouse and Justice Center, returning to set yet another bonfire at the ruins of the elk statue nearby. Antifa broke into the PPA and set it on fire. Before the violence began on this 51st day of unrest in Portland, Mayor Ted Wheeler (D-Portland) decided to hamstring federal troops, aiming to prevent local law enforcement from teaming up with them.
Water cannons and .308 ammunition for the win.
****
Over the years we've chuckled over Obnoxious Voice Girl and the kayak eating bear.
However, this is different. Much different.
***
Neither rain nor sleet nor bullets will stop a US armed forces cook out.
Nothing will stop this BBQ from going as planned!
Most of us just gone done celebrating the 4th of July. Hopefully, you were able to enjoy a nice BBQ dinner with family and friends. For most of our servicemen and women fighting overseas, the chance to enjoy some nice steaks and brats on the grill must be a rare treat, especially in Afghanistan. That is where the troops in this video are serving. While the meal is being prepared, the soldiers come under fire from Taliban who seem determined to ruin this celebration.
***
You will be made to care.
No deviation from "Group Think".
THE BRONX, N.Y., July 17, 2020 — The Foundation for Individual Rights in Education is taking aim at Fordham University for placing a student on probation for two images he posted on social media, one of which memorialized the Tiananmen Square Massacre. On June 3, rising senior Austin Tong posted to his Instagram account a photo of David Dorn, a retired St. Louis police captain killed by looters in the unrest following the killing of George Floyd. The photo included the caption, "Y'all a bunch of hypocrites," a reference to Tong's frustration, as a supporter of the Black Lives Matter movement, with what he refers to as "the nonchalant societal reaction over [Dorn's] death." The following day, June 4, was the 31st anniversary of the Tiananmen Square massacre of pro-democracy activists. Tong, who emigrated from China as a child, posed for a photo holding a legally-obtained gun off-campus, with the caption "Don't tread on me." The caption also included an American flag emoji, a Chinese flag emoji, and a hashtag commonly used by Chinese citizens to avoid censorship of online discussion of the Tiananmen Square massacre. Fordham wrote to Tong on June 8, when Dean of Students Keith Eldredge informed Tong he was under investigation by the university for the two photos. On Tuesday, Fordham handed down its verdict: Tong was found guilty of violating university policies on "bias and/or hate crimes" and "threats/intimidation."
***
The ONT Musical Interlude
Born on this day: July 19, 1944 - Commander Cody
Commander Cody, (George Frayne), piano, vocals, Commander Cody And His Lost Planet Airmen, country rock group. via thisdayinmusic.com
&&&
Born on this day: July 19, 1947 - Brian May
Brian May, guitarist, singer and songwriter with Queen who had the 1975 UK No.1 single 'Bohemian Rhapsody' which returned to No.1 in 1991. Queen scored over 40 other UK Top 40 singles, and also scored the 1980 US No.1 single 'Crazy Little Thing Called Love'. May had the solo 1992 UK No.5 single 'Too Much Love Will Kill You'. May was made Commander of the Order of the British Empire in 2005 for 'services to the music industry and his charity work'. May earned a PhD in astrophysics from Imperial College, London, in 2007. via thisdayinmusic.com
***
Always read the fine print. Or you to could become a
Genius Award Winner.
A state plane transporting wildland firefighters crashed near Aniak in late May after the wrong type of fuel was put into the tanks just before takeoff, according to a federal report. Pilot Mark Jordan, of Eagle River, and three Alaska Division of Forestry firefighters were hurt when the Aero Commander 500 Shrike crashed into a large pond in a gravel pit near the Western Alaska town on May 28. Two of them suffered more serious injuries: Jordan, who is making progress after several surgeries, and a Hooper Bay firefighter who's been released from the hospital but is still doing physical therapy in Anchorage, Forestry spokesman Tim Mowry said this week. Another firefighter from Aniak is recovering from hand surgery. Jordan, an experienced pilot, was hired in the spring. It's not clear when he can return to duty, Mowry said. Forestry is looking into replacing the aircraft. The plane was transporting the firefighters to McGrath, where they were to be sent on wildfire responses from the Kenai/Kodiak area forestry station in Soldotna. Jordan said he had the Aniak fuel vendor's ground-service personnel refuel the plane, according to the preliminary report filed by National Transportation Safety Board investigator Brice Banning. The pilot signed the fuel receipt and returned to the cockpit to finish paperwork before departure.
Jordan loaded his passengers, started the airplane's engines and taxied to the runway for departure, the report says. The fuel vendor's truck driver wasn't familiar with the plane and had to ask the pilot for information, according to the NTSB report. Before he started refueling, the report states, the driver asked Jordan, "Do you want Prist with your Jet?" Prist is an additive used to prevent fuel from gelling in turbine engines that tend to fly at higher altitudes. "Jet" is Jet A fuel.
***
Brotherly love.
Tonight's Feel Good Story of The Day.

A brave six-year-old boy in Wyoming risked his own life to save his little sister from a dog attack. Bridger Walker deliberately stood in front of his sister as the charging dog approached. After getting bit several times on the face and head, he grabbed his sister's hand and ran with her to keep her safe. Bridger required 90 stitches on his face as a result. "If someone had to die, I thought it should be me," he told his aunt Nikki, who posted the story on Instagram.
***
Tonight's ONT has been brought to you by The Perfect Door Mat.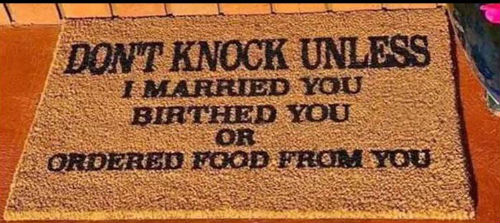 Notice: Posted with permission by the Ace Media Empire and AceCorp, LLC. Not responsible for hurt feelings, bruised egos or overcooked steaks.
Posted by: Misanthropic Humanitarian at
09:57 PM
MuNuvians
MeeNuvians
Polls! Polls! Polls!
Real Clear Politics
Gallup
Frequently Asked Questions
The (Almost) Complete Paul Anka Integrity Kick
Top Top Tens
Greatest Hitjobs
News/Chat