Sunday Overnight Open Thread (6/7/20)
***
The Quotes of The Day
Quote I
"Part of it is simply an assertion of power. Riots nearly always have a carnival aspect because people who for nearly all their lives have felt under the thumb of other groups suddenly have a sense of power," Stephen Reicher
Quote II
"Anyone surprised that protests include looting of luxury stores in Soho & elsewhere doesn't know the 1st thing about racial capitalism & luxury consumption. Racial exploitation is at the root of consumer capitalism built on the commodification of black bodies through slavery." Arlene Dávila, a professor at NYU
Quote III
They'd love to have a very, very powerful government, including a federal government, involved in directly addressing their day-to-day reality. It's not reachable right now. And it leaves this friction, and this anger, which is visceral. Bill deBlasio Warren Wilhelm Jr. NYC Mayor
Quote IV
"If there is a spike in coronavirus cases in the next two weeks, don't blame the protesters" but rather "racism" and the NYPD: "Police are increasing covid risk by using tear gas and putting people in crowded jails."City Councilman Mark Levine (D-Manhattan)
Quote V
Liberals may equate the term "law and order" with racism, but without law and order, there is no justice and no peace. Patrick J. Buchanan
Quote VI
"We're going through this wave of anti-bullying, everybody needs to be friends, everybody needs to get along." Johnny Ryan
Oh FFS!
Quote VII
"We are here today because George Floyd was killed by the Minneapolis Police Department. We are also here because, here in Minneapolis and in cities across the United States, it is clear that our existing system of policing and public safety isn't working for so many of our neighbors," Minneapolis City Council President Lisa Bender
***
The Comment of The Week

***
First, my wife lost her job. Then they wouldn't allow me to attend church during Holy Week. I was ready to allow the fabulous Mrs. Mis. Hum to cut my hair. All of this shit was done in the name of science. Oh we must "flatten the curve". What a f*cking smoke job.
When scientists sway like the lone pine tree in a wind storm. We aren't voting our ways out of this mess.
Officials who pushed strict lockdowns now argue protesters are an exception You must stay home to save lives. You must socially distance and lock down.
Unless you're protesting racism and police brutality. This appears to be the message from some government and health officials, who for months enforced a rigorous and unprecedented economic shutdown in the name of stemming the spread of the coronavirus pandemic -- resulting in millions losing their jobs and students being sent home from schools across the country.
***
Your guide to Leftspeak:
"White supremacy" = Western civilization "Fundamental change" = total destruction "Legitimate grievances" = "complete bullshit
" Have a conversation about..." = agree with
 us or die "Rights" = things not in the Constitution we want
***
No word if Mogen David bottles were used........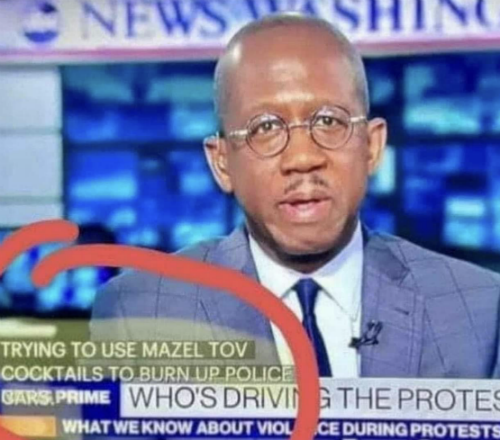 (H/T J.J. Sefton)
***
I have good news and I have bad news for outdoor enthusiasts.
A Lyme Disease Vaccine Doesn't Exist, but a Yearly Antibody Shot Shows Promise
The method, known as Lyme PrEP, delivers a single anti-Lyme antibody directly to a person rather than triggering the patient's own immune system to make many antibodies as vaccines do. Lyme disease has become an insidious epidemic in the United States. Caused by bacteria transmitted by an infected tick bite, symptoms can include arthritis, cardiac and neurological problems if left untreated. It is the most common tick-borne illness in the United States, and the Centers for Disease Control and Prevention estimates that around 300,000 people likely contract the disease each year.
***
That worked out amazingly well.
***
Does virtue signaling burn a hole in your pocket?
Here's your chance to satisfy that urge. You to can spend $639 on a pair of jeans.
Okay, you can't be the Tiger King. Or the Lion King. But you can, thanks to a zoo in northern Japan, have lion-ripped pants. You can casually bring up in conversations with friends how your pants were torn up without mentioning that you weren't wearing them at the time. Sora News 24 reports that the North Safari Sapporo zoo in Japan is offering this service as way of earning revenue while the zoo is closed to visitors during the coronavirus lockdown. Lion-mauled jeans cost about $639. Other items available include coasters gnawed beavers, paintings made by goats, monkeys, or seals, and earrings made from shed snake skin.
***
Michigan's Governor, "Karen" Whitmer is called hysterical by Michigan's high court.
The court was rather pointed in how they structured their ruling, delivering a barely veiled shot at Whitmer's governing style in the process. They acknowledged that the executive branch does indeed have to power to regulate such activity during a time of crisis, but said that such decisions must be "made according to the rule of law, not hysteria."
***
Most of you know I attempt to make The ONT informative, thought provoking and fun. I do try to keep my soap box in the laundry room. But............. Over the weekend the Blue on Blue violence was addressed in several threads. I'm fortunate that I do not live in a blue state. I guess you could call my state purple. Two large blue cities dominate what is for the most part a red state. I'm very blessed to live in a rural setting. I don't wake up to police squads blaring. Most of my local stores are still up and operational (The Covid-19 Bull Shit is another matter). Nothing has been burnt here except for the occasional camp fire or S'mores. If I found myself living in NYC, Minneapolis or L.A. I would be facing some tough decisions on where I would want to wake up say 6 months from now. I could probably pick up and leave. My parents have passed and are in a better place. My children are grown and are scattered across this great country. There is no black and white answer about picking up and moving. Some stay for jobs and businesses. Others remain because of climate. Some choose not to uproot their families. And let's face it, some stay because living paycheck to paycheck prevents them from packing up from a blue location and moving across the country to a red state. Others are fortunate to move and get away from the blue. Unfortunately the only time black lives matter is when a black life is snuffed out and can be used to exploit a political situation. If black lives really mattered Rev. Al Sharpton would be camped out in a RV in front of the funeral homes in the City of Chicago. If black lives really mattered
David Dorn would be as familiar as Floyd George.
If black lives mattered:
This sniveling asshole would resign and crawl back under the "civil rights" rock he came from.
Among the names we learned during the ten days of widespread looting, rioting, and the wholesale destruction of property in Minneapolis following the death of George Floyd was that of Jacob Frey. Frey, a former civil rights attorney, is the city's mayor. And during what feels like eternity since mobs took to the streets, burning and/or stealing everything in sight, he has shown himself to be one of the weakest and most indecisive leaders in the history of the universe.
The cities that are being destroyed have nobody to blame but themselves. The left has controlled every facet of these cities. From Pre-K 4 year old programs to the hallowed halls of city hall, the left has run everything. And has run everything into the
ground
sewer. The left has driven out the father of how many homes over the years? Welfare checks, food stamps, rent subsidies, etc. These government "entitlements" do not make up for the difference of living in a 2 parent household. The government as "father figure" has created generation after generation of entitlement addicts. Not only are they entitlement addicts many of them are feral and do not know the difference between right and wrong. Or care to know. The left has controlled the hiring and firing of police for as long as they have held the keys to city hall. Who appoints the local Police & Fire Commissions? Why it is the leftist mayors and their city councils. It was the leftists of Minneapolis who are responsible for the killing of Justine Diamond and George Floyd. The schools? Well, that's a story for another night. But since you (Leftist politicians) let your cities rot and burn, you want our money to rebuild with no strings attached or conditions? No. Hell no!
The mayor of Minnehopelis, may not know how to govern...........
But, he sure knows how to act..................
Venting over, let's go to the .....................
***
The ONT Musical Interlude
Born on this day: 1967 - David Navarro
David Navarro, American guitarist, singer-songwriter, and actor, best known as a founding member of Jane's Addiction, (1991 UK No.34 single 'Been Caught Stealing'), and as a former member of Red Hot Chili Peppers from 1993 - 1998. (1994 UK No.9 single 'Give It Away'). Also worked with Alanis Morissette on her album Jagged Little Pill and the band Deconstruction and The Panic Channel. via thisdayinmusic.com
&&&
Born on this day: 1940 - Tom Jones
Thomas Woodward, (Tom Jones), Welsh singer who has sold over 100 million records. Scored the 1965 UK No.1 and US No.10 single 'It's Not Unusual' plus over 20 other UK and US Top 40 hit singles. Jones was awarded an OBE in 1999 and received a knighthood from Queen Elizabeth II for "services to music" in 2006. From 2012 to 2015 Jones was one of the four coaches on the BBC television talent show The Voice UK. via thisdayinmusic.com
***
You only had one job to do. And that wasn't to become a
Genius Award Winner.
Florida-based C8 owner Jake Anthony recently brought his car in for service and clearly, the dealership did not know the proper way to put it on the lift. The new mid-engined Vette has a different weight distribution that the dealer was apparently oblivious to, resulting in the car falling off the lift.
***
We pick on Florida man here on occasion. Not tonight.
Tonight's Feel Good Story of The Day.
Anonymous Donor Gives Florida Cafe $40,000 To Stay Open
A restaurant in Naples, Florida, was saved from shutting down due to the coronavirus pandemic thanks to one very caring customer.
***
Weekly commenter stats for week of 6-7-2020
Top 10 commenters:
1 [734 comments] 'TheJamesMadison, fighting terrorist in Nakatomi Tower' [102.89 posts/day]
2 [607 comments] 'TheQuietMan'
3 [593 comments] 'runner'
4 [567 comments] 'Mr. Peebles'
5 [506 comments] 'garrett'
6 [439 comments] 'rhomboid'
7 [428 comments] 'J.J. Sefton'
8 [423 comments] 'Tom Servo'
9 [415 comments] 'Braenyard'
10 [406 comments] 'LeftCoast Dawg' Top 10 sockpuppeteers:
1 [235 names] 'Miklosius Caroliniensis' [32.94 unique names/day]
2 [68 names] '18-1'
3 [47 names] 'Axeman'
4 [47 names] 'Mr. Morango'
5 [47 names] 'Duncanthrax'
6 [45 names] 'Notorious BFD'
7 [44 names] 'LeftCoast Dawg'
8 [32 names] 'Meade Lux Lewis'
9 [31 names] 'bueller, where are you?'
10 [26 names] 'Two Weeks From Protecting Zooey Deschanel From Rioters Once She Rescinds Her Restraining Order on Me'
Tonight's ONT has been brought to you by the New Beside Manner.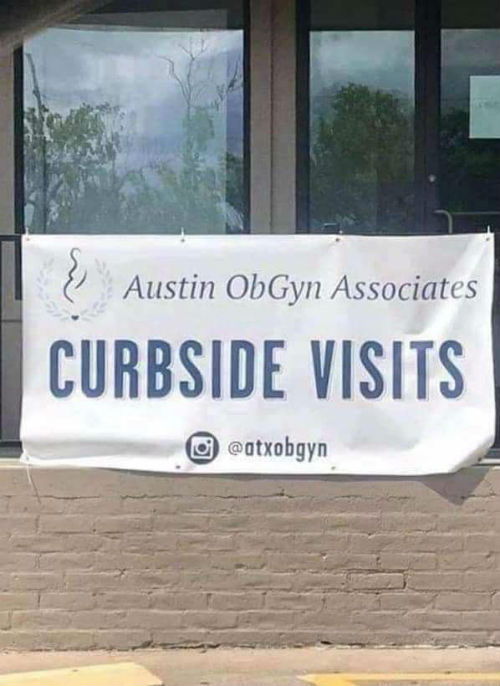 Notice: Posted with permission by the Ace Media Empire and AceCorp, LLC. Serving your ONT needs since 2008.
Posted by: Misanthropic Humanitarian at
09:42 PM