Monday Overnight Open Thread (6/1/20)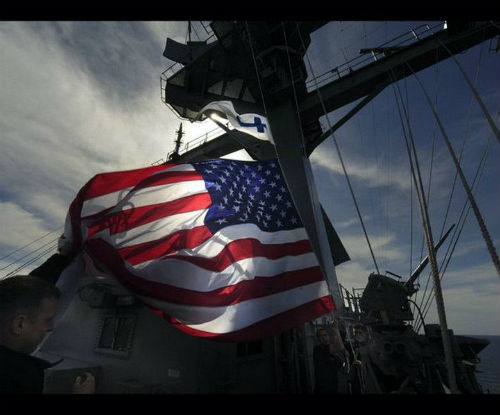 ***
The Quotes of The Day
Quote I
"When the first of these little trust fund sissies figures out he's not walking out of his cell after 20 minutes with a $50 fine but looking at five years in Leavenworth on a Fed rap, he'll squeal on his comrades. This is an opportunity to destroy Antifa root and branch, and to eliminate the armed wing of the Democrat party. Forever." Kurt Schlichter
Quote II
". . . there is need that our young men should appreciate the Constitution of the United States, under which we have enjoyed so many blessings and under which we must work out our political and economic salvation. And this need is especially keen in a day when that instrument is regarded so lightly by a class of fanatical enthusiasts seeking short cuts to economic perfection, on the one hand, and by unscrupulous demagogues who to promote their own interests do not hesitate to promote disrespect and even contempt for the Constitution and the laws enacted under it on the other." -- William Howard Taft, 27th President of the United States, February 25, 1913
H/T Isophorone Blog
Quote III

Similar or more severe restrictions apply to comparable secular gatherings, including lectures, concerts, movie showings, spectator sports and theatrical performances, where large groups of people gather in close proximity for extended periods of time. And the order exempts or treats more leniently only dissimilar activities, such as operating grocery stores, banks and laundromats, in which people neither congregate in large groups nor remain in close proximity for extended periods.Chief Justice Roberts
***
Heartfelt and moving, all in one fire.
MINNEAPOLIS, MN—In a powerful display of their care for love and justice, protesters in Minneapolis burned the word "LOVE" into the city, arranging the inspiring message with homes and businesses set ablaze by their riots.
Heartfelt and moving. "We just really wanted to show how much we care about love and social justice by burning this community into a powerful reminder of what it's all about," said local protester Jake Hernandez, who had flown in from Portland for the event. "Now, when police and fire helicopters fly over to try to restore order, they'll be inspired by our message of love and harmony." Upon seeing the heart-wrenching message of unity, police dropped their batons, ripped off their badges, donned bandanas, picked up bricks, and joined the protesters in their rioting and looting. "I don't know how I didn't see the light before," said former police officer, now Antifa chapter leader Bridget Morrison as she lobbed a Molotov cocktail into a minority-owned business. "I'm woke to the cause of love and harmony."
***
We could have fun just groovin' around, around and around
Oh my, my
Let's spend the night together
Now I need you more than ever
Let's spend the night together
Having sex in your own home with someone from a different household is illegal from today, after the government altered its coronavirus legislation. At 11.30am on Monday, a change to the law was introduced that bans two people from different households in England gathering in an indoor, private place during the coronavirus lockdown. The amendment to the Health Protection (Coronavirus, Restrictions) Bill states: "No person may participate in a gathering which takes place in a public or private place indoors, and consists of two or more persons." Previously, going to another person's home to have sex would have been a breach of coronavirus lockdown restrictions, but now both parties could be prosecuted under the law. Having sex in public is already illegal.
***
It is now official. The Republican Party is no longer "The Stupid Party".
It now is the "The Retarded Party".
According to Maryland Gov. Larry Hogan (R), voting by mail is the only way for people to vote safely amid the COVID-19 pandemic. While speaking to reporters Sunday, he said the state has not had any experiences that cause him great concern. More than 3 million ballots have been mailed to Maryland voters for the state's primary to prevent crowded polls and the spread of coronavirus. Gov. Hogan also noted that the state of Maryland has had mail-in-ballots for a while now. "We want to make sure we get the opportunity for every single person to vote," he stated. "We want to make sure that no voting fraud is taking place, whether by mail or any other way, but I'm not concerned about that here in our state…we've been doing it for a long time."
***
A little levity here this evening..........The Manitowoc Minute goes aquatic.
***
Never, ever, never ever let a crisis go waste.
Nancy Pelosi doesn't believe in much. But that phrase appears to be motto taken to heart.
PELOSI MADE MILLIONS: After Congressional Coronavirus Meetings, Pelosi Bought $5 Million In Amazon Stock Before U.S. Retailers Were Forced To Close
***
***
As with all contracts,
READ THE SMALL PRINT & DON'T FORGET TO READ THE FINE PRINT.
Given the current circumstances, it seems valuable to revisit a post we did a half-decade ago when Baltimore went up in flames. The question then, as now, was whether or not the property destruction would likely be covered under one's insurance. Of course, it gets a bit more nuanced, as coverage will differ slightly by locale and policy form. I reached out to FoIB (and P&C Guru) Bill M, who reminded me that a key distinction lies with the difference between terrorism (generally excluded) and civil unrest (generally covered). He also confirmed that coverage is likely under both homeowners and commercial lines policies. As he so often instructs us: look to the exclusions for the best answers.
***
Pinheads and bloviaters take notice.
Bill O'Reilly will be back on cable television.
Bill O'Reilly just announced he has landed a new deal that will mark his return to cable television. Bill was banished after the liberals sons took over Fox News from their father Rupert Murdoch and someone leaked the info about his settlements. They ran Bill out of town and he has been looking for a new home ever since. Bill was always a straight shooter and boy could this nation need some hard-fought nonpartisan wisdom right now. From Axios: Bill O'Reilly's show, "No Spin News," which currently airs on his website and across YouTube, will be broadcast twice daily on The First, a conservative digital television network that runs on several platforms, including ViacomCBS-owned Pluto TV. Why it matters: The Trump era has given rise to a number of newer, right-wing outlets, including The First, which leverage big names in conservative media to gain traction.
***
The ONT Musical Interlude
Born on this day: 1 Jun 1934
American singer, composer, actor, Pat Boone, who had the 1956 UK No.1 single 'I'll Be Home', and the 1957 US No.1 single 'Love Letters In The Sand'. Boone was the second-biggest charting artist of the late 1950s, behind only Elvis Presley. via thisdayinmusic.com
***&&&***
Born on this day: 1 Jun 1947
Ronnie Wood guitarist, songwriter, painter and radio presenter. Originally a member of UK band The Birds, he first worked alongside Rod Stewart in the Jeff Beck Group. He then got together with three members of The Small Faces to form the Faces joined by Rod on vocals. His songwriting partnership with Rod extended to Rod's early solo albums. Wood joined The Rolling Stones in 1975 after the departure of Mick Taylor. via thisdayinmusic.com
***&&&***
***
For every action there is an equal reaction, or something like that.
Genius Award Winner.
If women want equal treatment, here you go.
***
Tonight's ONT has been brought to you by Panache.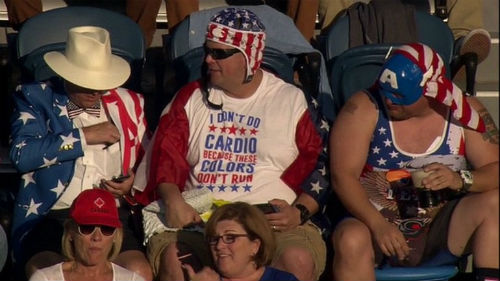 Notice: Posted with permission by the Ace Media Empire, AceCorp, LLC and viewers like you. For a transcript of tonight's ONT please send $5.00 and SASE to petmorons at gmail dot com.
Posted by: Misanthropic Humanitarian at
10:00 PM
MuNuvians
MeeNuvians
Polls! Polls! Polls!
Real Clear Politics
Gallup
Frequently Asked Questions
The (Almost) Complete Paul Anka Integrity Kick
Top Top Tens
Greatest Hitjobs
News/Chat