The New York Times gets what it wants: riots [KT]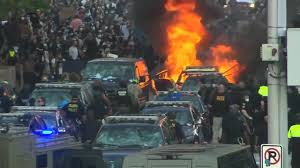 Police car on fire outside CNN headquarters
Atlanta
In previous weeks and months,
we have been reviewing developments
since the New York Times announced last August that it would be focusing its news coverage, as much as possible, on racism (with particular emphasis on Donald Trump, of course). Other media outlets joined in. Some other news items have distracted the media since then. But they sure have a bonanza of race-related stories to cover now. I decided to go back and look at one of the essays which was submitted by black Americans for the "1776 Initiative", which is aimed at countering the pernicious effects of the NYT's "1619 Project". Might it have some relevance to today's news?
Shelby Steele
Mr. Steele's essay describes how he decided, after the disillusionment of the late 1960s, not to abandon America, after visiting Africa. It explains how both minorities and white elites gain power and a sense of historical place through promoting a continued emphasis on victimhood. You might want to read the whole thing. What has changed and what hasn't since the late '60s?
When I traveled to Africa back in 1970, it was partly because I had been more and more seduced by this great looming idea of America's characterological evil. It was such a summary judgment, and, at the time, still new and audacious. It had not existed in the original civil rights movement of the 1950s and early 1960s. Martin Luther King Jr. had never charged America with an inherent and intractable evil. He had lived in good faith with America, believing in reform and the innate goodwill of the American character, even as he also lived under constant threat of assassination. Still, when his assassination actually came to pass--with almost macabre predictability--young blacks, like myself (and many whites as well), saw it as a final straw. The evil character of America would always prevail over decency. I came of age--in my early twenties--precisely when this idea began to take hold. Suddenly it was everywhere among the young. . .
He gets into the development and purposes of identity politics:
The point is that these identities--driven by the need for "place," esteem, and power--keep the idea of American/ Western characterological evil alive as an axiomatic truth in the modern world, as much a given as the weather. In other words, this charge of evil against the white West is one of the largest and most influential ideas of our age--and this despite the dramatic retreat of America and the West from these evils. The scope and power of this idea--its enormous influence in the world--is not a measure of its truth or accuracy; it is a measure of the great neediness in the world for such an idea, for an idea that lets the formerly oppressed defend their esteem, on the one hand, and pursue power in the name of their past victimization, on the other. It is also an idea that gave a contrite white America (and the Western world) new and essentially repentant liberalism. In this striking vision of the white Western world as characterologically evil, both the former dark-skinned victims of this evil and its former white perpetrators found a common idea out of which to negotiate a future. This vision restored esteem to the victims (simply by acknowledging that they were victims rather than inferiors) and gave them a means to power; likewise, it opened a road to redemption and power for the former white perpetrators. This notion of America's characterological evil became the basis of a new social contract in America.
Things did not look as good in the new revolutionary republics in Africa as Mr. Steele had expected. He also visited with American radicals while there, and kept track of their lives afterward. They did not seem to lead happy lives. How many of today's rioters even have a Step 2 in mind?
What has changed since 1992?
In 1992, during the Los Angeles Riots,
LA had a black mayor.
Today,
Atlanta has a black mayor
who has reportedly been looked at as a running mate for Joe Biden:
"This is not a protest. This is chaos. A protest has purpose," Bottoms said. "You are not honoring the legacy of Dr. Martin Luther King Jr. and the civil rights movement. You're not protesting anything running out with brown liquor in your hands, breaking windows in this city. T.I. and Killer Mike own half the West Side, so when you burn down this city, you are burning down our community." The speech was part of a 9 p.m. press conference after a peaceful protest downtown became destructive. Hundreds of protestors gathered around 3:00 p.m. and peacefully marched against police brutality in response to the death of George Floyd in Minneapolis. But as the police corralled the protest outside CNN center, some began to vandalize the building and CNN statue and smash the windows of police cars parked outside. One police car was set on fire. . . "Go home," she implored protesters. "I cannot protect you out in those streets." Rappers T.I. and Killer Mike both gave speeches after the mayor's address. . .
During the 1992 riots, the California National Guard, United States Military and Federal Law Enforcement agencies intervened. A friend who worked for the LAPD (but who didn't get to the hot zone until most of the action was over) said that the National Guard was not entrusted with guns. They did back up the police while the police did things like this: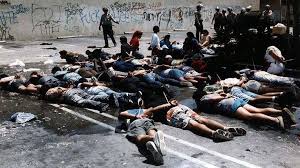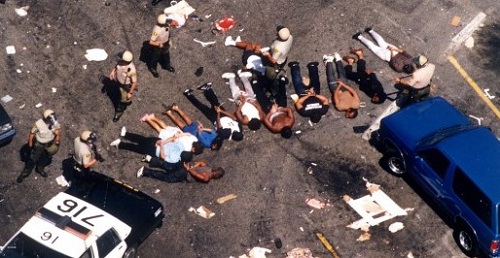 Would the police force in Atlanta be allowed to do things like that today?
Correction from the comments:
Some units of the California National Guard were armed while on the street.
Music
From a time when worries were a little different from ours today, something not too frenetic: Scarlatti
Be good to each other. Hope you have a good weekend. This is the Thread before the Gardening Thread.
Serving your mid-day open thread needs