Monday Overnight Open Thread (5/25/20) Memorial Day Edition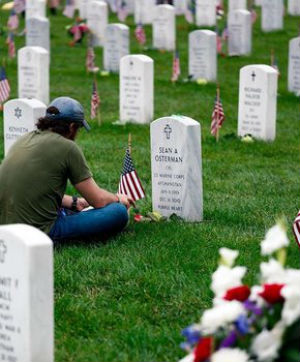 ***
The Quotes of The Day
Quote I
Memorial Day isn't just about honoring veterans, its honoring those who lost their lives. Veterans had the fortune of coming home. For us, that's a reminder of when we come home we still have a responsibility to serve. It's a continuation of service that honors our country and those who fell defending it. Pete Hegseth
Quote II
I only regret that I have but one life to lose for my country. Nathan Hale
Quote III
"It is foolish and wrong to mourn the men who died. Rather we should thank God such men lived." George S. Patton
Quote IV
"All we are seeking is the same consideration and trust that is being tendered toward the liquor stores, abortion clinics, and Walmart,"Rev. Courtney Lewis
Quote V
Our debt to the heroic men and valiant women in the service of our country can never be repaid. They have earned our undying gratitude. America will never forget their sacrifices. Because of these sacrifices, the dawn of justice and freedom throughout the world slowly casts its gleam across the horizon.― President Harry S. Truman
America will never forget? I am having my doubts Harry.
***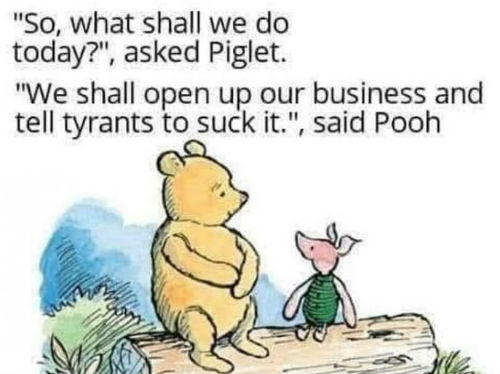 I don't think my uncle lost his life in WWII fighting Nazis so that the governor of Michigan and the mayor of Chicago could play wannabe Nazis.
***
What good is Twitter? I've learned you can't tell people #LearnToCode or ask them if they are retarded.
A new parasite that attaches to the genitals of its host has been discovered on Twitter
A researcher from the University of Copenhagen's Natural History Museum of Denmark was checking out extreme close-ups of the North American millipede on Twitter (as one does) when she noticed white spots on its carapace. While the specks might look like nothing to most people, to Ana Sofia Reboleira they indicated the presence of a parasitical fungi not seen on this species of millipede before.
***
Will it make a difference at the next election that the political party who wants to rob you of your liberty is the Democrats?
People just want to be people. Honest hard working people want to be just that, hard working people. Meet the new outlaws.
Apparently, it's not so clandestine. I looked on Craigslist and since May 1, seven barbers and stylists in L.A. have advertised their services. Including Carmelle. Carmelle, who asked me not to use her last name for fear of being fined, used to work for a salon in Santa Monica before the pandemic hit. She was furloughed on March 17. Her manager, incorrectly, told her she was not eligible for unemployment while on furlough. So for a month she stayed home, with no income, worrying about how she was going to pay her bills and her rent. She tried applying for jobs with delivery services and grocery stores, but didn't hear back. "Ok, what am I gonna do?" she asked herself. "It's not like I can go get another career. I've been a hair stylist for 22 years." So she pulled her grandmother's barber chair out of storage, hung a mirror on the wall of her living room, and stocked up on bleach and Barbicide and masks. Then, she wrote her ad. "I was like, 'I don't think people are gonna drive all the way out here to Compton to see me,'" she told me over the phone. "And when my phone had over 100 texts in one day, I was like, 'oh my goodness, what am I gonna do?' Is a lot of people out there that needs haircuts!'"
Speaking of haircuts, I'm scheduled for one on Tuesday. It's either that or join the Duck Dynasty crowd.
***
Not only do we let Hillary
Clinton
Cankles down.
So does Covid-19. I guess us deplorables are in good company.
***
Women's clothing. I have no comment and I have learned enough over the years not to have a comment.
Comment at your own discretion, you have been politely warned.
***
Electric drag racer. Pretty damn fast but what kind of range does it have?
History was made recently when this bright orange dart of a car became the first electric car to eclipse 200 miles per hour in the quarter mile. Running a 7.520 second pass at 201.07 miles per hour, the Current Technology 2.0 dragster ran a world record pass in only its second pass of the day. Of course, this isn't near as quick as the professional Top Fuel folks are running, but it's a milestone that deserves celebration nonetheless.
***
OK, you can take on squirrels.
How are you when it comes to black bears?
***
We all know that the CDC is a top notch government agency looking out for what is best for you.
In a follow-up piece to "NYC's Rat Population Hit With Hunger Crisis During Lockdowns," the Centers for Disease Control and Prevention (CDC) has published a new warning that rats across the country are becoming hangry as they scavenge for food amid the closure of restaurants triggered by COVID-19 lockdowns. "Community-wide closures have led to a decrease in food available to rodents, especially in dense commercial areas. Some jurisdictions have reported an increase in rodent activity as rodents search for new sources of food. Environmental health and rodent control programs may see an increase in service requests related to rodents and reports of unusual or aggressive rodent behavior," the CDC warning read. The CDC said some regions have reported "an increase in rodent activity" and cautioned about their aggressive behavior. An urban rodentologist recently said NYC rats have become hostile and are resorting to cannibalism as food becomes scarce with restaurants closed.
***
Last night at our grill out we spoke about Michigan, Chicago and several other jurisdictions. I made the observation, "The Revolutionary War was fought over less."
That observation seems to be spreading.
What started out as a freedom-loving celebration of the Second Amendment ahead of Memorial Day turned into Gov. Andy Beshear being hanged in effigy and protesters chanting outside the governor's mansion. The Second Amendment rally, meant to inspire people "about what it really means to be FREE," according to Take Back Kentucky, attracted at least 100 people on Sunday. They gathered from 1-4 p.m. at the Kentucky State Capitol in Frankfort.
***
Manure is a valuable commodity.
Urine could be on the moon.
Earth, which means they'll have to get creative with the limited resources on the lunar surface. Moon dirt is a great building material and there's water in the form of ice at the south pole that can be turned into rocket fuel. But the hottest commodity of them all may very well turn out to be an astronaut's own pee. Earlier this year, a team of European researchers demonstrated that urea, the second most common compound in human urine after water, can be mixed with moon dirt and used for construction. The resulting material is a geopolymer, which has similar properties to concrete and could potentially be used to build landing pads, habitats, and other structures on the moon. Geopolymers are regularly used on Earth as an eco-friendly alternative to conventional concrete. One of the main ingredients in concrete is cement, which requires a high-temperature 22manufacturing process that releases a lot of CO2. But a geopolymer doesn't require much energy at all. Instead of cement, it uses pulverized rocks or fly ash, the waste product from burning coal. When this is mixed with water and certain reactive compounds, it creates a putty-like material that can be cast into desired shapes before it's left to dry.
***
The ONT Musical Interlude
&&&
Tonight's last selection is a hat tip from Hrothgar.
Via Wikipedia - In 2005, the band released a two-song CD single for the family of Andrew K. Farrar, Jr., a sergeant in the U.S. Marine Corps who was killed on January 28, 2005, in Al Anbar, Iraq, during Operation Iraqi Freedom. Farrar, who was a big fan of the Murphys, made a request to his family that if he did not survive his tour of duty, he wanted "The Fields of Athenry" to be played at his funeral. The single features a slower version of "The Fields of Athenry" that was originally recorded and placed in Farrar's casket, although the band decided to release the alternate version. The disc also features the track "Last Letter Home," which was written about Farrar and was featured on the Murphys' 2005 album The Warrior's Code. All of the proceeds from the $10 single go to the Sgt. Andrew Farrar Memorial Fund and can be purchased through the band's website or at one of their shows."
***
Graduations are still occurring. Mike Rowe with a profound speech.............
***
The best commencement speech never given, but should be.
OK .. it's time for you to hear something – to learn something – that may, but should not, come as a complete surprise. You are the victims of a terrible fraud. You have just completed your travels through an educational system that had no real intention of educating you … at least not too much. You're pretty hot at research right now, aren't you? While those skills are still with you, perhaps you would like to put them to work studying the start of compulsory government education in the early part of the last century. Do you really think that the goal of our compulsory government education system has been to actually educate you? Did you study H. L. Mencken? In 1924 he wrote an article for the American Mercury where he defined the true aim of our then-fledgling system of education. Listen carefully: The aim of public education is not to fill the young of the species with knowledge and awaken their intelligence. … Nothing could be further from the truth. The aim … is simply to reduce as many individuals as possible to the same safe level, to breed and train a standardized citizenry, to put down dissent and originality. That is the aim in the United States and that is its aim everywhere else.
***
Obviously not wearing a helmet is a big deal for this
Genius Award Winner.
LONDON, ONT. -- A 21-year-old man is facing impaired driving charges after allegedly operating a go-kart while under the influence. Shortly after midnight Saturday, St. Thomas police stopped the suspect on Centennial Avenue. Witnesses say the driver was speeding with no lights on and not wearing a helmet, just a cowboy hat.
***
Florida, The Land of Sunshine and Florida people.
***
Tonight's ONT has been brought to you by Sculpture.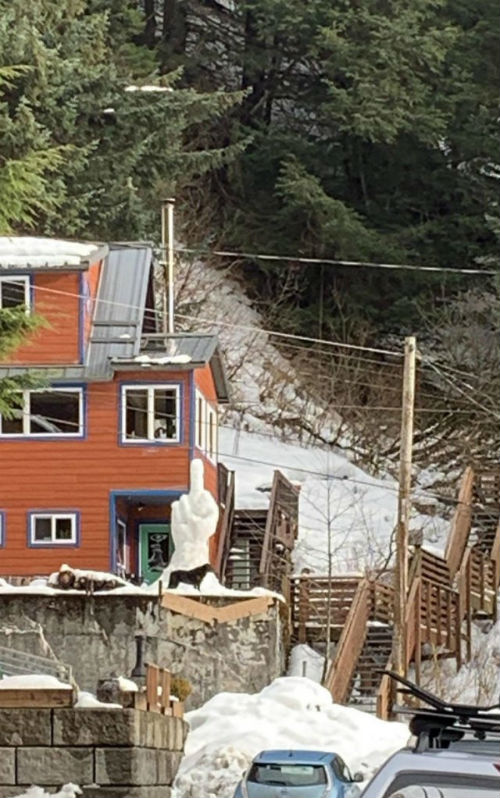 Notice: Posted with permission by the Ace Media Empire, AceCorp, LLC and those Armed Forces members who gallantly lost their lives so we can enjoy the First Amendment.
Posted by: Misanthropic Humanitarian at
10:05 PM
MuNuvians
MeeNuvians
Polls! Polls! Polls!
Frequently Asked Questions
The (Almost) Complete Paul Anka Integrity Kick
Top Top Tens
Greatest Hitjobs
News/Chat