Food Thread: The Fault, Dear Duck, Is Not In Our Tastes, But In Ourselves, That We Are Gluttons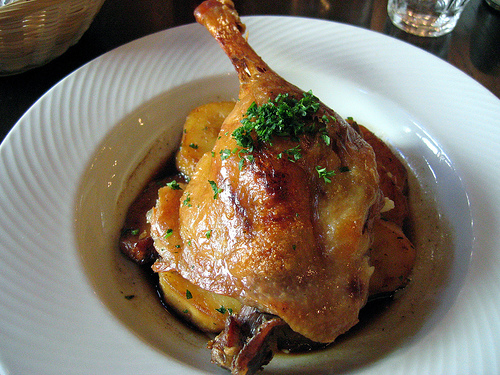 Duck is a marvel, and very few preparations are more trouble than duck confit, which is nothing more than poaching the duck for a very long time in copious quantities of duck fat. But most people don't have a quart or two of duck fat in their freezers, so it is a dish that is best left to restaurants. Wait!
Sous Vide
Man strikes again! There is enough fat in and around a duck leg (the preferred piece for confit) that the confined space in a cooking bag is perfect for that gentle, long poach. Gone are the days of hoarding duck fat, going on midnight raiding parties to other neighborhoods in the hope that someone's duck-fat stash has been left unguarded, or even worse buying from black marketeers selling substandard and probably illegal fat. Well, what's a fellow to do if he has access to a fine poultry farm that is more than happy to sell him a bunch of duck legs (with a lot of back skin and fat attached)? Yup...I bought several of the fat little things (ouch...they were not cheap) and got about a pint of beautiful rendered fat from the extra skin, and those confit duck legs happily chilling in the refrigerator for tonight's dinner. 10 minutes in a very hot oven, and they should be good to go with some roasted asparagus and a tart salad of some sort, just to cut the richness of the duck. Yeah...I am getting just a bit sick and tired of cooking every single meal, so I am going farther and farther afield to keep my palate and my psyche entertained.
******
This is very interesting, but clearly old news. There has always been a network of these small to mid-sized farms that cater to their neighbors and the well-heeled. And unsaid in the article is any mention of the fact that these farmers and ranchers are doing it TO MAKE MORE MONEY! It's the free market at work, and one of the reasons why there aren't more slaughterhouses in this country is that the government has placed unbelievable regulatory barriers in front of anyone who wants to open one.
Farmers dubbed the 'Carbon Cowboys' say business is booming during coronavirus
"With more processors, more farms can transform and thus grow small businesses and the rural economy," he added. "These communities that are dead and boarded up will come to life and rural economies will surge. The country's economy surges when small businesses and communities thrive."
But, as expected, it turned into a screed about the vanishing farm and rural life and the nobility of small-scale agriculture, when the reality is that most people don't want or can't afford boutique food, and would prefer cheap, good quality stuff no matter how far it had to travel.
******
Oh good, because nature has been on a losing streak recently and really needs a solid win.
New freeze-resistant trichinella species discovered
******
The dude's not wearing pants. Although...I do agree about the tipping. Most of us have more money than the folks behind the bar slinging our booze, and if they do a halfway decent job I think they should be rewarded. I have done some careful observing in bars over many years, and I discovered long ago that many people are cheap bastards and either don't tip or tip a small amount. And a good bartender is as important a cog in the machinery of society as a fine physician or a good mechanic or the guy who empties your septic tank, so the good ones deserve our appreciation.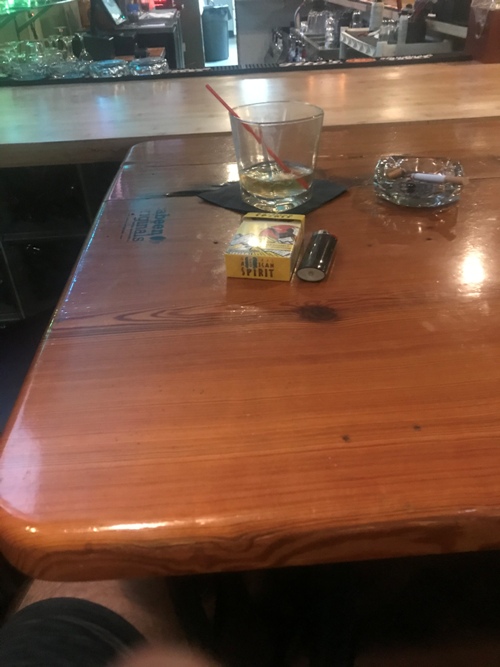 I know you endeavor to keep the Food Thread as a sanctuary from that which-shall-not-be-named, but I thought y'all might get a kick out of this anyway. Last weekend I turned 29, again, and decided to do a brief pub crawl around town here in East Tennessee. Tennessee recently lifted some restrictions in Phase 1 of reopening and though business at bars was not booming, to say the least, my heart was lifted somewhat by the creativity of local establishments. At the first bar, as Tennessee has lifted only for food service establishments, my bartender informed me that I must order food in order to drink. Her suggestion? A 50 cent order of celery covered requirements. She noticed I didn't eat any as I pounded down three Miller Lite bottles. Sensing I was unhappy with my meal, she comped the celery from my tab. Bill: $9.00. Gratuity: $10. At the second bar, Tennessee has strongly suggested staff wear masks. The bartender wore a mask around his bicep. One Jameson Irish Whiskey, Tab: $7.00. Gratuity: $5. Third bar (picture attached), Tennessee law still prohibits seating guests at the bar, but permits seating at tables in groups of 6.. The solution? Long, rectangular tables were pushed up against the bar, where customers could congregate in groups of 4. The tables were spaced 6 feet apart at the breaks. 2 double Jameson rocks. Tab: $30. Gratuity: $10. The fourth bar was the one most after my heart. A pool hall that wasn't technically allowed to be open, as they had no kitchen service. All bets were off. Open seating. Bar stools removed, but customers still standing at bar talking. The only change? Cash only, such that credit card sales would not tip off the authorities. 4 Miller Lites: $10. Tip: $10. Stupid rules call for creative compliance. If you are so inclined, take a trip to the bars in your area in whatever limited capacity they may be operating in and take care of your bartenders. They could be sitting at home drawing a check like a welfare bum, but they want to work and hang out with you guys.
-- Bitter Clinger
******
I am always troubled by recipes that call for cider, because I think it's pretty vile stuff and doesn't belong in civilized food. But man! I love chorizo, so for that I will entertain the notion that this dish is not awful.
John Whaite's chorizo and chickpeas braised in cider
I might wimp out at the last minute and use beer instead, but if any of you reprobates makes this dish, please keep us posted.
******
Some of these are just dumb. Zucchini pizza? Blow me. And Salad Pizza? Go away, eat your tofu and sprouts with vegan cheese and plague us humans no more!
37 Best Pizza Recipes
And some of them aren't really pizzas, but flat breads and baguette-looking concoctions. But...enough of them look great that it's worth a read. [Hat Tip: Misanthropic Humanitarian]
******
Food and cooking tips, Large-breasted Muscovy ducks, young wild pigs, bartenders who use vermouth in Martinis, crisp bacon (although I am moving toward less crisp), low-temperature-roast chicken, and good tomatoes that aren't square, pale pink and covered with Mestizo E.coli:
cbd dot aoshq at gmail dot com
. Any advocacy of French Toast with syrup will result in disciplinary action up to and including being
nuked from orbit.
And yes, shaking a Manhattan is blasphemy...it's in the Bible!
Posted by: CBD at
04:00 PM