Tuesday Overnight Open Thread (3/31/20)
***
The Quotes of The Day
Quote I
"They have access to technology allowing them to livestream their services over the internet and broadcast to their 400 members from the safety of their own homes, but instead they chose to gather at church," Sheriff Chad Chronister
Quote II
"We're delighted that Gov. Murphy has reversed course on this matter, even if it took a lawsuit to get him to do it," SAF founder and Executive Vice President Alan M. Gottlieb
Quote III
"Every premature death is a tragedy, but death is an unavoidable part of life," US Senator Ron Johnson (R-WI)
Quote IV
"You want a husband," he said. "But when God gives you a nice husband with a six-inch, you — hallelujah — cannot be satisfied." Marlon Bolton
H/T Cuthbert J. Farnsworth IV
***
Who runs for HOA governing positions?
I'll tell you who, bottom feeding scum sucking power hungry Nazi scolds. miserable excuses for human beings, that's who.
The always quotable H.L. Mencken once observed, "Every normal man must be tempted, at times, to spit on his hands, hoist the black flag, and begin slitting throats." For some residents of one unnamed Tennessee neighborhood, that time is now. A Reddit user went to the legal advice thread with a question about being evicted for working from his condo along with 24 other "offenders." The HOA complaint -- which was verified as legit by thread moderators -- says, "It has come to our attention that you are in violation of Article VII, Section 8 of our Bylaws" which state that "Commercial business may not be maintained or transacted on any Lot or in any residential unit." As a result, "we will be invoking section II, Article 4 of the Bylaws, which allows the Board to foreclose on any property that is in violation." The HOA president demands, "You must vacate the premises by April 30, 2020."
***
Paul Joseph Watson on social distancing and the hypocritical left.
***
Attempting to find non-Kung Flu stories is a challenge. Here's something interesting.
Looking at the story's photo
I'm not surprised in the least. Yes, Virginia, I do judge a book by its cover.
Man Includes His Wife's Girlfriend in Wedding Photos and Then.... As a general rule, polyamorous relationships are a disaster, but what if it's man/woman/woman? Hmmmm?
***
***
A case where cops need thicker skin.
Using Vulgarities When Speaking to a Police Officer Isn't a Crime
You'd think that would have been clear by now to prosecutors and judges.
***
Isolated? Bored?
Make your own bagpipes and have a concert.
Kilts optional. So is
guts
Haggis.
***
Speaking of boredom and isolation Astronaut prick extraordinaire
Scott Kelly tells us how to put up with isolation.
Being stuck at home can be challenging. When I lived on the International Space Station for nearly a year, it wasn't easy. When I went to sleep, I was at work. When I woke up, I was still at work. Flying in space is probably the only job you absolutely cannot quit. But I learned some things during my time up there that I'd like to share — because they are about to come in handy again, as we all confine ourselves at home to help stop the spread of the coronavirus. Here are a few tips on living in isolation, from someone who has been there.
***
We have to get CBD's Sunday Food Thread out. Preach it!
HOW PEOPLE WHO SUCK AT COOKING ARE SURVIVING QUARANTINE
Desperate for sustenance, quarantiners who are unable to cook are relying on microwavable macaroni and Lean Cuisines "I hate cooking," exclaims Michael, 27. When California, his state of residence, enacted a stay-at-home order in response to the spreading coronavirus, he frantically stockpiled frozen dinners. "I usually get food at work on weekdays," he explains. "We have a fully stocked kitchen, catering or a $15 work expense for lunches. On weekends, I have some basic stuff in my kitchen, like bananas, milk and cereal, but I mostly eat out. I get brunch and dinner with friends, so I hardly cook."
Good Lord!
***
***
The ONT Musical Interlude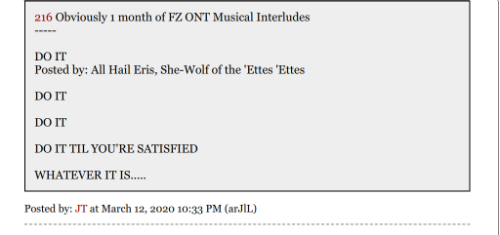 To Sunday night's early morning whining troll, here's some "newer" Zappa.
***
Not 1. Not 2. Not 3. But 4 magnets up the old schnoz.
Genius Award Winner.
An Australian astrophysicist has been admitted to hospital after getting four magnets stuck up his nose in an attempt to invent a device that stops people touching their faces during the coronavirus outbreak. Dr Daniel Reardon, a research fellow at a Melbourne university, was building a necklace that sounds an alarm on facial contact, when the mishap occurred on Thursday night. The 27 year-old astrophysicist, who studies pulsars and gravitational waves, said he was trying to liven up the boredom of self-isolation with the four powerful neodymium magnets. "I have some electronic equipment but really no experience or expertise in building circuits or things," he told Guardian Australia.
***
I can't imagine losing a pet. I can't imagine losing a child. I can't imagine losing both.
Tonight's Feel Good Story of The Day.
4-Year-Old Missing For 2 Days Found In The Woods With Dog By Her Side Searchers found a 4-year-old girl who had been missing for two days in a wooded area in east Alabama. The girl was in good condition with a dog at her side.
***
Tonight's ONT has been brought to you by Football Officials.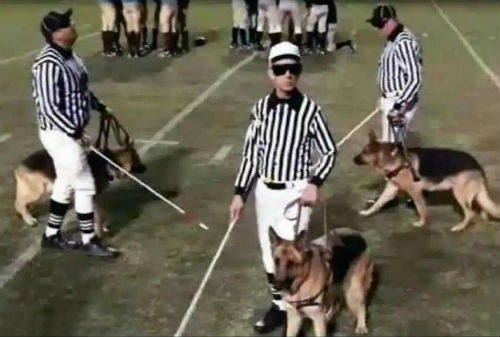 Notice: Posted with permission by the Ace Media Empire, AceCorp, LLC and Dewey, Cheatem & Howe, S.C. The ONT may or may not have bad photoshop photos. "Get over yourself".
Posted by: Misanthropic Humanitarian at
09:58 PM
MuNuvians
MeeNuvians
Polls! Polls! Polls!
Real Clear Politics
Gallup
Frequently Asked Questions
The (Almost) Complete Paul Anka Integrity Kick
Top Top Tens
Greatest Hitjobs
News/Chat