Tuesday Overnight Open Thread (1/7/20)
***
The Quotes of The Day
Quote I
"I hope it was an accident is the best I could tell you cause' otherwise that could've been devastating for a lot of people," Neighbor Dave Cox said
Quote II
When the dirtbag catspaws of the dirtbag Iranian mullahs surrounded the American embassy in Baghdad, American liberals were more excited than the old Weekly Standard's staff would have been upon discovering that it was sharing one of its cruises with a pool boy and sexy gardener convention. Kurt Schlichter
Quote III
Killing Soleimani was just. But what is just is not always wise. Patrick J. Buchanan
Quote IV
"We cannot stop violent crime through policing alone. We must use both community-based interventions and an integrated crime-fighting strategy," Bernard "Jack" Young, Baltimore, MD Mayor
Quote V
The fact that I am an observant Jew and my gun has Nazi insignia is a stark reminder that a gun can be used for good or bad. Sometimes you need to pick up your enemy's sword and use it against him. Yehuda Remer
Quote VI
I think that California can serve as a great example for the rest of this countryFormer Mayor Michael Bloomberg
***
Beer volumes fell by 3% through November, data from Beer Canada show.
"Volume decline accelerated in 2019, down 3% through November." The new availability of a wide array of legal marijuana products has is beginning to take a bite out of beer consumption in Canada, reports Bloomberg News. That's a big deal for a nation that prides itself in beer. What will Bob and Doug MacKenzie say?
***
First it was the "Impossible Burger".
What's next, "Impossible Bacon"?
At last year's CES, Impossible Foods interrupted the flow of really big TVs and AI-powered gadgets to introduce the second iteration of its impressively convincing, plant-based ground beef. This year, Impossible has taken aim at replacing pork with plant materials—and we got an early chance to taste it here at the show. Like the Impossible Burger 2.0, the pork replacement relies on soy for its protein source as opposed to the wheat protein from the original burger product. Predictably, the new Impossible Pork also contains the iron-containing heme molecule that make's Impossible's meat taste like it came from an animal—it's just in a smaller concentration. Coconut oil and sunflower oil help the pork sizzle and brown as it cooks.
***
I'm a little surprised.
Boy George is not woke.
***
Brilliant business strategist? Sleeping her way to the top?
Or just the daughter of Bill and Hillary Clinton?
Clinton, the only child of former President Bill Clinton and the former Secretary, has served on IAC/InterActiveCorp, a media and internet investment company owns a stake in 150 major brands, such as Vimeo, Tinder, Angie's List and Home Advisor. She gets an annual $50,000 retainer and $250,000 worth of restricted IAC stock units, Barron's reports. "She reported owning $8.95 million worth of IAC stock to the Securities and Exchange Commission at the end of December,"
***
Climate change, just another word for arson.
Authorities in Australia have arrested close to 200 people for deliberately starting the bushfires that have devastated the country, yet the media and celebrities continue to blame "climate change" for the disaster. The fires have caused at least 18 deaths, destroyed thousands of homes, millions of hectares of land and killed hundreds of millions of animals. A total of 183 people have been arrested by police in Queensland, NSW, Victoria, South Australia and Tasmania for lighting bushfires over the last few months, figures obtained by news agency AAP show.
***
Something I didn't know, an Iraqi Consulate in Detroit.
What's taking place there doesn't surprise me however.
The Iraqi Consulate in Detroit is facing backlash after announcing it would be holding a memorial for Iranian Gen. Qasem Soleimani. The Michigan-based Consulate came under fire and even got the attention of the FBI after posting an announcement of the event honoring the Iranian military leader as well as Cmdr. Abu Mahdi Al-Mohandes, who were killed in a U.S. airstrike in Baghdad last week.
***
Sure climate has something to do. But it boils down to regulations and taxes.
New IRS Data Reveals Winners & Losers Of Wealth Migration Across 50 States
Nearly 7.5 million people moved from one state to another in 2018, boosting the economies of some states while straining the finances of others. The winners of the battle for people and their incomes included states like South Carolina, Arizona, Texas and Florida. Those findings are based on a Wirepoints' analysis of the latest 2018 domestic migration data provided by the Internal Revenue Service. The stakes are large. A growing population for the winners means an increasing tax base, economic growth and investment. And as baby boomers age and pressure to fund pensions increases, a growing workforce is a windfall.
***
The Rose Bowl, an American Institution.
The Rose Bowl proudly lives up to its reputation.
B-2A "Death 11" over the Rose Bowl Stadium in Pasadena.
On January 1, 2020, a U.S. Air Force B-2A Spirit performed the traditional Rose Parade flyover. The aircraft, flying as DEATH11, launched with the spare Spirit using radio callsign DEATH 12 from Whiteman Air Force Base, Missouri, home of the 509th Bomb Wing, and was supported by a KC-10 tanker, c/s XTNDR30. Our friend Mark Holtzman, a photographer and pilot, founder of West Coast Aerial Photography, a company specialising in aerial photography based in Los Angeles, was once again airborne over Pasadena in his Cessna 206 flying some 2,500 feet above the B-2 to take the traditional air-to-air images of the stealth bomber as it flew over the Rose Bowl Stadium in Pasadena, for the 106th Rose Bowl Game that pit the Big Ten Conference runner-up University of Wisconsin-Madison Badgers against the Pac-12 Conference champion University of Oregon Ducks.
***
You can see the great U.S.A.
And have an unlimited supply of Oscar Meyer wieners.
Jan. 6 (UPI) -- Oscar Meyer announced it is seeking a new "hotdogger" to be in charge of taking the iconic Wienermobile across the country to promote the brand. The company said in a job posting online that it is seeking a "hotdogger" to "travel the hot dog highways of America" with the Wienermobile and to act as a "traveling public relations firm."
***
Is it true, if they build, they will come?
Toyota plans on building the city of the future.
LAS VEGAS (Reuters) – Toyota Motor Corp<7203.T> said on Monday it plans to build a prototype "city of the future" at the base of Japan's Mt. Fuji, powered by hydrogen fuel cells and functioning as a laboratory for autonomous cars, "smart homes," artificial intelligence and other technologies. Toyota unveiled the plan at CES, the big technology industry show. The development, to be built at the site of a closed factory, will be called "Woven City" – a reference to Toyota's start as a loom manufacturing company – and will serve as a home to full-time residents and researchers.
Cities are cities.
***
The ego of some people is just astounding.
I wouldn't vote for him even if he had the Republican nomination. Let alone an Independent Party run.
Lincoln Chafee, who served as Rhode Island's Republican Senator from 1999 to 2007 (after serving as a Republican mayor in the highly Democratic city of Warwick for the previous six years), served as governor of Rhode Island from 2011 to 2015 as an independent, and ran for president in the 2016 cycle as a Democrat, on Wednesday will formally announce his intention to seek the Libertarian presidential nomination at an event at the National Press Club in Washington, D.C. Chafee's campaign website says he intends to "Protect Our Freedoms" and "Tell The Truth" and promises that under a President Chafee we'll see "No More Wars. No More Reckless Spending."
***
The New Year hasn't started out well for the USPS.
As 2020 kicks off, the gift-giving season already feels like it was eons ago. But to the beleaguered and overextended United States Postal Service (USPS), the frantic pace of holiday shipping will continue well into January. Thanks to increasingly generous, "no questions asked" returns policies by leading e-commerce sellers, an astounding one third of shipped packages will be returned to manufacturers. But the USPS, which is bleeding red ink and scheduled to run out of cash by 2024, collects little from this shipping bonanza due to opaque, deeply misguided pricing policies vis-à-vis thousands of major sellers. Absent significant reforms, gift receipts will continue to cost taxpayers and consumers dearly. We all have that quirky great aunt who sends the strangest gifts or that ridiculously ugly sweater that doesn't fit. Many of these gifts get returned via the USPS. Yet thanks to the prepaid return policies of most online sellers, consumers usually don't have to bear any cost for returning those packages. But someone has to pay for the return service, which, after all, involves substantial labor and capital (i.e. mail trucks and scanners). That's where e-commerce companies are supposed to kick in, paying the USPS for the return fare for either the entire journey or at least the first leg before the merchandise is handed off to a private delivery company. Not so fast. Consumers are being left in the dark about how much leading e-commerce companies compensate the federal agency and if revenues are meeting costs. The actual formulas that lead the USPS to determine which shipping prices are reasonable to charge are a closely guarded secret. Observers trying to figure out how the agency goes about charging e-commerce companies will be greeted with thick redactions on Inspector General documents, to the point that they start to resemble the Mueller Report. But there are plenty of hints that something is seriously wrong with the way the USPS calculates its prices. In its recently released fiscal year (FY) 2019 Annual Compliance Report, the agency notes that revenue from mail items such as packages covers 23.4 percent of the agency's "total institutional costs."
***
The cost of business.
CHICAGO — Chicago police are investigating a burglary at MOCA Modern Cannabis, a legal dispensary selling both medicinal and recreational marijuana on the Northwest Side, after someone broke in overnight. Police say "offenders" possibly used a key card to break through a side door of the cannabis shop on the 2800 block of West Fullerton Avenue in Logan Square before getting away with an undisclosed amount of money. Customer after cash-carrying customer was turned away at the door Monday. "I came by MOCA to buy some oil and some flower, but apparently they're closed," customer Paul Toledo said. Some elected officials are calling for changes to banking regulations, saying they make these shops targets. Because cannabis is still illegal on the federal level, most banks won't risk doing business with the cannabis industry. So for now weed shops are all-cash.
The ONT Musical Interlude
On this day: 7 Jan 1948
Kenny Loggins, singer, songwriter, (one half of Loggins & Messina 1971-76), 1984 US No.1 & UK No. 6 single 'Footlose' from the film of the same name. via thisdayinmusic.com
&&&
***
I've never heard of this league, have you, The Professional Drinker League?
Genius Award Winner.
A tipsy Florida Motorist whose blood alcohol content was measured at nearly three times the legal limit admitted consuming whiskey shots prior to driving, but assured cops, "I'm a professional drinker." George Emmanuel, 54, was collared late Wednesday evening after a sheriff's deputy spotted his vehicle speeding in a 35 mph zone. After being pulled over, Emmanuel--who was wobbly and had "watery and glassy" eyes--performed poorly on a series of field sobriety tests. Additionally, his blood alcohol contest was measured at .218 and .211 (.08 is the legal limit)
***
They didn't ask me, I would have contributed.
Tonight's Feel Good Story of The Day.
The Walker family from Gilbert, Arizona, has a yearly tradition that many families who live in arid conditions share: At some point, generally around the holiday season, they make the trek to snow — wherever that may be. While snow may be a necessary evil for many people, sometimes Christmas just doesn't feel complete without a snow day. This year, though, the Walkers were cautioned against making the long drive to a higher elevation because of their 2-year-old, Quinn. Quinn was born with a rare genetic disorder and only has the right side of her heart. She's undergone surgeries and has another coming up in April, and doctors warned her family that the trip could prove too much for her. "She looks completely healthy and normal.
***
Tonight's ONT has been brought to you by Romance.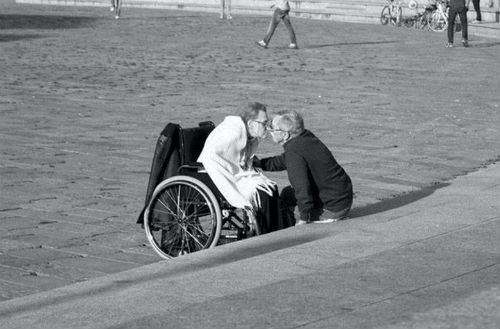 Notice: Posted with permission by the Ace Media Empire and AceCorp, LLC. Proudly made in the U.S.A.
Posted by: Misanthropic Humanitarian at
09:57 PM
MuNuvians
MeeNuvians
Polls! Polls! Polls!
Frequently Asked Questions
The (Almost) Complete Paul Anka Integrity Kick
Top Top Tens
Greatest Hitjobs
News/Chat