Failing to adjust to reality [KT]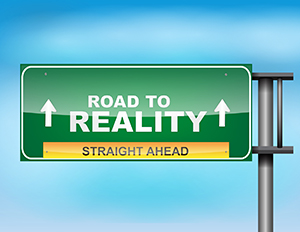 Dennis Prager pointed out years ago that
leftism is a religion.
Tucker Carlson recently spoke on a similar theme, suggesting that many who are in power today, along with some of The Woke, tend to believe that they have no need to adjust to reality. They are in control of reality. Yesterday, The News Junkie at Maggie's Farm posted a video of
Tucker Carlson speaking at a church
for the first time. There is a link to the entire speech in the comments. The shorter video below focuses on the belief of many in positions of power that they can overrule reality. In other words, their belief that they are God. Some quotes about the nature of political debate in our time - a debate about power: "This is a theological debate". "The debate is no longer between faith and reason." "The root argument is do you think you're in control of the universe or don't you." ". . . the truth is the people who run most of our institutions in this country (and by the way they're of both parties) tend to believe that they are wholly in charge."
The Train to Nowhere
An update on a local story (for me) about the
train to nowhere.
Gavin Newsom showed some signs earlier of coming around to reality when he admitted that Jerry Brown's dream of a bullet train from Los Angeles to San Francisco was not going to happen. But he wanted to hold onto those sweet federal dollars that were dedicated to the first phase of the project, through the Central Valley, where ridership would always be low. Of course, he wanted to divert some federal funds to other rail projects. He and his people got resistance from the feds, who insisted that the money be spent on the original segment for which it was approved, or not at all. You can read about current local fight at the link. So stupid. Really snarling up our traffic. All for a train that will be a little faster than the Amtrak that already exists. If it is built.
What can happen when you know you're not in control
A little story here about someone who really wasn't in control, but built a fantasy. Which is how
KFC for Christmas
came to be a thing in Japan.
Poetry
While we here at AoSHQ are partial to limericks, maybe we shouldn't turn up our noses at
Haikus of existential despair and humor
as the new year approaches. Maybe we can get some of existential despair out of our systems without going to a poetry slam. A couple of samples:
Heed the small, still voice That says: Don't push it today, You'll blow out your back.
UFO meetup. . . Rather interesting group. (That's a euphemism.)
From the comments:
What can bind us now? Only this one truth: Epstein Didn't kill himself.
Music
To me, winter is the best season for chamber music. Bach dedicated most of his works to the Glory of God, but that didn't mean he couldn't have a sense of humor. The Brandenburg Concerto No. 3 includes
the shortest movement
in a concerto from that era, the second, Adagio, movement. This was written a few days ago:
Tomorrow is the Winter Solstice, the day when there's the shortest amount of daylight of the year - and a perfect time to reconsider the all but microscopic middle movement of Bach's Brandenburg Concerto No. 3. On the printed score, it's only one measure long, containing two chords that aren't even in the same key as the movements on either side of it. And yet, it gives performers the freedom to improvise and embellish to their heart's content.
Here is a performance in which an entirely different piece of music is played as the second movement, from 5:38 to 8:10. I don't know what the added music is. Where have you heard the first and third movements?
There are two other versions at the link above. Wonder what it would sound like with some walking-tempo jazz or something swapped into the middle of the concerto? Got any other ideas? Hope you have a nice weekend. Are you taking a break between Christmas and New Years? Remember that this is the Thread before the Gardening Thread.
Serving your mid-day open thread needs