Her Majesty? [KT]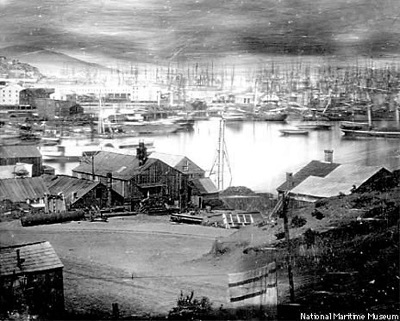 San Francisco Waterfront, 1851
Time for an Empress? Or Something?
Well, yesterday we learned that Hillary Clinton believes that Donald Trump plans to stay in office forever, that she has secret information that
Tulsi Gabbard and Jill Stein are Russian assets
and that
ten year olds
are responsible for her election loss. For some reason, after I learned all this,
Emperor Norton,
who reigned for 20 years in San Francisco, popped into my head.
At age 41, three years after losing everything, Norton christened himself Emperor of the United States. When France's Napoleon III invaded Mexico in 1861, Norton added "Protector of Mexico" to his imperial title.
It's been about three years since Hillary lost the Big One. Is it time for a novel new occupation for her? Emperor Norton's life history at the link above is interesting. The NPR-type progressive posturing is a little annoying, but perhaps Norton IS the ideal symbol of San Francisco in some ways.
Not much is known about Emperor Norton's early life, according to John Lumea, president of the Emperor's Bridge Campaign, which focuses on researching Norton's life and sharing it with the public. Here's what we do know. Emperor Norton was born Joshua Abraham Norton in 1818 to Jewish parents in present-day London. At age 2, he moved with his parents to South Africa, where his dad set up a successful ship supplies business.
After some reversals in fortune and after becoming Emperor by simply publishing a declaration in a newspaper, Norton lived an active life in San Francisco:
For lunch, Norton could go to almost any tavern in town and for the price of a drink, no more than 25 cents, get access to a full lunch spread of salmon, roast beef, tomatoes and more. "He really makes himself part of the life of the city," Lumea says. "He goes to political meetings. He goes to the theater. He goes to the saloons. He makes himself a public presence. He's in the streets."
Could Hillary find a little waterfront somewhere to live a life kind of like this? Maybe with an
ankle monitor?
The local police could be ordered to salute her when she passed. Perhaps the mayor could order that people call her "your majesty" (or another preferred pronoun), on pain of a large fine. Preferred pronouns are important. Emperor Norton
sometimes sounded more rational
than Hillary sounded yesterday. Not always, though.
Many of the "decrees" attributed to Norton I were fakes; written in jest by newspaper editors at the time for amusement, or for political purposes.
Fake news is not new!
Those "decrees" listed here were, we believe, actually issued by Norton.
A few of Norton's decrees:


July 16, 1860 - Decree from Norton I dissolved the United States of America.


October 1, 1860 - Decree from Norton I barred Congress from meeting in Washington, D.C.
August 12. 1869 - Decree from Norton I dissolved and abolished the Democratic and Republican parties because of party strife now existing within
December 16, 1869 - Decree by Norton I demanded that Sacramento clean its muddy streets and place gaslights on streets leading to the capitol.
March 23, 1872 - Decree by Norton I that a suspension bridge be built as soon as convenient between Oakland Point and Goat Island, and then on to San Francisco.

Best update on Hillary's interview yesterday?
This made the sidebar, too. Can you find a better one?
Evan McMullin believes Hillary.
Tulsi Gabbard is working with the Russians.
Light Weekend Reading and Viewing
A few links I have saved from Powerline:
Punctuation
Scott Johnson was prompted to study punctuation when he read, for fun, an essay by Montaigne and learned that the original didn't even have paragraph separations. Here is
the secret history of the exclamation point.
And
part 2.
Seems appropriate to the times. I think some people in Montaigne's day must have had powers of concentration superior to ours. The long sentences common in the 19th century can sometimes be a challenge to me. What would I do without paragraphs?
Climate
A 12-minute video by Tony Heller on
junk climate science.
Steven Hayward's
Green Weenies
from the end of September. Heh. Steven Hayward also reports that
The Economist
published a surprisingly good piece on the limitations of computer climate modeling.
Music
Libertango. Improvisation. We have seen one of these sisters playing before. The other was turning pages.
Hope you have a good weekend!
Yes!
this is the Thread before the Gardening Thread!
Serving your mid-day open thread needs!