Gun Thread: Buy Ammo [Weasel]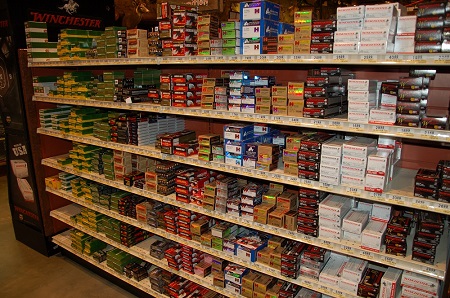 Bountiful Supply!
We spend a lot of time discussing shooting here on the ol' Gun Thread. In fact, if it wasn't for shooting, we'd be stuck talking about h8, or social awareness, or even the horrors of climate change. What we haven't covered is
how much
we have of
what
we are shooting. Lets take a peek below and find out exactly what the ever-loving hell I'm talking about, shall we?
What am I talking about? Well I'm glad you asked!
Buy Ammo
All of the talk about practice and shooting techniques doesn't amount to much if you don't have the ammunition to shoot. A long time ago, I think it's been two or three big 'scares' ago now, I decided to keep on hand a basic supply in every caliber I own. Then I started reloading and buying components in bulk. Now I have very little room left in the basement, much to WeaselWoman's annoyance, but that's a different problem. Some states or localities may have restrictions on the amount you can store at home, but for now, my state does not. Be aware of any such restrictions and decide how to proceed in your own particular situation. Today I'm very comfortable knowing the next time ammo is scarce I
will not
be caught short-handed. What had happened is early in my obsession with guns and shooting I was buying ammo at the range or sporting goods stores as needed, and that meant maybe 100 or 200 rounds at a time. As my firearm collection grew to include many different calibers, this just simply wasn't a good solution anymore. It was also mildly retarded, even when buying for just one caliber, because I was at the mercy of the retailer and limited to whatever was on the shelf at the time. One day I went to the store and there wasn't
anything
on the shelf. Sad and dejected I went home, sobbed into my pillow, and waited for the supply to catch back up with demand. I don't recall hearing about an ammo shortage for a while now, and that's mainly because I don't really pay too much attention anymore. One of my shooting pals has
never
seemed to really grasp the idea of stocking up, even a little bit, and is constantly running out of ammo even absent a shortage. I think he keeps a magazine or two of self-defense ammunition in reserve, but for long periods when ammo was hard to find he could never go shooting. Eventually though, the ammo he needed would reappear on the shelves and he'd be good to go again. But what if the ammo shortage never resolved itself? What if it was never coming back? What do you have on hand right now,
today
, if the trucks were to stop delivering ammo?
Are you comfortable with that answer?
The reasons for the shortages of the past generally had to do with a politician saying or doing something stupid to upset the markets. All of a sudden everyone would run out to the store and buy what they could and we had an instant supply shortage. Since the current administration is gun friendly, times are good right now, but believe me when I say it's not going to last forever. Every single challenger to our beloved President Trump really does mean to restrict or eliminate altogether your rights under the 2nd Amendment. Think I'm kidding? Just listen to what they have to say on the matter, and don't for a minute think they don't mean it. Do I think our current social and political situation will continue to deteriorate? Your guess is as good as mine, but let's just say I don't think it's going to get better. Do I think it will descend into open warfare and street fighting where I'm going through thousands of rounds of ammunition saving democracy? Probably not, but I'm not betting against that, either. Who the hell knows? Given the uncertainty, what I
can do
is simply be
prepared
for the possibility that the supply will someday dry up and what I have on-hand is all I'm going to get. If you couldn't buy ammo starting tomorrow, realistically how much would you want to have on-hand? Do you have it?
Stocking Up
If what you think you need is greater than what you have, then now is the time to start doing domething about it. If you have decided you need to stock up, and have developed some idea how much you should realistically have around, how do you go about it? Well, there are are a couple of ways; a little at a time, or a lot at once.
Buying at Retail
- this is fine if really necessary and you're in a pinch, but unless you find a big sale you're probably paying a premium. The upside is you're not paying for shipping so in many cases it might not be the end of the world. Do the math - shipping a thousand rounds of ammo can cost $25 in freight alone.
Gun Shows
- Ammo sellers are usually well represented especially at larger shows. My experience, however, is the prices are often no better than regular retail. Again, you won't pay for shipping, but don't expect a great deal price-wise. I think gun shows can be a fun place to look around and rarely offer a bargain on much of anything, but you
can pay with cash
.
Online Sales
- this is where you can sometimes get a good deal and buy in bulk. Again, the key to shopping is to stay ahead of the demand curve. When the rest of the shooters in the world are panicking, you typically aren't going to find great deals online either, so plan ahead. There are a gazillion places online to shop for ammo, and I link them regularly here.
Ammoseek
is an online search tool including fairly real-time pricing and is an excellent tool.
Georgia Arms
,
Palmetto State Armory
and
SG Ammo
are a few online sellers just off the top of my head. Subscribe to their mailing lists and wait for sales. Since many of these sellers have little or no overhead, prices can be attractive compared to stores. When you find a good discount or especially a
free shipping offer
it's time to get out the credit card. So now you have a pile of ammo - will it go bad on the shelf and be a big waste of monry? The short answer is
No
. Stored properly, newly purchased modern cartridges are probably not going to go bad in your lifetime. I regularly shoot surplus ammo made nearly 70 years ago and it still works just fine. I have no idea how it was kept before I got it, and I have never had a problem. What is proper storage? Simply store ammunition in a cool, dry place and above all, avoid high humidity and wide variations in temperature. That's it. I would not store large quantities of ammunition in a gun safe or any tightly confined space in case of fire. A cartridge box in your closet will be just fine. Keep in mind though, this is for ammunition made
today
. What if later the propellants are altered to degrade over time as a deterrent to stockpiling? I'm not a chemist, but cannot imagine that would be a hard thing to do. I hope this gives you something to think about. Have a conversation with yourself and realistically assess where you are and where you think you need to be, and act accordingly. If necessary, concentrate on ammunition for the one or two guns you're likely to use most. Things are quiet now but that probably will not always be the case.
*******
Link-O-Rama
Skilled Survival: Ammo Storage
PewPew Tactical: Ammo Storage
U.S. Concealed Carry: Ammo Storage
AmmunitionStore: Ammo Storage
Gun Pros: How Long Does Ammo Last
Active Response Training: Old Ammo
You get the idea.
***Mail Bag***
Once again, our pal
Neon Madman
delivers the mail!
In the blackpowder rimfire cartridge days, .32 was a very popular caliber and quite a few brands of rifles and pistols were chambered for them. The .32 Long was probably the most common, originally used in the Smith & Wesson New Model 2 revolver, and later in many other rifles and pistols. Although now these are all obsolete in the US, per Cartridges of the World, Navy Arms had a run of .32 Long made in Brazil in 1990.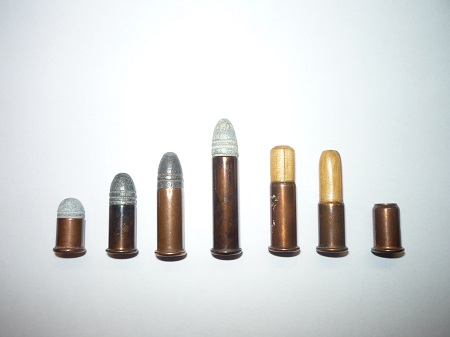 (l-r): .32 Extra Short, .32 Short, .32 Long, .32 Extra Long, .32 Long shotshell, .32 Short shotshell, .32 Short blank.
Am I the only one who finds these fascinating?
Thank You Neon Madman!
******
Please note the new and improved
gmail
account
morongunthread at gmail dot com
. An informal Gun Thread archive can be found
HERE
. If you have a question you would like to ask Gun Thread Staff offline, just send us a note and we'll do our best to answer. If you care to share the story of your favorite firearm, send a picture with your nic and tell us what you sadly lost in the tragic canoe accident. If you would like to remain completely anonymous, just say so. Lurkers are always welcome!
That's it for this week - have you been to the range?