Friday's Job Numbers Were a Lot Stronger Than the Media Would Have You Believe
The DNC Media spins that job creation is slowing.
Well, a bit, sure. But then, the unemployment rate dropped to a rock-bottom 3.5%. (Five percent unemployment is considered
full employment.
) It's hard to create jobs when you're essentially employing everyone who wants to work, or who doesn't want to work but who can be
induced
to rejoin the workforce, already.
The New York Posts notes the good news:
After months of unemployment holding at 3.7%, the rate dropped to 3.5% in September -- its lowest since 1969. And that was far from the only great news in Friday's jobs report. Consider the Bureau of Labor Statistics numbers for minorities: Hispanic unemployment dropped to 3.9%, setting a new record, while African American joblessness remained at a record low 5.5%. And the rate for adults without a high-school diploma dipped to 4.8% -- the first time itís gone below 5% since BLS started collecting the data in 1992. Plus: "Wages are up by almost 3%" for the year, noted President Trump, "a fantastic increase for everybody out there working."

Issues & Insights
notes that not only is the economy very robust, but it's much stronger than economists said it
could
be. Not stronger than it would be, but that it was even possible to be. The article goes back and looks at CBO projections from ten years ago. Back then, economists were predicting a "secular stagnation," a stagnation which wasn't cyclical or due to one or two factors but which was systemic and intrinsic and unavoidable-- sort of like old age just generally degrades a person's health, without there needing to be any particular disease or cause of the deterioration. It looks like the economy got stronger and
younger.

The most surprising thing about the latest unemployment report isn't that the rate dropped to the lowest level since December 1969. It's that unemployment wasnít supposed to get anywhere near that low under President Trump. At least, not if you believed mainstream Keynesian economists. The economy created 136,000 jobs in September, according to the Bureau of Labor Statistics survey of businesses. The separate household survey, which is used to track unemployment, showed that the number of unemployed dropped by 275,000. Not only did the job market pull 275,000 off the unemployment line last month, it pulled more than 100,000 who had dropped out of the labor force back into the job market. This is good news, but it continues to confound mainstream economists, who solemnly predicted at the start of Trumpís administration that we faced a "secular stagnation." Any talk of strong economic growth was a fantasy. When the economy started to outperform expectations, liberals shrugged it off by claiming that the upturn in growth was all baked in the cake when President Obama was president. That is false. We can get a sense of the true impact of Trump's economic policies by comparing the actual results since he took office to the forecasts made at that time. ... The results of this comparison are stark. [T]he economy is now $590 billion bigger than it was supposed to be. The CBO projected that unemployment would never get below 4.4%, and would start rising again this year. Instead, the unemployment rate fell from 4% at the start of the year to 3.5%. The current unemployment rate is now a full percentage point below the CBO's forecast. That translates into 1.6 million more people employed than the CBO expected.
Are voters crediting Trump for this yet? Not sure, but this IBD/TPPP poll shows independents moving
strongly
towards Trump: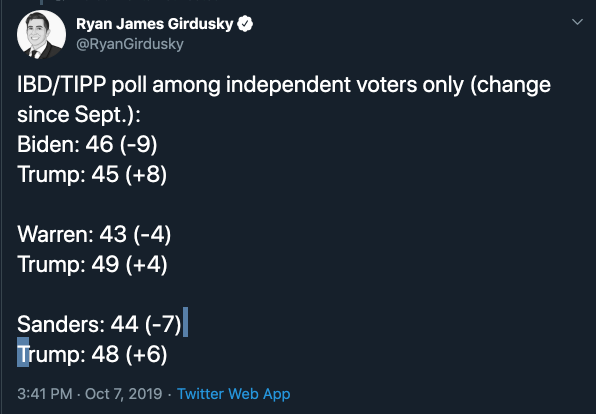 Just to rub NeverTrump's nose in it: one of their several Great White Hopes, their Establishment Liberal Rockefeller Republican Saviors, Nikki Haley -- the woman they were hoping would challenge Trump in a primary -- endorsed Trump wholeheartedly.
Nothing makes me happier than seeing NeverTrump pussies crying over their establishment corporate heroes Marco Rubio and Nikki Haley giving them the sadz. lolgf, sissies.