Saturday Gardening Thread, September 21 [KT]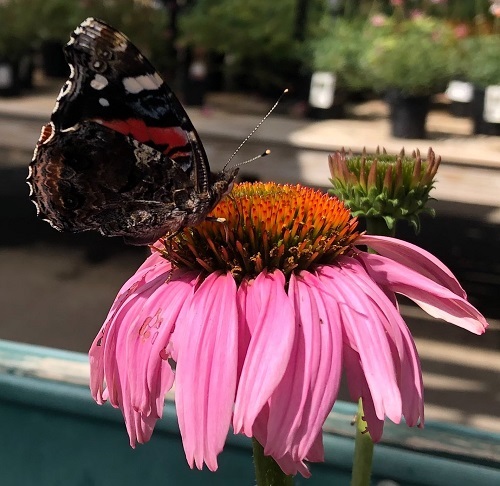 Hello, Gardeners and friends. If you are seeing this thread on Saturday, you are seeing it without KT, who is away from the internet. Why not visit with some other members of The Horde who have garden, puttering, vegetable cookery and nature-related observations and experiences to share? The photo above is from
Hrothgar:
Walking Conor Dog through local nursery, when I spied a butterfly, fumbled with my phone/camera and it flew away. As I prepared to put the camera away he reappeared and posed so I got this. Have no idea what the flower or butterfly are, but I was pleased with the picture. Thanks as always for you work on the blog.
Thanks for the photo, Hrothgar. The underwings of that butterfly have such intricate markings. Think it is a
Painted Lady?
Or maybe a
Red Admiral?
They like dog poop. What do you think the flower is?
The Edible Garden
Something a little different this week. From
Floridachick:
Here is a photo of some of this year's avocados - gift from our one and only avocado tree. The tree is about half as tall as avocado trees eventually get so it is not fully mature. This is the biggest yield ever. I have been taking down from the tree only about 10 to 15 avocados at a time because they all will ripen at once. Husband and I can only eat so many. Absolutely delicious!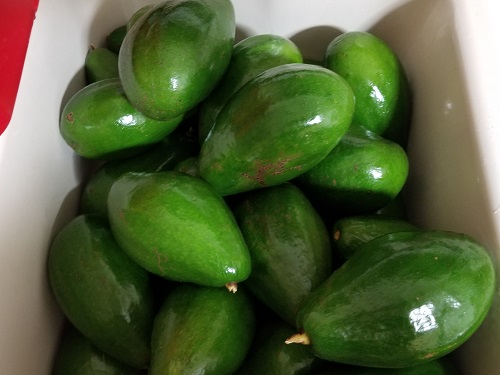 Now we are going to need some guacamole recipes. So we don't have to eat
fake taqueria-style guacamole made with calabacitas.
How can you make guacamole without avocados? Use the calabacitas for something else. The ones used for fake guacamole in Los Angeles restaurants are perfectly lovely little squashes when small and fresh. They're just not avocados. Thinking about growing squash next year? "Calabacita" just means "little squash" or "little pumpkin", and squashes labeled as such vary from market to market.
In various parts of Mexico,
they like either round or long little squashes (calabacitas largas) in either light or dark green. A medium to dark green round heirloom,
also grown in Texas,
is called Tatume. Nice summary at the link, with cooking ideas, history, growing information and dramatic photos. The fruit is firm-fleshed. Pick it small to use as a summer squash. They say you can leave it on the vine for winter squash but I have only seen one suggestion that it tastes good as winter squash. Try the little squashes grilled, steamed with onions and butter or pan-fried with other veggies. The plant is somewhat resistant to squash borer because it is a fast-growing vining type that roots along the ground. Not the bush types of summer squash normally sold in the USA. Where I live, 'calabacita' means Mexican grey zucchini, which is a creamy color flecked with green. I prefer the similar Mideastern Cousa type, which I think maintains its quality to a somewhat larger size if you miss picking it when it's little. My favorite is
Magda Hybrid.
Recipe at the link and other cooking ideas in the comments. It looks kind of like an avocado.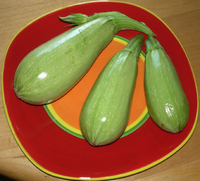 Johnny's compares the quality of
Magda
to its intriguing yellow and green
Zephyr,
but Magda is earlier and more productive. Zephyr is lots of fun, though. It has a winter squash in its heritage and lasts late into the season for me. The plant is on the large side for a bush squash. The fruits maintain their quality in the fridge longer than most summer squashes. Anybody starting a seed list for next year? Picked out summer squashes yet? Any recipes work out well for you this season? Back to Floridachick: Bet The Horde could come up with better recipes than
guacamole with avocado and butternut squash,
too. Though that one is supposed to promote the use of avocados, unlike the fake guacamole. There is probably another avocado tree in the neighborhood to provide cross-pollination to Floridachick's tree. Something to keep in mind if you are thinking about planting a tree. There are a few tricks to avocado pollination.
...and here is a photo of a few of this year's mangoes from our blessed mango tree. I honestly do not do a thing to help my mango and avocado tree. They produce their copious fruit all on their own. Such a wonderful gift! Thank you for the opportunity to share these beauties.
I hear that mangoes are much better when tree-ripened than most of us realize. I don't know much about mango varieties. Anybody?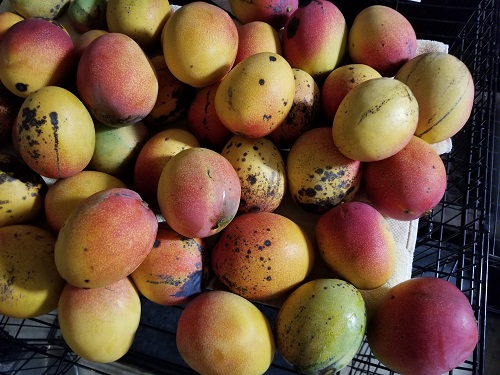 Here is the photo of a gorgeous flower growing (wild?) in a neighbour's overgrown front yard. Noticed it while taking my dogs for a walk down a dirt road in Vero Beach.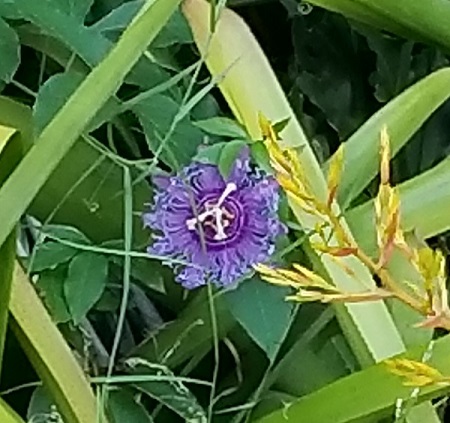 We featured some passion flowers last week, too. This one likely has edible fruit if fruit appears. Whether or not it is tasty would depend on what variety it is.
Gardens of The Horde
From Bakersfield, CA
Blake
sent the following update:
This is the same crape myrtle I sent you earlier, though, after I cut back all of the branches that were sticking out and were no longer blooming.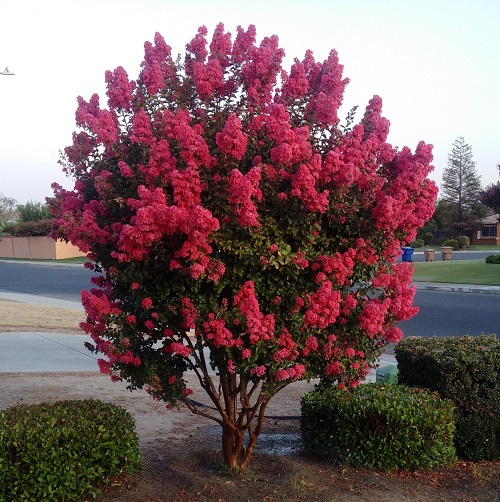 Gorgeous. "Sideshow Bob Myrtle" looked good before, but it's amazing what pruning can do.
From Arizona:
budman
sends the following:
One of my favorite succulents, the Pedilanthus macrocarpus. Here in Arizona it's commonly known as the Lady Slipper (because folks think the little red flowers look like slippers) or the Desert Pencil Bush (because the straight green shoots are about the size of a pencil). This lovely plant grows to about 4' in height and 3' in circumference. It sends out underground shoots and will spread to fill any available space. It does well in the hot desert conditions, but it does give you a lovely "thanks" when it gets a little bit of water.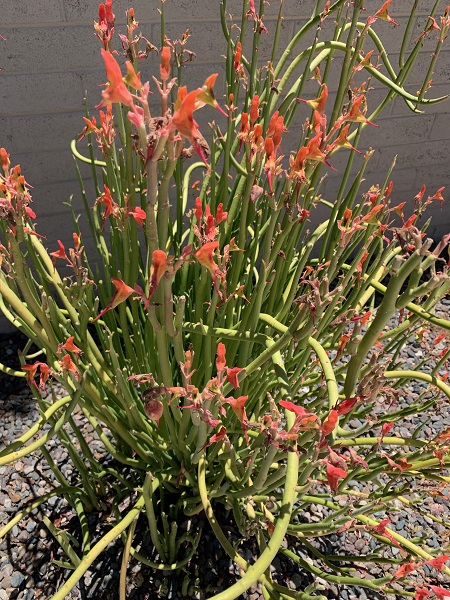 This is a perfect location for this plant, I think. Looks like a living sculpture: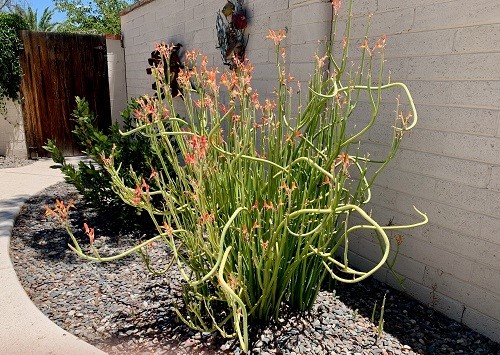 And here's a female hummingbird photo to go with the great hummingbird plant above. Photo taken by
Jake Holenhead,
in Washington State: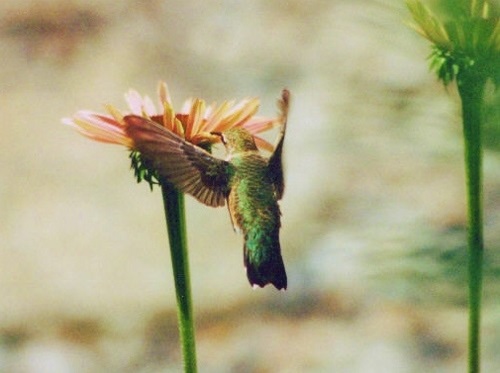 The plant above has a
tropical relative
native to parts of Florida, the West Indies and Central America. It can be grown as a houseplant. It was the only Pedilanthus listed in my first Sunset Western Gardening Book. A foot and a half is about tops as a house plant, I guess. Though there are several subspecies, so who knows? Of course, just when you get used to its name, they change it.
Euphorbia tithymaloides is a perennial succulent spurge. An erect shrub, the plant is also known by the scientific name Pedilanthus tithymaloides. However, the genus Pedilanthus has been submerged into the genus Euphorbia, and is more correctly known by its new name (Euphorbia tithymaloides).
Euphorbia tithymaloides was introduced as a garden plant prior to 1688. The first record of it growing in a garden was in Amsterdam. It is primarily used as an outdoor garden border plant, but certain varieties do well indoors. Because of the plant's toxicity, gardeners are cautioned to wear goggles, gloves, long-sleeved shirts, and long pants. Propagation may be by seed or cutting. Cuttings should be made above a joint, be 5 to 6 inches (13 to 15 cm) long, and planted in sandy, nutrient-rich soil and allowed to root before planting. Cuttings should be made in March - April or June - July, and from the middle or top of the main stem. Hummingbirds are attracted to the plant's flowers. Cabbage worms are particularly fond of the plant's leaves. Municipalities have planted Euphorbia tithymaloides in landfills, toxic waste sites, and along roadsides because it is one of the few plants which can thrive in these more difficult environments.
Weird about the cabbage worms. I sincerely doubt that it makes it through the winter in Amsterdam without protection. Maybe they sent cuttings from the Netherlands Antilles every spring or something. There is a
variegated variety
that is quite attractive. Says at the link that it grows upright to 8 feet. Most people keep it lower.
Here's a young plant.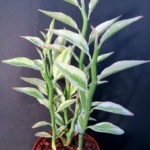 You can tell where they got the "Redbird" names, can't you?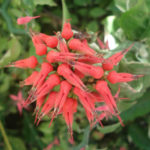 This plant is attractive
in a border
or hedge, if you are in the right climate for it. You can see the zigzag pattern of the stems that give it the Devil's Backbone name below.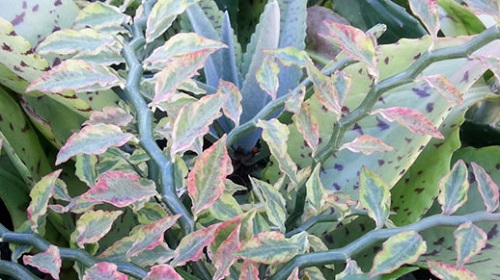 Stamp: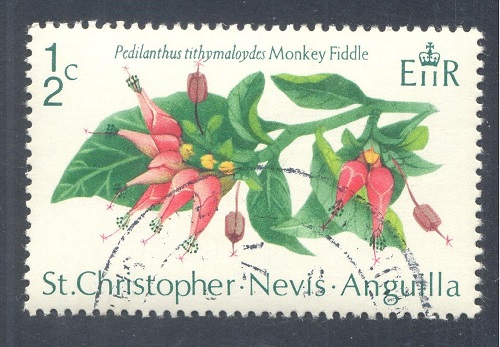 Budman's plant and the one above are related to poinsettias.
From Illinois:
lizabtha
sent the following back in June.
Here is Sidonie, from my garden, which I purchased through High Country Roses. Here's its description: Damask Perpetual (Dorisy, 1846).Very fragrant, medium pink, densely double flowers in summer and autumn. A bushy, 3 to 5 foot plant with long, narrow leaflets, it has the most reliable repeat and continuous bloom of all the Damask Perpetuals. It made it through the wicked winter weather of northern Illinois with no protection of any sort.
In harsh climates, it is an advantage to have roses grown on their own roots. And about this time of year, it is a good idea to allow the last flowers to remain on the bush to form rose hips. Helps the plant get ready for winter.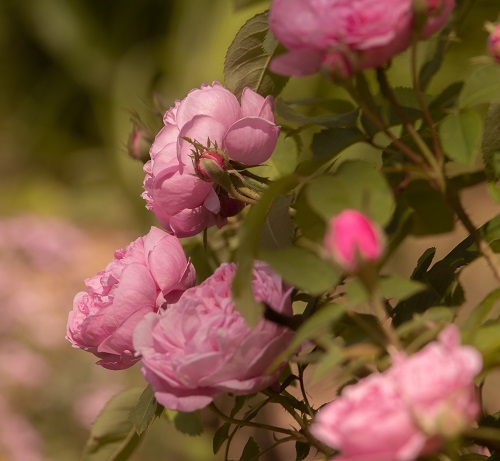 From Washington State
WonderPony sent the following a while ago from his garden near the Snoqualmie River, East of Seattle.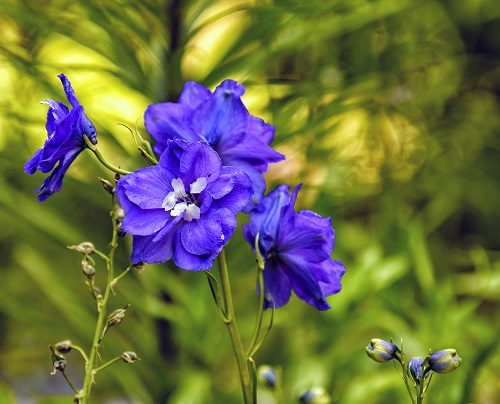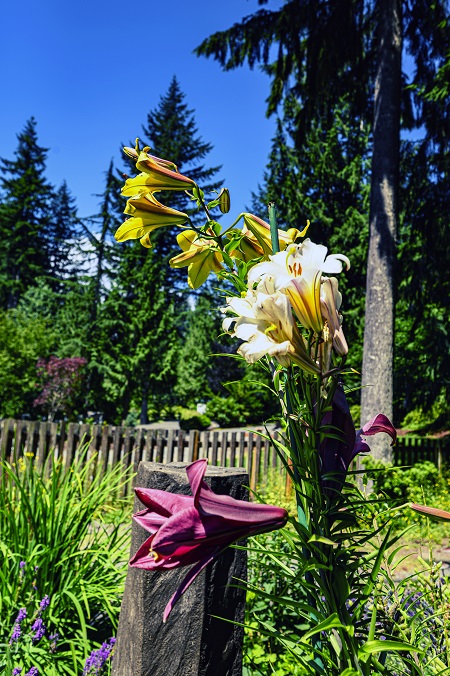 Lovely flowers for a lovely setting.
If you would like to send information and/or photos for the Saturday Gardening Thread, the address is: ktinthegarden
at g mail dot com Include your nic unless you want to remain a lurker.