Saturday Evening Movie Thread 06-08-2019 [Hosted By: TheJamesMadison]
Recall, Recall, Recall
For some reason, after my last post you guys seemed kind of depressed and existentially Swedish, so I decided to try and perk you up with some bloody violence. Let's revisit
Total Recall
!
The 80s/1990
There was something magical about action movies in the 80s. They were big, brash, and unapologetic about their motives. They were about big men doing big manly things. They starred the likes of Arnold Schwarzenegger and Sylvester Stallone. They burned gasoline in huge explosions in exotic locations without apology. They knew what they were and they embraced it with gusto. One of the directors of this era was Paul Verhoeven, a Dutch filmmaker who came to Hollywood to blow stuff up real good. His first major Hollywood film was
Robocop
after which he got hired by Carolco Pictures after they bought the rights to Philip K. Dick's short story "We'll Remember It for You Wholesale" and a group of six screenwriters (including
Alien
's Dan O'Bannon) blew it up into an action spectacular. The amazing thing, especially considering the number of screenwriters, is that the final product is not only cohesive whole but that it's also got some thematic depth to it as well.
Themes? On Mars?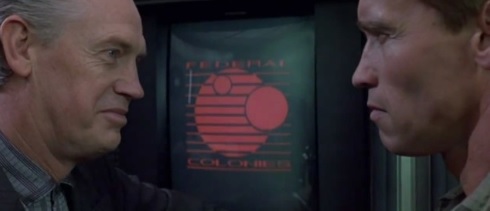 What makes a man a man? It's a common enough theme, but the fact that it gets explored using the science fiction technology as a launching point is what makes
Total Recall
more than just a movie with splodey action. Quaid is just a construction worker when he goes into Rekall to have a memory of a spy mission implanted in his head for a measly 1100 credits. Something goes wrong and he's convinced he's a special agent. Papering over the memory jump, the techs then leave Quaid in a cab where he goes home to find his wife of eight years trying to kill him and talking about how they actually just met six weeks before. Plot stuff and a trip to Mars later, and Quaid gains an audience with the Martian rebel leader, Kuato, a mutant on the belly of a man, who tells Quaid, "You are what you do. A man is defined by his actions, not his memory." Presented with the reality that Quaid's memories are going to be wiped out and replaced by his previous ego (Hauser), Quaid has a choice. He can fight to preserve who he is or he can give in and become another person. I think this partially goes against what Kuato said, but it digs into the actual theme of the film. If Quaid were to lose his memories and replace them with Hauser's, he'd be Hauser and defined by what Hauser had done, but Quaid is making the choice to be a certain person. He's making the change to stay the good guy he thinks he is instead of succumbing to what he had been previously. It's that choice, that exercise of free will to do what he thinks is right in the face of great obstacles, that defines him.
That's some pretty good intellectual depth to a movie with a guy who grows out of another guy's belly.
But…Splosions and Mutants!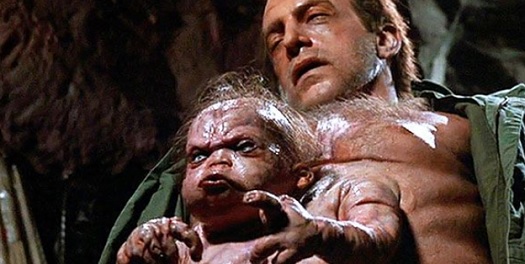 Yeah, I love the movie partially for the way it makes me think, but I also love it because of the splosions and it's pitch black sense of humor. There's something very tactile about the overall look of the film that helps draw in an audience. If this movie had been made ten years later, it'd be full of terrible CGI, but as the second most expensive movie ever made up to that point, they didn't have the computer tools such a production would have later. No, they used their tens of millions of dollars on sets, miniatures, props, makeup, and matte paintings, and the movie looks fantastic for it. My favorite single effect is probably Benny's mutant arm that you only ever see in a pair of shots. It's slimy, tactile, and beautifully articulated so it moves in several different directions at once. There's also a great sense of reality with the weapons and violence. There are no ray guns here, just futuristic guns that fire bullets. When those bullets his bodies, we get large blood splatters with real squibs. When the dome gets shot out, we see Arnold really swinging by a single hand on a rail. There's no question that Arnold and his environment are in the same place because they were. He wasn't on a green screen with composites. The effect of humans going out into the Martian atmosphere is also really effective. It may or may not be realistic, but what it does do is feel genuinely there. They built puppets of the three actors faces and actually designed them so that they would inflate in disgusting ways, even going so far as to have Ronny Cox's eyes completely pop out. And a special note on Kuato. He's the mutant in a man's belly, and he's fantastic. He's articulated so well with lips, eyelids, hands, arms, and a nose that all move. It took fifteen puppeteers to make him work. He's so amazing.
So Why?
Okay, I felt kind of bad about forcing Bergman on you all. He's not everyone's cup of tea, but I wanted to. On top of that, though, I wanted to follow up on an idea I had about a year ago. I wanted to develop a canon for the HQ. The sort of list of movies that if the Ace of Spades HQ were a physical location, these would be the movies stacked up haphazardly against the TV in the corner. I imagine them as beat up VHS boxes where half of them were recorded off of network television. What would we have there? These would be the movies that we would gather around to throw on and cheer at, enjoy, and general commune with together. What would define us this way? This isn't about whether you like a movie or not, but whether you think it fits that sort of environment. Example: I love Bergman, but I would never expect a single Bergman film to be in this stack. If I were one of you and saw a Bergman movie in the list, I'd vote False on it because it doesn't belong. This wouldn't be a list of the movies we thought were the greatest, just those that we would enjoy watching together the most. I imagine that
Total Recall
would be one of those beat up tapes, but I'm not the arbiter of this. The commenters are. So, I've finally developed a system that I think will work. Below is a true/false poll of ten movies that I chose because I think they'll fit. You will vote "Include" for the movie you think should get added to the stack and "Don't Include" for those you would toss out the window. 60% "Include" will be the cutoff for each individual film. If you've never seen a movie in the list, don't be afraid to vote "Don't Include" on it. Something enough of the Horde hasn't seen probably shouldn't be in the stack. On top of that, I want to hear from you all. What movies are not included here that you would want to see? I've included an open ended box at the end for you to list what you might want to see. I'll try to make this at least semi-regular where I present the survey at the end of a post. I don't know how I'll permanently record the selections, but that's future TJM's problem. He's kind of a douche, leaving me all his problems, so I'll leave it to him. Douche. Anyway, vote away!
Movies of Today
Opening in Theaters:
IT: Chapter Two
Next in my Netflix Queue:
Swing Time
Movies I Saw This Fortnight:
Dumbo
(Netflix Rating 4/5 | Quality Rating 3/4)
Full Review
"I think it's really funny that Tim Burton made a movie about how much he hates Disney, and he got Disney to produce and distribute it." [Theater]
The Furies
(Netflix Rating 5/5 | Quality Rating 3.5/4)
Full Review
"I love the movie as it is, but there was room to make this a three-hour epic." [HULU]
Pulp Fiction
(Netflix Rating 5/5 | Quality Rating 4/4)
Full Review
"It's an entire package of entertainment, thematic weight, and great characters." [Personal Collection]
Kill Bill
(Netflix Rating 5/5 | Quality Rating 4/4)
Full Review
"I love this film completely. It's probably Tarantino's most satisfying work emotionally." [Personal Collection]
Smiles of a Summer Night
(Netflix Rating 4/5 | Quality Rating 3/4)
Full Review
"It's a fun little movie that I very much enjoy, but I just wish it could have been a bit more." [Personal Collection]
War and Peace
(Netflix Rating 3/5 | Quality Rating 2/4)
Full Review
"Big novels really aren't appropriate material for the traditional theatrical film format. They're simply too big to capture even in three and a half hours." [Amazon Prime]
Thor
(Netflix Rating 4/5 | Quality Rating 3/4)
Full Review
"Overall, it's a solid film that looks great and works best at the bookends." [Personal Collection]
Planet Terror
(Netflix Rating 4/5 | Quality Rating 3/4)
Full Review
"It's an amusing way to spend 80 minutes, though it gets so gross that it will limit appeal." [Personal Collection]
Contact
Email any suggestions or questions to thejamesmadison.aos at symbol gmail dot com. Follow me on
Twitter
. I've also archived all the old posts
here
, by request. I'll add new posts a week after they originally post at the HQ.
Posted by: OregonMuse at
07:57 PM