Saturday Overnight Open Thread (12/29/1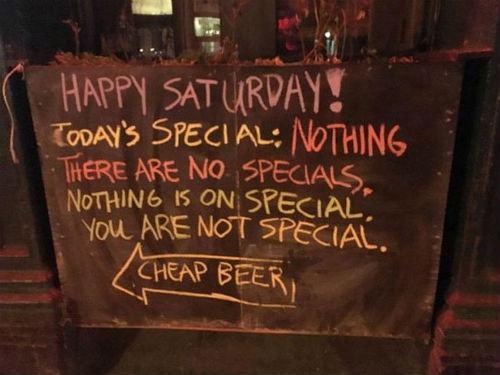 ***
The Saturday Night Joke

A gas station owner in Arkansas was trying to increase his sales, so he put up a sign that read: *** "FREE SEX w/fill-up ... just guess the right number between 1 & 10." *** Soon a local redneck pulled in, filled his tank, and asked for his FREE SEX. The owner told him to pick a number from 1 to 10. If he guessed correctly, he would get his FREE SEX. The redneck guessed '8'. The proprietor said, "You were close. The number was '7'. Sorry, but no FREE SEX this time." A week later, the same redneck, along w/his brother, Bubba, pulled in for another fill-up. Again he asked for his FREE SEX. The proprietor again gave him the same story, and asked him to guess the correct number. The redneck guessed '2' this time. The proprietor said, "Sorry, it was '3'. You were close, but no FREE SEX this time." As they were driving away, the redneck said to his brother, "I think that game is rigged, and he doesn't really give away FREE SEX." Bubba replied, "No. it ain't, Billy Ray. It ain't rigged. My wife won twice last week."
New Year's resolution? Sure, better Saturday Night Jokes.
***
Speaking of New Year's Resolutions,
What people will stop shoving in their orifices in 2019.
H/T Hank Curmudgeon
Domino in a penis? Ewwwww.
***
Snort worthy.
Diversity and inclusiveness for me and not thee.
Nicole Parsons recently put up the sign on her window, which read "F*ck Nazis you are not welcome here," after getting tired of her university's silence towards hate crimes on campus, as per BuzzFeed News on Dec. 23. Parsons said in the report that she was compelled to put up the sign after a "Happy Hanukkah" sign on a resident assistant's door was vandalized with a swastika early this December. "I thought maybe if I hang the sign up, the person who drew the swastika will see it and see someone condemning their actions, even if the administration doesn't do it," Parsons was quoted as saying. She, however, was surprised when she received an email from residence director Eddie Papazoni telling her to take down her sign.
So does Grover know that Nicole Parson?
Grover dropping the F Bomb?
***
Of course it was difficult to walk the following day.
No shit Sherlock.
But a more distressing bit of effort he's put into his body is wrapping his penis around a rolling pin so he could get it tattooed. Ray, 61, used a rolling pin to keep his penis in position during a four hour tattoo session. He says it wasn't too painful (he's used to the pain of getting tattoos), but his testicles swelled up to four times their usual size once the deed was done. 'I don't feel the pain anymore but the tattooist couldn't believe I wanted to get such a sensitive area done,' said Ray. 'There was quite a bit of blood and it was uncomfortable to walk the next day.
***
The ONT Musical Interlude
&
***
Do you like Tobasco Sauce?
It isn't a simple process.
***
The science is settled.
There are idiots among us.
H/T from a Moron.
***
In retail,
if you snooze you lose.
While many of us are still finishing off our festive leftovers, the UK's big-name stores appear to have already moved on from Christmas - with several putting Easter eggs on sale. Shoppers have been posting pictures of chocolate eggs on the shelves of a number of high street chains on social media, stunned at how quickly they have appeared.
***
Yeah, yeah. It's Saturday night and not a Gun Thread, yet.
I would rather carry my S&W Body Guard .380.
The Femme Fatale Ring Gun from the 1800s In the early 1800s personal protection guns were all the rage, jut like the 2mm guns marked as Femme Fatal. Large enough to be worn on most any finger, the revolver had to be manually rotated through each cylinder. They were sold in small oval shaped jewelry boxes. For a time the French company sold them as a matching set his and hers, and they were dubbed the Les Companions. These pipsqueak rounds, 2mm and 4mm,just have 2-5 grains lead flying at less than 500-fps from a cylinder with no barrel propelled by a tiny charge of blackpowder. They generate less than 2 ft. lbs of force, which is less than most pelletguns today, and is about enough to penetrate an inch of ballistics gel, or one side of a tin can. These rings provided a certain state of perceived security for those solo traveling and, at the end of the day, the round would do some damage at extremely close ranges. The Femme Fatales were never made in great quantity and are such a novel item that they appeal to any collector of odd firearms as well as vintage gun guys

***
But officer I have 4 wheel drive, you were driving slow and I'm a
Genius Award Winner.
Here's a video of a Minnesota driver doing Minnesota driver things There's so much packed into this video released this afternoon by the Minnesota State Patrol that we hardly know where to start.
***
We could use one of these tonight.
Tonight's Feel Good Story of The Day.
***
Tonight's ONT has been brought to you by Vending Machines.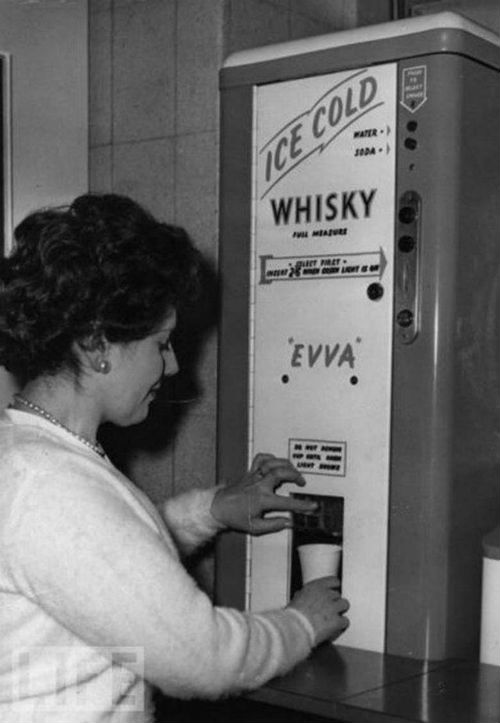 Notice: Posted with permission by the Ace Media Empire and AceCorp, LLC. No we don't carry exact change.
Posted by: Misanthropic Humanitarian at
09:36 PM