Saturday Overnight Open Thread (10/27/18 ) Leading Up To Halloween Edition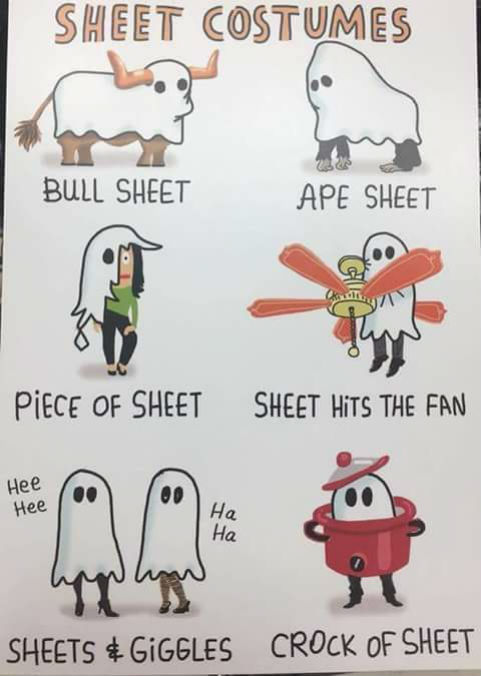 ***
The Saturday Night Joke


A man was walking home alone late one foggy night, when behind him he hears:

BUMP!…

BUMP…

BUMP…

Walking faster, he looks back and through the fog h e makes out the image of an upright casket banging its way down the middle of the street toward him.

BUMP…

BUMP…

BUMP…

Terrified, the man begins to run toward his home, the casket bouncing quickly behind him

FASTER…

FASTER…

BUMP…

BUMP…

BUMP…

He runs up to his door, fumbles with his keys, opens the door, rushes in, slams and locks the door behind him. However, the casket crashes through his door, with the lid of the casket clapping...

clappity-BUMP…

clappity-BUMP…

clappity-BUMP…

…on his heels, the terrified man runs.

Rushing upstairs to the bathroom, the man locks himself in. His heart is pounding; his head is reeling; his breath is coming in sobbing gasps.

With a loud CRASH the casket breaks down the door.

Bumping and clapping toward him.

The man screams and reaches for something, anything, but all he can find is a bottle of cough syrup!

Desperate, he throws the cough syrup at the casket…

and,

[Wait for it...]

The coffin stops.
***
Possibly NSFW. Violence
Vikings were bad ass.
Not MN Vikings, real Viking Vikings.
Viking sagas describe the ritual execution of blood eagle, in which victims were kept alive while their backs were sliced open so that their ribs, lungs, and intestines could be pulled out into the shape of bloody wings.
***
Mentally disturbed people changing their minds? Nah, couldn't be.
'The new taboo: More people regret sex change and want to 'detransition', surgeon says'
Five years ago, Professor Miroslav Djordjevic, the world-leading genital reconstructive surgeon, received a patient at his Belgrade clinic. It was a transgender patient who had surgery at a different clinic to remove male genitalia – and had since changed their mind.
***
The Religion of
Peace
Pieces strikes again.
Israel attacked by rockets.
Footage released by the Israeli Defense Forces (IDF) shows more than a dozen of rockets being fired at southern Israel from the Gaza Strip. The attack took place late on Friday after five Palestinians were killed by the IDF.
The video shows the night sky being lit up with bright flashes as the rockets, which the IDF says are flying in from Gaza, are being intercepted by the Israeli air defenses. Some 10-12 rockets have been fired at area near the Israeli city of Sderot, the IDF said in a statement, adding that the Iron Dome missile defense systems intercepted "several" of the projectiles.
***
If you want to be ridiculed, mocked or worse, that's fine. You're an adult. Not a very smart adult but still an adult.
Your 5 year old on the other hand is just that, a 5 year old.
Dickhead attempts to live vicariously through his child and things don't go well.
A photo circulating on Twitter on Friday showed a man dressed in a Nazi soldier uniform standing with his 5-year-old son, who in a green suit and toothbrush mustache appeared to be dressed as Adolf Hilter. TriStateHomepage.com reports that the man and his children attended a Halloween event in Owensboro, Kentucky. In a Facebook post shared to Twitter, Goldbach defended the "historical figures" costumes and described receiving threats at the event. "Anyone who knows us knows that we love history, and often dress the part of historical figures," Goldbach's post said. "Tonight as we walked we saw people dressed as murderers, devils, serial killers, blood and gore of all sorts. Nobody batted an eye. But my little boy and i, dress as historical figures, and it merits people not only making snide remarks, but approaching us and threatening my little 5 year old boy … Threatened to rip his outfit off of him screaming obscenities, scareing [sic] a small child."
***
The ONT Musical Interlude
*
***
You can keep your answer to yourself. Do you view porn?
If you do, India is not the country for you.
The Indian government is reviving its efforts in its war on pornography this week by ordering telecom companies and ISPs to ban 827 adult sites from their networks. This directive follows an order from the Uttarakhand High Court, which found 857 sites to contain adult content – similar to an order issued back in 2015. However, upon inspection, the Ministry of Electronics and IT (MeitY) found that 30 of them didn't host any pornographic content, and so the list was cut down accordingly.
***
Jay walking deterrent.
***
NSFW
It's Saturday night, yet how do I delicately introduce this link.
Science. Research Reports. Sex Toys. Oral sex.
NSFW
You were warned.
***
Nothing will happen to Jimmy Kimmel because
he was never employed by Fox News.
Amid Megyn Kelly's controversial remarks about blackface on Halloween, a video has resurfaced of talk show host Jimmy Kimmel wearing blackface and seemingly mocking black athletes. For Comedy Central's "The Man Show" in 2000, Kimmel dressed up as NBA Hall of Famer Karl Malone.
***
"I double dawg dare you!" Was believed to have been uttered.
Genius Award Winner.
A UK man who donned a risqué outfit on the job as a prank has been fired for "gross misconduct". Warehouse worker Shaun Haggerty, from Merseyside, England, pulled off the prank at work late last month. But a week later, he was called into a meeting where he was told he would be sacked over the stunt, which saw him stroll through the warehouse in front of staff, business contacts and customers wearing nothing but a novelty "elephant thong willy
***
Not all cops are donut eating, coffee swilling power hungry maniacs.
Tonight's Feel Good Story of The Day.
North Brunswick Police Officer Anthony Torres was on patrol on Route 130 Wednesday at around 3 p.m. when he noticed people pulling over and running toward the tree line, where smoke was billowing. He circled back and saw a car had crashed into a tree. He ran toward the car, but saw the driver was pinned down. "As soon as I got there, I knew I was going to have to go back and cut the seat belt," said Officer Torres.
***
Tonight's ONT has been brought to you by Trick
Or Treat
.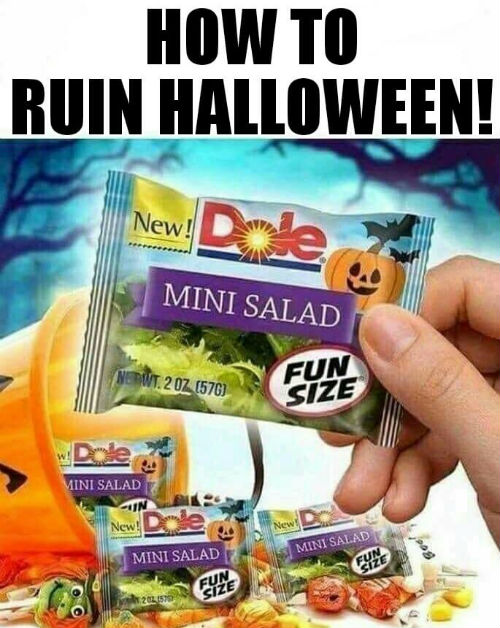 Notice: Posted with permission by The Ace Media Empire and AceCorp, LLC. Dressing as a shelf will cost you.
Hat tips tonight to:
ibguy Saturday Night Joke
Ladyl Brought to you by photo
ONT submissions can go to the petmorons at gmail or the
Twitter Thingy.
Posted by: Misanthropic Humanitarian at
09:33 PM