Sunday Morning Book Thread 07-22-2018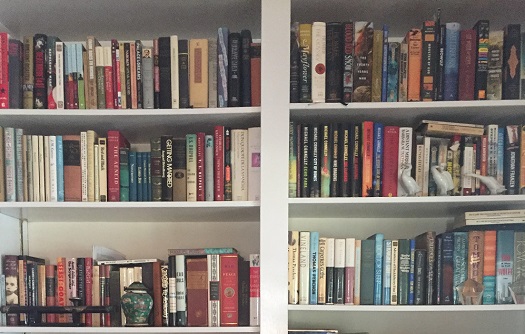 Some Shelves From James Varney's Library (click to embiggen)
Good morning to all you 'rons, 'ettes, lurkers, and lurkettes. Oh, and we've got a new category of readers, escaped oafs and oafettes ('escaped oafs' is an anagram of 'Ace of Spades'). Welcome once again to the stately, prestigious, internationally acclaimed and high-class Sunday Morning Book Thread, a weekly compendium of reviews, observations, and a continuing conversation on books, reading, and publishing by people who follow words with their fingers and whose lips move as they read. Unlike other AoSHQ comment threads, the Sunday Morning Book Thread is so hoity-toity, pants are required. Even if it's
these pants
, which, even though they're ugly, at least they match.
Pic Note
You never know who's lurking on AoSHQ.
James Varney
sent me some library pics and permission to "out" him as a national correspondent for The Washington Times. Before he worked for the Times, he was a member of the New Orleans-based reporting team that won two Pulitzer Prizes for Hurricane Katrina coverage in 2006. You can see the Pulitzers on the right side of the third shelf, in front of the Tom Wolfe novels. He also sent me a close-up photo that you can see below the fold. He says:
Love the feature; love the site. I'm grateful for the links J.J. has given my stories on the Morning Report
Just thought I'd pass that along.
It Pays To Increase Your Word Power®
A
ROORBACK
is a false or slanderous rumour propagated for political purposes. Usage:
Room Full of Roorbacks: The White House Press Corps
was an instant best-seller.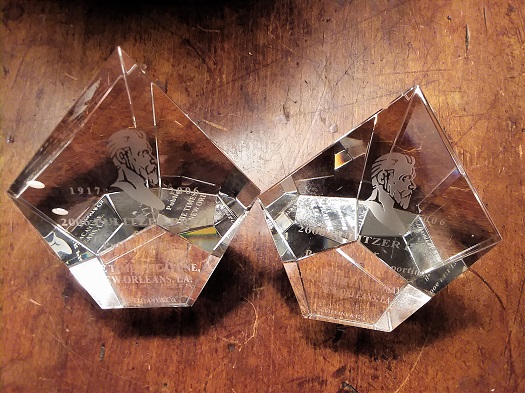 Pulitzer Prizes
Love Is Diverse
The NY Times is all concerned and stuff about the current
lack of diversity in romance novels
:
Romance novels released by big publishing houses tend to center on white characters, and rarely feature gay, lesbian, bisexual or transgender people in leading roles, or heroines with disabilities. Even as the genre has evolved to reflect readers' varied tastes and fetishes — popular subcategories include vampire and werewolf romance, military romance, cowboy romance, time travel romance, pirate and Viking romance — the lead characters are often confined to a fairly narrow set of ethnic, cultural and aesthetic types.
But the article provides some counterexamples:
Forever Yours, an imprint at Grand Central, publishes Karelia Stetz-Waters, who writes romances about lesbian couples. Uzma Jalaluddin's debut novel, "Ayesha at Last," takes place in a close-knit immigrant Muslim community in Canada, and features an outspoken Muslim heroine who falls for a more conservative Muslim man...Alisha Rai and Sonali Dev have expanded the genre with love stories that feature Indian and Indian-American protagonists. Priscilla Oliveras, who is published by Kensington, writes romances with Latinx heroes and heroines. Jeannie Lin has published historical romances with Harlequin that are set in China during the Tang dynasty era.
OK, fine, but I'm going to have to holler about cultural appropriation here. Didn't the whole "falling in love" thing originate in Europe during medieval times, with chivalry and "courtly love" and all that? Before that, in pretty much every culture, young women were told who they were going to marry by their fathers and family and no backtalk. And if the girl was lucky, she might get was paired off with a decent man who didn't beat her. That's what I've always understood, anyway. So all the diversity authors should all be paying some sort of royalty to medieval European culture without which their books would not be possible.
"Readers want books that reflect the world they live in, and they won't settle for a book about a small town where every single person is white," said Leah Koch, co-owner of the romance bookstore the Ripped Bodice in Culver City, Calif. Last year, six of her store's top 10 best-selling novels were written by authors of color, Ms. Koch said.
Well, if that's the case, them I'm not sure what the fuss is about. If people are actually buying the new "diverse" romance novels, then it sounds like the market is indeed taking care of a hitherto unmet demand. And if there's more demand, more authors will step up to meet it. Case in point:
The best-selling romance writer Courtney Milan, who writes novels with interracial and gay couples and transgender and bisexual characters, left a Harlequin imprint around seven years ago and began self-publishing because she wanted to have more creative control over her plots and characters. She has since sold more than one million copies on her own, she said. Delaney Diamond, who started self-publishing romance novels with African-American characters in 2011, has sold around 370,000 copies of her books, and created her own imprint, Garden Avenue Press. She recently began publishing multicultural romance novels by other authors.
Good for her. Another problem solved by a person taking a bit of initiative to do some work herself rather than just sitting around crying about it.
Moron Recommendation
29 I read a book recommended here a week or two ago, Our Man In Charleston: Britain's Secret Agent in the Civil War South, by Christopher Dickey. This is the story of Robert Bunch, who was in Charleston from 1853 to 1863 as British consul for most of the time. A fierce anti-slaver, Bunch walked a tightrope, hiding his abolitionist feelings from his Southern contacts while sending back to the Foreign Office information to keep Britain pro-Union. An interesting story, and I learned much about the events leading up to the attack on Fort Sumter.

Posted by: Zoltan at July 08, 2018 09:14 AM(HLy+M)
I was struck by this bit from the Amazon blurb:
As secession and war approached, the Southern states found themselves in an impossible position. They knew that recognition from Great Britain would be essential to the survival of the Confederacy, and also that such recognition was likely to be withheld if the South reopened the Atlantic slave trade. But as Bunch meticulously noted from his perch in Charleston, secession's red-hot epicenter, that trade was growing. And as Southern leaders continued to dissemble publicly about their intentions, Bunch sent dispatch after secret dispatch back to the Foreign Office warning of the truth—that economic survival would force the South to import slaves from Africa in massive numbers.
In the past, I had believed that slavery in the south would have eventually died out. Of course, I was assuming that no more slaves would be imported. I had no idea that the south was actively trying to expand the Atlantic slave trade. Southern sympathizers have always claimed that the Civil War was not about slavery, but rather states' rights. But I guess what they really mean is states' rights to import slaves. The CW exacted a huge toll on this country that we're still paying even today but I think the right side won. Put another way, I would rather have to deal with the seemingly never-ceasing expansion of federal power, which is the legacy of that war, than to have slavery embedded in our country as a permanent feature. And, going back to a previous war, I have just started reading
Washington's Spies: The Story of America's First Spy Ring
by Alexander Rose. This is the book the AMC TV series
Turn
was based on. Which you should watch, by the way. Especially the concluding 4th season. Much of the book is based on recent research. I did not know, for example, that much was unclear about how the spy Nathan Hale was caught until about twenty years ago when some documents written by an eyewitness came to light. Fascinating reading.
___________
From the mailbag, Dan writes:
One of my favorite books is City of Saints and Madmen by Jeff Vandermeer. The star of the book is the city of Ambergris. This mythical city was cursed since its founding. City of Saints and Madmen contains four novellas with a handful of short stories, all of which are wrapped around the mystery underneath this city. The stories are remarkable. Some are creepy. Some are hilarious. I have never encountered a book like this. It somehow all fits together. The final novella is remarkable and self referencing, in a way that is jaw dropping. If you like your books a bit off-center, this is for you.
Also:
PS- I liked the first novella. But it is very dark. Even if you don't like that one, stick with it. The stories stand on their own.
Checking out
VanderMeer's Amazon author's page
, he's got a lot of books that look interesting, both fiction and non-fiction. For example,
Wonderbook: The Illustrated Guide to Creating Imaginative Fiction
, guide for fiction writers which
...takes a completely novel approach and fully exploits the visual nature of fantasy through original drawings, maps, renderings, and exercises to create a spectacularly beautiful and inspiring object. Employing an accessible, example-rich approach, Wonderbook energizes and motivates while also providing practical, nuts-and-bolts information needed to improve as a writer. Aimed at aspiring and intermediate-level writers, Wonderbook includes helpful sidebars and essays from some of the biggest names in fantasy today, such as George R. R. Martin, Lev Grossman, Neil Gaiman, Michael Moorcock, Catherynne M. Valente, and Karen Joy Fowler, to name a few.
___________
Books By Morons
Moron author Hans Schantz is having a $0.99 promotion that will run on his book,
The Hidden Truth
from midnight Friday July 20 through the end of the day Thursday July 26 (regularly $4.99). Book Trailer Link:
https://youtu.be/GIBmNfFbFjs
Blurb:
A young man uncovers subtle clues to the Cabal that changed history and seeks to control the world in this exciting alternate history hard science conspiracy techno-thriller.
I recommend watching the trailer, which is actually pretty cool.
___________
Moron author scrood's book,
Let's Hack Oxidative Stress
, will be available for free on Kindle this weekend (July 21-22). It "provides a simple strategy to use three lifestyle choices to reduce and manage your Oxidative Stress for improved health."
___________
Don't forget the AoSHQ reading group on Goodreads. It's meant to support horde writers and to talk about the great books that come up on the book thread. It's called AoSHQ Moron Horde and the link to it is here:
https://www.goodreads.com/group/show/175335-aoshq-moron-horde
.
___________
So that's all for this week. As always, book thread tips, suggestions, bribes, rumors, threats, and insults may be sent to OregonMuse, Proprietor, AoSHQ Book Thread, at the book thread e-mail address: aoshqbookthread, followed by the 'at' sign, and then 'G' mail, and then dot cee oh emm. What have you all been reading this week? Hopefully something good, because, as you all know, life is too short to be reading lousy books.
Posted by: OregonMuse at
09:00 AM