Overnight Open Thread (27 May 2017)
Do enjoy this weekend but do take time to remember why we have this long holiday weekend to begin with.
Safe Spaces
'Marie Claire': Men aren't allowed to criticize 'safe spaces'
. Safe spaces are for losers who can't handle free speech. Ooops. I might've triggered Jessica Valenti. Deal with it Jessica.
Leaks
You know, with all these leaks and
some of the latest ones sounding incredibly stupid
, I'm starting to think that these are part of an effort to find who is leaking material. It is even more odd to break this story at 5PM on a Friday before a holiday weekend. Most people will be out and busy all weekend and not really pay attention to the news. WaPo has had this info since December so it really is weird that they published it when they did unless they just got some corroborating info that enabled them to publish. That's not clear in the article but it would be funny if the corroborating info was fake meant to trace leakers. Of note, the NYT has now published their article and it has some differences. Sort of like what you would do when trying to find leakers. Put different details in different reports, etc. and then see what info goes where. As to the actual allegations in the latest leak, here's some good analysis from WarNewsUpdate's Editor:
The more that I think about this Washington Post exclusive .... the more I realise that it has a lot of holes in it. One .... the Russians would never permit such a communications link. Two .... Michael Flynn who was present at the meeting would know that they would never permit it. Three .... what's the point of having a secret communications channel via through the Russian embassy to the Kremlin .... where it would not be secret at all. Four .... President Trump is the President .... he can do anything he wants with the executive branch .... including having his own direct line to the Kremlin should he (and Putin) want to. But I digress .... what the Trump administration wanted (and I am sure the Kremlin wanted it too) was a private back-channel .... and for those who may not know .... this is how it works. If the Trump administration wanted Putin to know something independent from normal diplomatic channels .... it will be done by having someone President Trump trusts telling someone that President Putin trusts in person (that Russian official will be living in the U.S. .... probably near Washington DC). That person .... once the message has been received .... will then be taking the first flight to Moscow.
Sadly, this latest leak helps the Russians. If true, they just revealed to them that we were able to monitor Kislyak's private comms. Related:
The Kremlin seems to have bet big on the willingness of U.S. intelligence agencies to leak
.
Eagle Cam
Cord Cutting
I really need to do this.
US TV subscribers are ditching cable and satellite faster than ever
.
Unprofessional Intercepts
Russian fighter intercepted, then barrel rolled atop a KC-10 flying over Syria
. Fighter jocks being fighter jocks I guess.
Cat Video
Health
24 health 'facts' that are actually completely wrong
.
Paris Climate Deal
Well this sounds promising.
Trump tells confidants U.S. will quit Paris climate deal
.
Cat Video
Tonight's ONT brought to you by
cats that are ruining their owners lives
: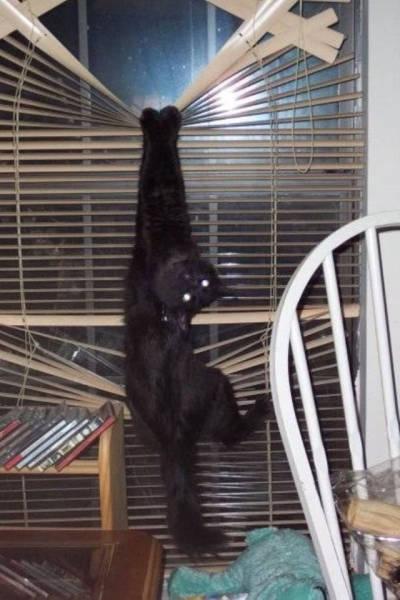 Top image
via
.
Notice: Posted by permission of AceCorp LLC. Please e-mail overnight open thread tips to the cob of your choice or CDR M. Otherwise send tips to Ace.