Ace of Spades Pet Thread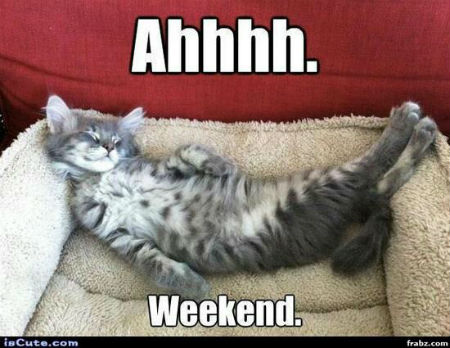 Welcome to the almost world famous Ace of Spades Pet Thread. Where critters both two and four legged are welcome. Let's see what is happening in the world of animals.
A Little of This. A Little of That.
Really people?
A cat in a tree with a gun?
A vehicle built for dog lovers.
Built-in treat dispenser?
I don't see anything bad happening from this. h/t Anonosaurus Wrecks
Cats like treats too!!!
h/t Miley
Can you perform CPR on a lizard?
This Australian family did.
Adventure Cats!!!!
h/t redc1c4
*****
Meet The PetMorons
Drum roll please.............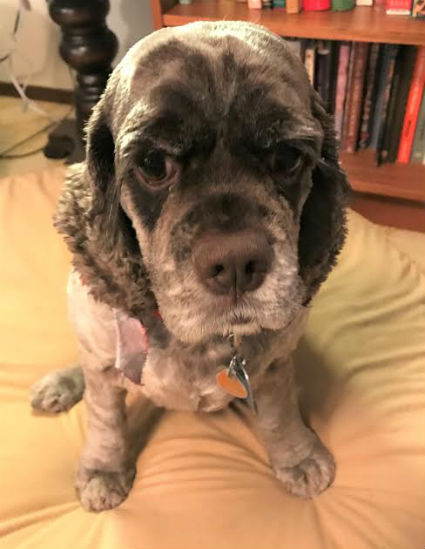 This is Reilly. He was named after Bill O'Reilly, The Who's "Baba O'Reilly," or Radar O'Reilly. Whichever upsets you the most. (He's the worthy successor to the best dog that ever lived, Radar).

Cheers,

Deplorable Joe
Thank you Joe & Reilly.
***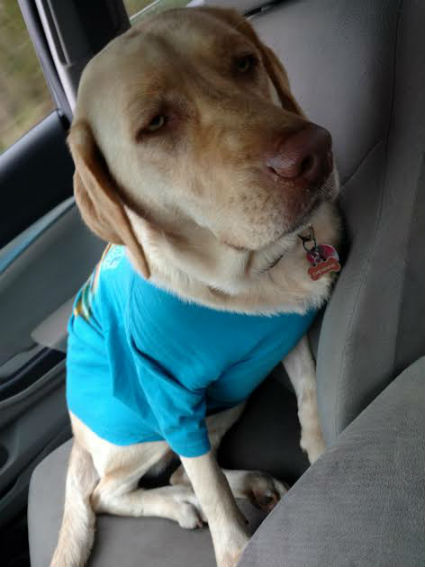 This is Cheyenne; she's already had her 15 minutes of fame, but...I decided to try something new to keep the shedding to a minimum ( it's moulting season). So, rather than buy a fancy doggie shirt at PetSmart, I figured I'd use one of the grandson's old t-shirts. Fits fine, but she was not amused, and as for the shedding... well, so much for that idea. Just spent 2 hours vacuuming the car... Love from -
antisocialist
Love right back at you. Shedding dogs & vehicles, not a good match.
***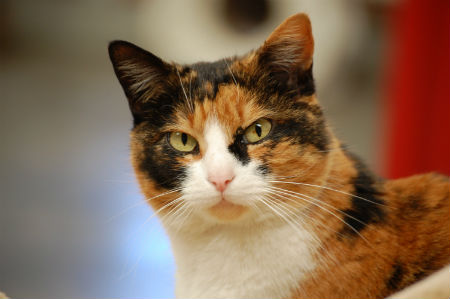 Doggedly guarding the sofa behind which Buzzsaw90 hides his booze from his wife
Nothing like a good guard dog, eh?
***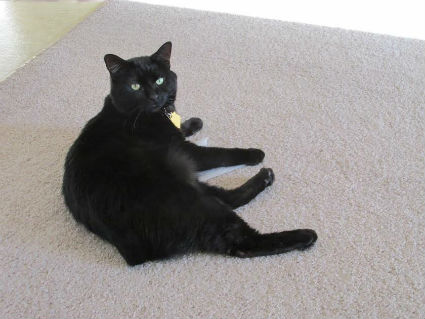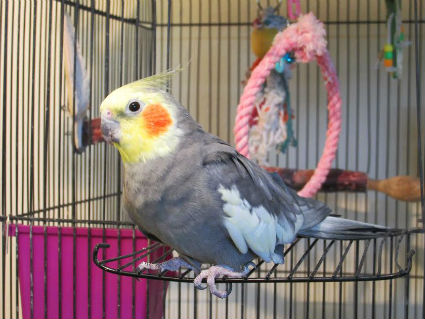 Hi, I go by the name Aunt Luna in the comments. Here is my cat pic and bonus bird. The Manx cat is named Bruce, and he has only a stump for a tail. He was found as a stray and brought into the shelter when he was two years old. I thought it was unusual to find a uncommon breed just roaming the streets. I chose Bruce not just for his different appearance, but also because he begged for attention in his crate at the shelter. He is still very friendly and laid-back for a cat - he's even nice to the vet. The bird is a 14 year-old cockatiel called Edel, which is German for precious or noble. My sister is the one who named him. She raised him from a chick, but she couldn't keep him in her dorm room when she moved away to college, so Edel became my bird. He can say his name, imitate my sneeze, wolf whistle, and he whistles the "charge" song, and sometimes he just makes up his own songs. Edel has his own room that Bruce is not allowed to go in.
DIVERSITY 11ty
***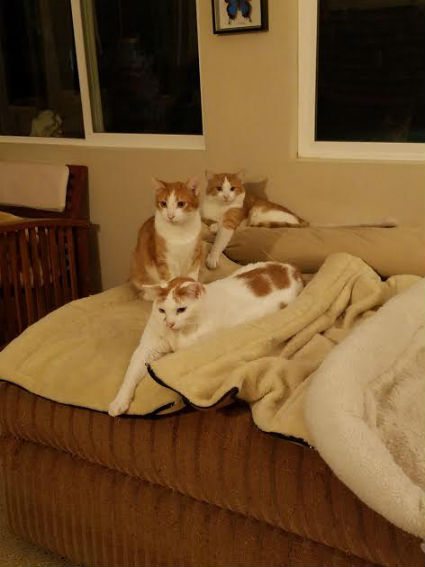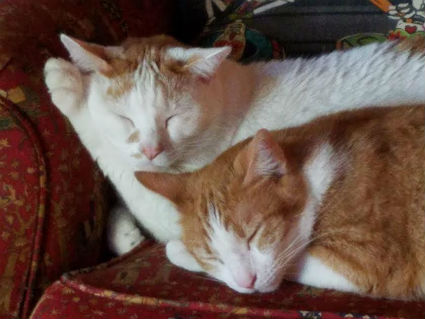 Gushka loves kittehs. There were 7 photos sent in. It was so hard picking out which ones would star today. Here's a little bit about them.
You said you need cats, i got cats. Ok, i think i have nine. More if yiu count the barn visitors without names. Heres a few of the house cats so you can pick images you like. All of them are from two wild calico cats that used to live in my hay barn, Lulu and Ditto. I still have Lu but i will add her in a seperate email
Here are the spawn of Lulu, otherwise known as The Butterscotch Gang. They all grew up in my barn but each one had some injury that made him a housecat. The big white guy with orange spotted is Cecil, his special talent is affability, and is the only cat who loves to have his tummy rubbbed all over, as much as you want. His brother is Tatertot. Tater is scary smart, he can figure out doors and work out how to get into anything. The orange and white guys are twins, Peekoe and Friendo. They are closer to feral than their brothers and really only like Grimmy and I, they assure curious about my friend Bebe, and will camp out on her, when shes sleeping.
***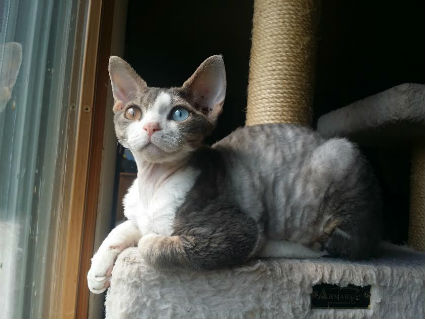 I am mostly a lurker but here is my Peepers. She showed up in our window box, as a kitten, in the middle of a Michigan winter. I suspect someone dropped her off, on the rural road, thinking that she would die out there. I named her Peepers because she was very vocal and would "peep". She had a long and happy life and lived to the ripe old age of 22.
Nothing like a cat in camo.
***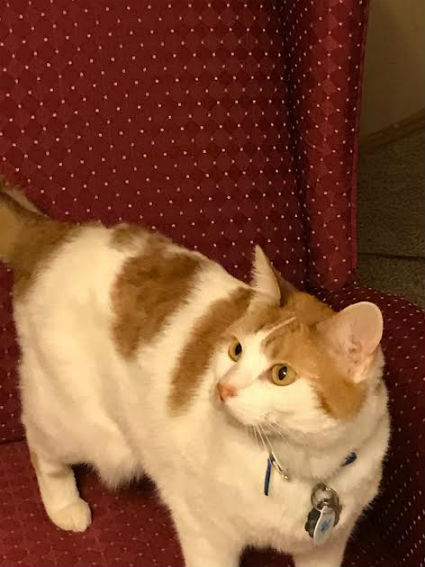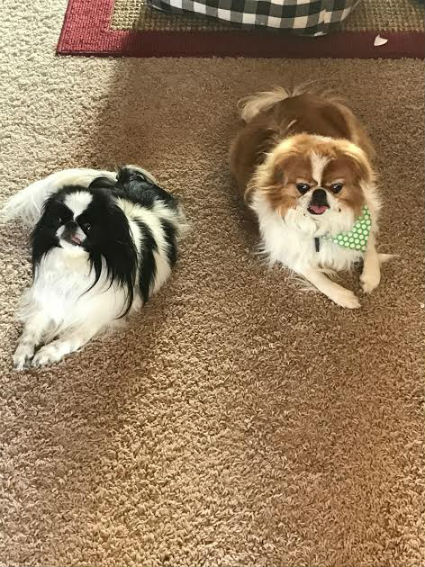 Here, for the horde enjoyment, are our pets. The cat is Sparrow, who we recently adopted from the local humane society. She is starting to earn her keep by keeping the local rodent population in check. She's about three. These are our boys, a pair of Japanese Chin. Chiboshi is the black and white. He's 12 and we rescued him 11 years ago. Hiro is the red and white and we adopted him last summer. He's about 8. Their primary function in life is to lay around the house and look cute, which as you can see from the photo, they excel at.
Sometime commenter Scott-High Plains Deplorable Looks like you have your hands full there Scott. Thank you.
***
Well, that wraps up another AoSHQ Pet Thread for another week. Wonderful group of critters that are shown off today. Once again, you folks make the Pet Thread work. If you have something you wish to share you can submit it to petmorons at gmail dot com. You and your animals have a great weekend!!!!
Posted by: Misanthropic Humanitarian at
03:08 PM