Another Day, Another NY Times Piece Extolling the Virtues of Communism.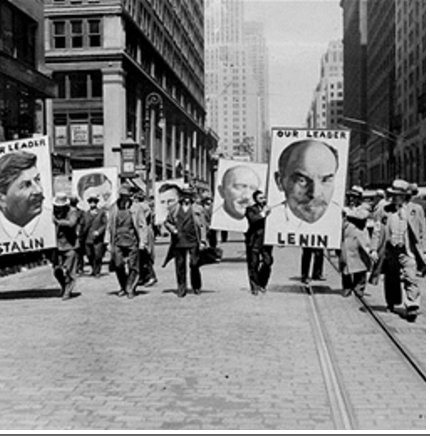 May Day, New York City, 1935

Yesterday, May 1st, was International "Hug A Commie" Day. It's depressing to see the NY Times get all weepy-eyed and nostalgic for
for commie thugs and murderers
:
It is perhaps hard to understand now, but at that time, in this place, the Marxist vision of world solidarity as translated by the Communist Party induced in the most ordinary of men and women a sense of one's own humanity that ran deep, made life feel large; large and clarified.
I mean, aside from the ruined economies, the mass murdering, the labor camps, the manufactured famines! We didn't know! Comrades! Who's with me?
It was to this clarity of inner being that so many became not only attached, but addicted. No reward of life, no love nor fame nor wealth, could compete with the experience. It was this all-in-allness of world and self that, all too often, made of the Communists true believers who could not face up to the police state corruption at the heart of their faith, even when a 3-year-old could see that it was eating itself alive.
It was all a lie. But such a beautiful lie. This article could have been written by a dirty hippie reminiscing about Woodstock. But it was part of the NY Times "Red Century" series of articles. I'm not making this up, they actually called it 'Red Century.' I wonder why they never run articles about old Nazis getting together to reminisce about the good old days and sing the Horst Wessel song and such?
This seems appropriate:
Posted by: OregonMuse at
11:24 AM