Thread below the Gardening Thread: Taxing [KT]
Serving your mid-day open thread needs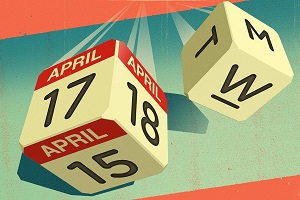 Should tax day be election day?
April 15 this year falls on a Saturday. So it might be logical to assume that would push the tax-filing deadline back to Monday the 17th. No, because that's the day that Washington, D.C., will observe Emancipation Day this year. That refers to emancipation from slavery, not taxes . . .
Happy Easter Weekend! Or Happy Passover. This is the third year in a row that the tax deadline has been later than the 15th. But, to most people, the 15th is still "Tax Day". Hope you have something better to do today than your taxes. Or someone else's taxes.
Via Maggie's Farm, why make it so difficult to Render unto Caesar? Even economists can't do their own taxes. "I owe about a year's salary". Heh.
The paperwork (and computer work) is really nerve-racking* to me. How about you? Anybody been yearning for a flat tax lately? Do you see other kinds of tax simplification on the horizon? *Words: Rack vs. Wrack
Some guides have expressed the opinion that since the verb rack comes from an instrument that stretches people (not in a fun way), this word should be used in settings which are related to strain, torture, and stress. And since wrack comes from a background of nautical destruction, this word should be used to indicate either wreckage (storm-wracked) or destruction (wrack and ruin). . . .
Either word kinda works for me in the case of tax preparation. Anybody out there enjoy the experience? Local and state taxing authorities can get creative with taxes, too. Make that "fees" in the case of my local government. And will California's newest transportation taxes really mean
pothole relief
this time? Electric car owners get a surprise, too. Any creative taxes where you live?