Sunday Morning Book Thread 04-12-2017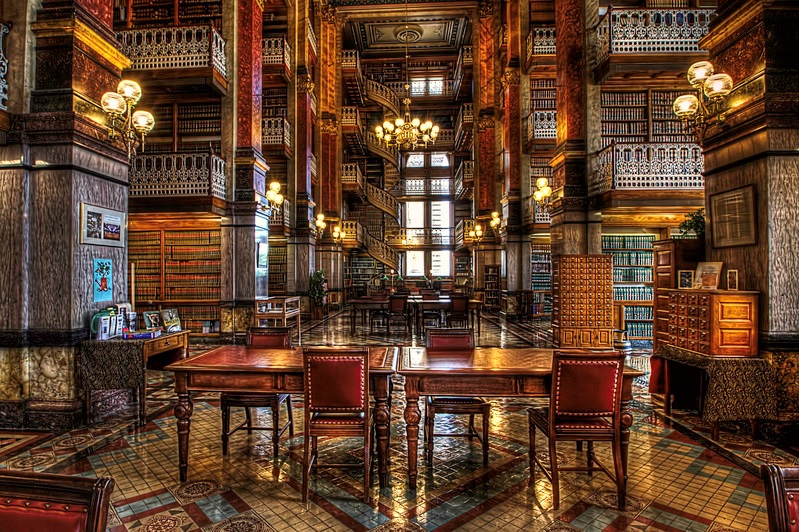 State of Iowa Law Library
Click to Embiggen

Good morning to all you 'rons, 'ettes, lurkers, and lurkettes. Welcome once again to the stately, prestigious, internationally acclaimed and high-class Sunday Morning Book Thread, where men are men, all the 'ettes are gorgeous,
safe spaces
are underneath your house and are used as protection against actual dangers, like natural disasters, or Literally Hitler, and special snowflakes do not last. And unlike other AoSHQ comment threads, the Sunday Morning Book Thread is so hoity-toity, pants are required. Even if it's
these pants
, which confirm every bad thing you've heard about WalMart.
Happy Easter! He Is Risen!
Pic Note
From
the State Library of Iowa website
:
Located in the Capitol building, the State Library of Iowa's Law Library provides Iowa lawmakers, government employees, the Iowa legal community and the general public with a highly specialized legal collection of treatises and both state and federal statutory, regulatory and case law. The collection also contains the abstracts and arguments of the Iowa Supreme Court and Court of Appeals, legal periodicals, and materials produced by the Iowa legislature. Research assistance is available.
(h/t
votermom
)
Shattered
Ace has already
stolen my thunder
from this on Wednesday, but I'm going to proceed as if he hadn't:
Here is an excerpt
from a new book about the 2016 election that will be released later this week,
Shattered: Inside Hillary Clinton's Doomed Campaign
:
It was never supposed to be this close. And of course she was supposed to win. How Hillary Clinton lost the 2016 election to Donald Trump is the tragic story of a sure thing gone off the rails. For every Comey revelation or hindsight acknowledgment about the electorate, no explanation of defeat can begin with anything other than the core problem of Hillary's campaign--the candidate herself
That's right, it was sexism what done her in. And misogyny. And moar sexism. Also the Russians, who somehow convinced her not to bother campaigning in Wisconsin.
Moving blow-by-blow from the campaign's difficult birth through the bewildering terror of election night, Shattered tells an unforgettable story with urgent lessons both political and personal, filled with revelations that will change the way readers understand just what happened to America on November 8, 2016.
I would point out to whoever wrote this Amazon blurb that one man's "bewildering terror" is another's "exhilirating joy." The kind of joy you experience when the doctor tells you that your spouse's stage-4 cancer has suddenly gone into remission. That's what the night of Nov. 8, 2016 felt like to normal Americans. (h/t also to fixerupper)
Shattered (continued)
And if this book doesn't sate your appetite for scum and villainy, there's always
Kennedy Babylon: A Century of Scandal and Depravity
by East Coast radio talk-show host Howie Carr:
Kennedy Babylon Vol. 1 begins the story of the Kennedy family's scandalous century in the public eye. Written by Howie Carr, the New York Times bestselling author of The Brothers Bulger and Hitman, Kennedy Babylon is a whirlwind tour of scandals from the days of the clan's rabidly anti-Semitic patriarch to the death of JFK Jr. The book includes scores of amazing photographs, many of which have not been published in decades.
And it doesn't begin to get into the sinkhole of depravity that was Teddy Kennedy. And yet many liberals worship them as gods. But getting back to the election, I am equally suspicious of books like this one,
Trumped: The 2016 Election That Broke All the Rules
In 2016, Donald Trump broke almost all the rules of politics to win the Republican nomination and, even more improbably, to edge out heavily favored Hillary Clinton in one of the great upsets in presidential campaign history. In Trumped: The 2016 Election That Broke All the Rules, Larry Sabato, Kyle Kondik, and Geoffrey Skelley, leading experts in American politics, bring together respected journalists, analysts, and scholars to examine every facet of the stunning 2016 election and what its improbable outcome will mean for the nation moving forward under a Trump administration.
These are guys who pretty much miscalled everything, right? I think the subtitle should be: "As Written By A Bunch of Paid Political Pundits Who Totally Whiffed On the Election, Got Everything Wrong, And Now Want You To Believe They Totes Know What They're Talking About Now." I don't think so.
Easter Reading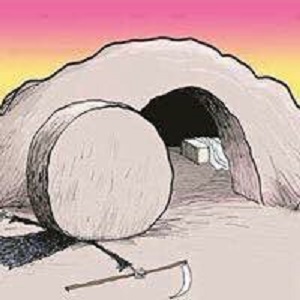 David Limbaugh, Rush's smarter brother, has a new book out, and it's fitting that the release date is the Easter season.
The True Jesus: Uncovering the Divinity of Christ in the Gospels
:
In this book, Limbaugh combines the four Gospel stories into a unified account (though not, he humbly admits, a perfect harmony) and guides readers on a faith journey through the Four Evangelists' testimonies of the life of Jesus Christ. Along the way, Limbaugh shares his insights on Jesus' words and deeds as well as His unique nature as fully human and fully divine.
Rush talked about this book on
his show on Good Friday
. He said David wrote it more to "create interest rather than to preach answers":
So the purpose of this book, The True Jesus, is to introduce people to the gospels, make them less intimidating — you know, it's written in such a way you can't even understand it. A lot of people don't understand the language itself, the prose, the way it's all put together, and so this book is to actually serve as an introduction. And most of all, to encourage people to read the Bible for themselves rather than relying on other people who have and their interpretation or getting some of it from pop culture or what have you.
Rush has never struck me as being particularly devout, but David takes his faith seriously. He is also the author of the books
Jesus on Trial: A Lawyer Affirms the Truth of the Gospel
and also
Finding Jesus in the Old Testament
Notes From The Revolution - 3
Of course, one can scarcely blame the bookstore. They're just making marketing decision based on who they think their target audience is, just like any other business. But, looking at the lower right of the display, I am curious about this new-found interest the left seems to have acquired for the original U.S. Constitution. Why, some of them are even talking about limiting the powers of government, now that it's in the hands of people who won't implement the progressive agenda.
It Pays To Increase Your Word Power®
A
RACKRENT
is an extortionate rent.
Books By Morons
Heard a few days ago from moron author Bill Webb who tells me:
The second novel in my reviled (by leftists) saga of the Last Brigade is coming April 21, and pre-orders and print books get TWO teasers epilogues for book 3. These will be yanked forever, though, so get yours while it's hot!
He's talking about
Standing in the Storm
:
When the Last Brigade begins its mission of rebuilding America, they find enemies on all sides. In nearby Prescott, Arizona, a maniacal warlord proclaims himself the legitimate successor to the USA. To the east lurks the strange religious cult named the Caliphate of the Seven Prayers of the New Prophet, which kills anyone who doesn't convert. And why is a Chinese military vehicle found to the north?
All pre-ordered Kindle copies will be delivered to your device on April 21st. The first book in this series is
Standing the Final Watch
___________
Another new moron author surfaces. Here is a book thread comment from a couple three weeks ago:
Also, shameless plug- while ago I wrote a small book meant to help parents navigate the mental health system, as many of my clients seemed to be grasping at straws to figure out where to even begin. It's an ebook on amazon - "A Parent's Guide to Mental Health"

Posted by: aivanther at March 26, 2017 11:01 AM (KkUrF)
I think this is his book:
A Parent's Guide to Mental Health
The world of mental health is complex and often difficult to navigate. As a parent, you need to know how best to help your child, and this book is your guide. From the complex terms commonly used in the field, what different disorders really mean and how they are treated, A Parent's Guide to Mental Health teaches you the information you need about your situation. We also cover steps for effectively working with professionals, as well as how to work with your local school to build an effective team. [i]A Parent's Guide to Mental Health[/i] is all about teaching you how to best help your child.
$2.99 on Kindle. Years ago, Mrs. Muse and I were friends with a married couple who had a boy about the same age of our son. He was a real handful, lots of inexplicable fears and tantrums and crying. Eventually, they took him to a doctor for evaluation and was diagnosed as autistic. Once they knew that, they implemented appropriate therapy and there was much improvement. Their second child was a daughter who developed normally and the father once told me that if they had had the daughter first, they would have known right away that something wasn't right with the son. But since he was their first, they really didn't have a baseline to compare their experience with.
Moron Recommendation
And continuing with the mental health theme, a long-time lurker e-mailed this week to recommend a book called
The Quiet Room: A Journey Out of the Torment of Madness
by Lori Schiller, her account of her suffering from schizophrenia:
At seventeen Lori Schiller was the perfect child -- the only daughter of an affluent, close-knit family. Six years later she made her first suicide attempt, then wandered the streets of New York City dressed in ragged clothes, tormenting voices crying out in her mind. Lori Schiller had entered the horrifying world of full-blown schizophrenia. She began an ordeal of hospitalizations, halfway houses, relapses, more suicide attempts, and constant, withering despair. But against all odds, she survived. Now in this personal account, she tells how she did it, taking us not only into her own shattered world, but drawing on the words of the doctors who treated her and family members who suffered with her.
Lurker has some professional experience with this:
I'm a police officer and I encounter mentally ill people fairly frequently. Sometimes they will be talking to the voices they hear in their heads, or will appear to not be paying attention to me, as if they're listening to something else. In this job one tends to build up an emotional wall just to stay sane, and I try not to contemplate on people's issues too much. So it had never occurred to me how terrifying it must be for a child to begin hearing voices, especially angry ones, at the onset of schizophrenia. This book has given me an interesting insight and will hopefully make me better at my job.
I've heard that the worst call a police officer can get is a domestic disturbance call. But I wonder if situations involving a mentally ill person aren't actually worse. Because there's no normal perceptions, therefore there won't be normal reactions, especially if the voices in his head are louder than the voice of the police offer trying to talk to him. There have been tragic shootings in these types of situations. I can't imagine what it would be like to hear loud voices in my head that I can't control and seem to be someone else.
___________
Longtime moron Hrothgar and lurkette SandyCheeks both told me about this book,
Dog Company: A True Story of American Soldiers Abandoned by Their High Command
, by Robert Hill after listening to an interview with the author, a West Point grad and decorated Afghan war vet, on a local radio station. The Amazon blurb starts out:
The Army does not want you to read this book. It does not want to advertise its detention system that coddles enemy fighters while putting American soldiers at risk. It does not want to reveal the new lawyered-up Pentagon war ethic that prosecutes U.S. soldiers and Marines while setting free spies who kill Americans.
So my question is, were these FUBAR rules and practices there all along, or did they come about due to policy changes implemented by the Obama administration? And a follow-up question, does DJT have any idea of just how big a Herculean task it will be to clean out these particular
Augean stables
? Anyway:
Hill and (First Sergeant Tommy) Scott then led Dog Company into combat in Afghanistan, where a third of their men became battlefield casualties after just six months. Meanwhile, Hill found himself at war with his own battalion commander, a charismatic but difficult man who threatened to relieve Hill at every turn.

After two of his men died on a routine patrol, Hill and a counterintelligence team busted a dozen enemy infiltrators on their base in the violent province of Wardak. Abandoned by his high command, Hill suddenly faced an excruciating choice: follow Army rules the way he always had, or damn the rules to his own destruction and protect the men he'd grown to love.
Again, my confirmation bias tells me that I would like to believe that Capt. Hill was placed in this situation because Obama was busy turning the military into a hollowed-out progressive shell, but I don't know for sure. I have no military experience, but I hear that military bureaucracy can be amazingly obtuse. Is this just another specie of this, or something recent, and far worse?
___________
Don't forget the AoSHQ reading group on Goodreads. It's meant to support horde writers and to talk about the great books that come up on the book thread. It's called AoSHQ Moron Horde and the link to it is here:
https://www.goodreads.com/group/show/175335-aoshq-moron-horde
.
___________
So that's all for this week. As always, book thread tips, suggestions, bribes, rumors, threats, and insults may be sent to OregonMuse, Proprietor, AoSHQ Book Thread, at the book thread e-mail address: aoshqbookthread, followed by the 'at' sign, and then 'G' mail, and then dot cee oh emm. What have you all been reading this week? Hopefully something good, because, as you all know, life is too short to be reading lousy books.
Posted by: OregonMuse at
09:00 AM