Thread below the Gardening Thread: Arrividerchi, Roma? [KT]
Serving your mid-day open thread needs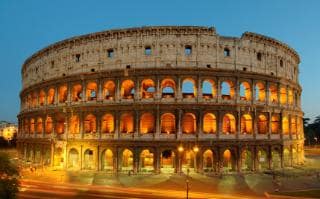 Planning a trip to Italy?
Although it is easy to forget with the high drama surrounding Trump's EO, the USA is not the only country dealing with immigration issues. Don't know how it will work out, but this sounds like a sensible concept: Italy unveils plan to
better integrate fewer migrants.
More than 500,000 migrants have entered Italy since 2014, and nearly 175,000 asylum seekers are waiting in reception centres. The Italian government on Wednesday unveiled a series of measures aimed at easing the crush of migrants pouring into the country, including a new push at integration. . .
Apparently, some of the people wanting to get into the country are going to be sent back. Faster than they have been sent back in the past. Arrividerci. And fewer migrants may be coming through Libya to Italy in the future. Here's something I didn't know:
In Italy, Islam does not officially exist.
This month, Italy's Interior Ministry and the country's nine major Islamic associations signed an unprecedented agreement. Muslim organizations agreed to create a registry of their imams and to require them to preach in Italian. In return, the government vowed to "facilitate the path" toward the official recognition of Islam in Italy.
Of course, it is hard to even imagine something like that in the USA. How do you think regional history affects the current Italian approach to migrants? Versus, say, the German approach? Looking to brush up on the history of the Roman Empire?
"Rome is such a big topic".
The collapse of the Western Roman Empire has two interesting angles to explore. One is why it lasted so long despite the external stresses and the internal conflict. History books do a good job of covering that material. The other angle is why did the Western Empire collapse when the Eastern Empire continued on? That's a subject that offers some insights into why a thousand years later the West was ready to roar past the rest of humanity.
I'm not quite ready for a civilizational collapse in order to fuel a renaissance a thousand years hence. Do you think the current Italian efforts to get the migrant situation under control will help them hang onto their culture for a little longer? Here is Nat King Cole singing "Arrividerci, Roma" mostly in Spanish. A rebel before his time. When in Rome, sing in Italian! Hasn't that always been the rule? On the other hand, you might want to invite someone to dance with you. Latin style.