Tuesday Overnight Open Thread (12/20/16)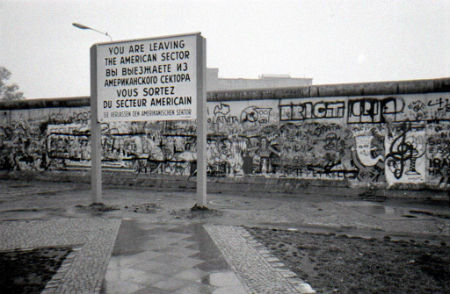 On this day in history, 1963,
the Berlin Wall is opened for the first time.
More than two years after the Berlin Wall was constructed by East Germany to prevent its citizens from fleeing its communist regime, nearly 4,000 West Berliners are allowed to cross into East Berlin to visit relatives. Under an agreement reached between East and West Berlin, over 170,000 passes were eventually issued to West Berlin citizens, each pass allowing a one-day visit to communist East Berlin.
Quotes of The Day Quote I
The fall of the Berlin Wall makes for nice pictures. But it all started in the shipyards. Lech Walesa
Quote II
Fall of the Berlin wall? Being there was fun. Nations that flaked off of the Soviet Union in southeastern Europe, Central Asia, and the Caucasus? Being there was not so fun. P. J. O'Rourke
Quote III
General Secretary Gorbachev, if you seek peace, if you seek prosperity for the Soviet Union and Eastern Europe, if you seek liberalization, come here to this gate.
Mr. Gorbachev, open this gate!
Mr. Gorbachev, tear down this wall! President Ronald Reagan
Quote IV
Ronald Reagan will be remembered for leading the United States during a time of tremendous international transition - the demise of the Soviet Union, the Berlin Wall coming down, and the end of the Cold War. Mary Landrieu
Busy day on the calendar tomorrow, December 21st.
The first one is National
Urban Outdoorsmen
Homeless Persons Remembrance Day.
Local groups across the country are encouraged first to determine the number of homeless persons in their community who died in the previous year and then arrange a ceremony to remember them. Candlelight marches, vigils, graveside services, plays and performances, religious services, and public policy advocacy are the suggested ways of remembering. Some groups have read publicly a list of names of the deceased. Use #HomelessPersons'RemembranceDay to post on social media.
Feelings, nothing more than feelings.
Many of the homeless are alcoholics, drug users/abusers and those with mental illness. A recent study reveals that
there are casual links between marijuana and schizophrenia.
Summary:
People who have a greater risk of developing schizophrenia are more likely to try cannabis, according to new research, which also found a causal link between trying the drug and an increased risk of the condition.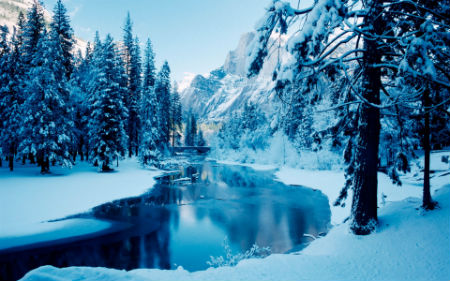 The second big event tomorrow on December 21st is the
December/Winter Solstice.
Day light will be increasing ever so minutely. Although by the time February rolls around it will be noticeable. Not sure where you are located but your humble Cob has already has had his share of "winter" weather.
You hear about women and the glass ceiling. How about women and the glass autopsy table?
Equal occupational fatality day will be on February 19, 2027.
Groups like the NCPE use "Equal Pay Day" to promote a goal of perfect gender pay equity, probably not realizing that they are simultaneously advocating an increase in the number of women working in higher-paying, but higher-risk occupations like fire-fighting, roofing, construction, farming, and coal mining. The reality is that a reduction in the gender pay gap would come at a huge cost: several thousand more women will be killed each year working in dangerous occupations.
Tonight's Musical Interlude
Australia, The Land Down Under. Home of the kangaroo, Foster's Beer and a boatload of poisonous snakes.
They like to hang out on Christmas trees.
Not The ONT's idea of tinsel. h/t CBD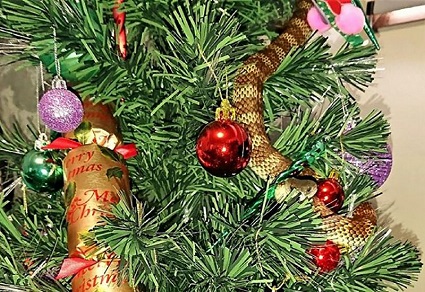 Do you like to drink beer? Do you make beer?
Everything you wanted to know about beer styles.
(Really cool interactive table)
The Beer Judge Certification Program lists 100 styles with defined ranges of alcohol by volume (ABV), bitterness (measured in IBUs, or International Bittering Units), and color (measured using SRM, or Standard Reference Method). Below is a series of charts for all 100 styles. Mouseover any style for more details and commercial examples. Rectangles to the top right corner represent beer that is high in alcohol and high in bitterness. In contrast, a rectangle in the bottom left corner represents a beer that is low in alcohol and low in bitterness.
Gift returns go easier if you're part of
The Group.
News tips, spare change and your unmatched glove can be sent here.
Don't Tweet. That's OK, you can send stuff here as well, petmorons at g mail dot com.
Loose lips sink ships or
Genius Award Winners
There are still some decent kids in the world.
Today's Feel Good Story of The Day.
Tonight's ONT has been brought to you by Regret:
Posted with permission by AceCorp, LLC. The Occupational Safety and Health Administration (OSHA) ONT standards do not require Ace to label The ONT with instructions and warnings.
Posted by: Misanthropic Humanitarian at
10:03 PM