Ace of Spades Pet Thread [Mis. Hum.]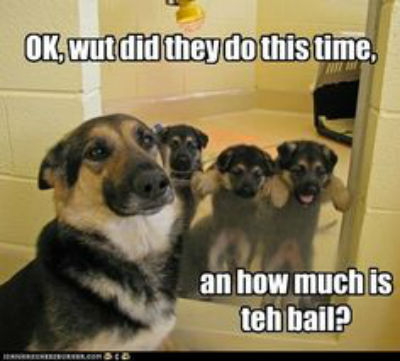 It's time to enjoy all things animals. Enjoy the animal news and the "kids" of the Moron Horde. Down. Stay. Good Moron.
Late last week a commenter had the following question.It was late in the thread. Can you Morons help him out?
71 Hey, I need some help. Scrappy, my not quite 2 year old pointer, is terrorizing Moose, my wife's 10 year old 12 pounder. It started out as rough housing, now she will kind of bark threateningly if Moose gets too close to Scrappy's bed or rawhide or whatever.. Moose is trying to avoid her, but that is not the answer. Scrappy was not socialized very well before I got her and she is kind of dominant and possessive. Any ideas on having them get along better?
Posted by: F.N.G. at November 12, 2016 10:29 PM (kiSdp)
It is a dominance issue on Scrappy's part. Behavior that should not be allowed. There are several ways to address it. With a similar problem here in our
zoo
house we give the culprit a time out when he acts up. The ONT doesn't know where you are from or what your pocket book looks like. But, you may consider going to a dog training class with your pets. For example an 8 week class here runs right around $125. Worth every penny of it. C'mon Horde, let's help Scrappy to be a good doggeh.
Animal News. A Little of This. A Little of That.
Animal funnies.
h/t Miley,
Meet The PetMorons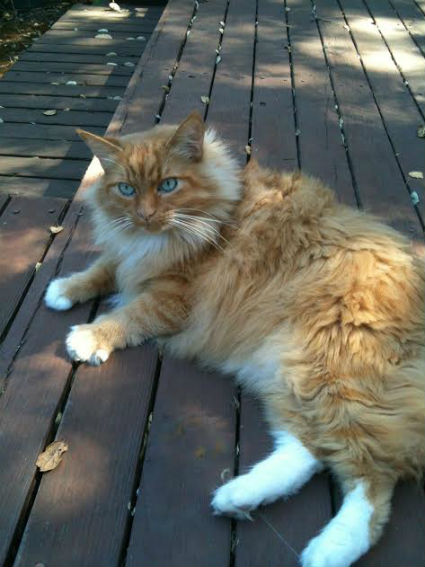 Our first pet this week is a sharp looking cat. Let's here it's story from T-Bird.
"A younger brother of the late Rye (who was featured in a previous edition). Does not actually hunt, but he LOVES his spoonful of salmon in the morning. t-bird"
Thanks for sharing.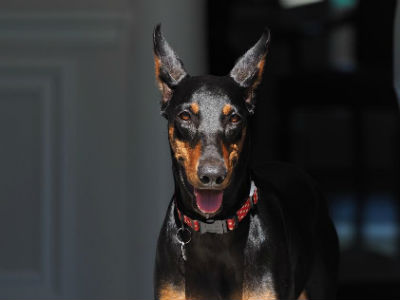 We sure do have our share of Lurkers. C'mon in the water is fine!!! "Hiya, Long-time lurker, and so is my mom. Would be great if her pup, Minnie the Doberman, could make it to AoS pet thread. She's a sweet girl whose greatest passion in life is barking at the UPS man. She's great at opening any sort of door and terrible at catching squirrels. Terrified of babies. Total cuddly, loving sweetheart and great guard dog. It would be a really awesome surprise for my mom if Minnie showed up on the thread. If you do choose to post her, I'd like to stay anonymous and lurky, please. Cheers!
A Lurking Lurker (almost) Librarian (whose name appears in the email address but is still attempting anonymity)"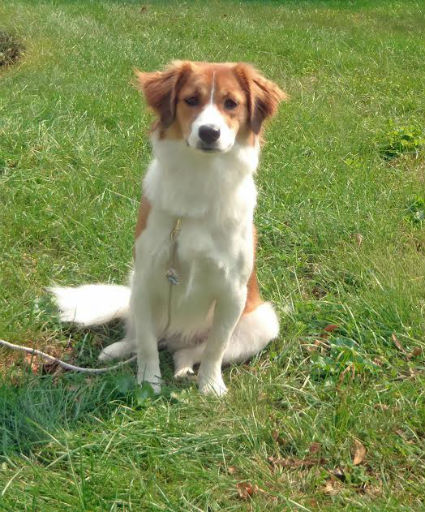 This is Gryn. And her story. "Hello This is our dog Gryn.
She is a mixed breed rescue. Her hobby is chasing squirrels.
Hope you can use her. Lurker
Victoria"
Thank you for sharing with us Victoria. Gryn certainly does look happy.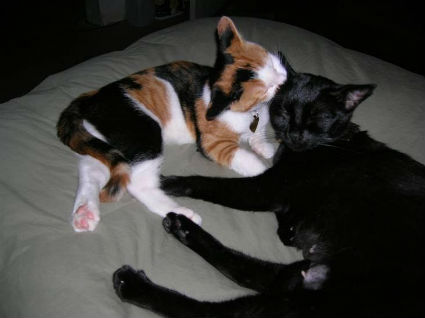 Last but not least this week are these adorable creatures. This photo was sent in by Miley, the Duchess of the Deplorable Standard Rednecks. She has shared this story with us. "Marie is (was) the black one, the momma, who passed away on June 29, 2013. She got her name from the sound she made. Her formal name was Mary, Queen of Cats. Harli is the calico, born 4/8/08 at 7:32 pm (in case anyone wants to run her natal chart). When she was born as Tim (aka Mr. Deplorable) and I looked on, I said, "OH! A harlequin kitteh!" and it just stuck. She was kitteh #2 in that litter."
Thank you for stopping by. We appreciate your visit. We are soliciting photos of your pets. When you send in your pet's photo please include your pet's name, your nic and a little story about him/her/it. You may send your photo(s) to petmorons at gmail dot com. We can't spell s_ccess without U. If you have a funny video, interesting story or some other animal related information, you can submit to the same address. Have a great weekend.
Posted by: Misanthropic Humanitarian at
03:45 PM