Tuesday Overnight Open Thread (11/15/16)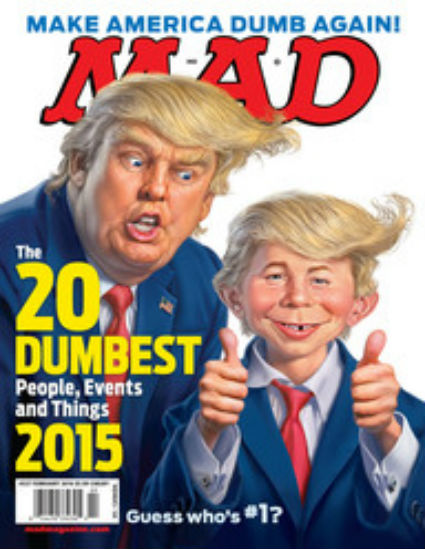 Mad cartoonist, Al Jaffee, is still going strong at age 95.
He has also set a record as the oldest working cartoonist.
At 95 years old, Mad Magazine's Al Jaffee is the oldest working cartoonist, and he has the certificate from Guinness World Records to prove it. The satirist has worked with everyone from Stan Lee to EC Comics founder William Gaines over his career's 73-year span, though he will probably go down in comics history as the inventor of the "fold-in", a transformable painting that originally mocked lavish centerfolds in magazines like National Geographic and Playboy and later became Jaffee's calling card. Earlier this year he made time to discuss political satire and the way cartoons have changed with the Guardian. The presidential campaign hadn't yet kicked into high gear, but Jaffee's observations have aged well.
Quotes of The Day
There will come a time when the gun owners of America, the law-abiding gun owners of America, will be the Rosa Parks and we will sit down on the front seat of the bus, case closed.-Ted Nugent
The court makes an amazing amount of decisions that ought to be made by the people.-Antonin Scalia
The truth about these dysfunctional, downscale communities is that they deserve to die. Economically, they are negative assets. Morally, they are indefensible."-Kevin Williamson of National Review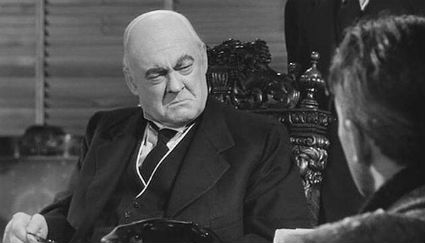 The photo? No, it's not Kevin Williamson it's Mr. Potter.
Just remember this, Mr. Potter, Kev
that this rabble you're talking about... they do most of the working and paying and living and dying in this
community
country. The last but not least Quote of The Day
My point is that populism is not intrinsically a bad thing. It may be either positive or negative according to context. The essential feature of all populist movements is their belief that an elite is governing in its own interests rather than that of the general population. To make an obvious point, the validity of the populist argument depends on the extent to which that assessment is accurate.-Daniel Hannan
The big question next January is Obamacare repeal and replace.
No word if Jonathan Gruber is related to Kevin Williamson.
Gruber who was a driving force in Obamacare pointed out ""the stupidity of the American voter." Let's hope the GOP doesn't feel the same way.
If the "accomplishment" is that the American electorate is now blaming their high health care bills on Democratic politicians, rather than on doctors, drug companies, or insurance executives, it is indeed pretty great, though perhaps not exactly in the way Professor Gruber intended it to be. It is, in any event, a cautionary tale for Republicans who hope to repeal and replace the Affordable Care Act. If voters are going to start blaming politicians for their health insurance and medical bills, the anger in the next election could be directed at the Republicans who now hold control of the White House and both houses of Congress. If the Republicans hope to do better than President Obama, Mrs. Clinton, and Professor Gruber, they may want to start from the premise that American voters aren't stupid
Its been a week since the presidential election. The smirks and schadenboners are starting to fade. While the ONT is willing to move on it appears the left is not. Example, Steve Bannon.
Steve Bannon makes some coin every time a rerun of Seinfeld is shown.
Good for him. He's living rent free in their heads.
If you are going to protest, don't you think you should have voted?
The left, too much money in their pockets and swimming in hypocrisy. The Democrats are running around calling Hillary the winner of the popular vote.
They are clamoring for a change of electoral college.
Barbara Boxer has been in the senate for years and years and years. Now that it is in lame duck session with her party out of power she
introduces legislation for a constitutional amendment.
Nice show boating there Babs. Fortunately she is retiring, unfortunately her replacement is another Prog ditz. FWIW the next link is from Info Wars.
It appears that voter fraud gave Hillary the popular vote win.
TFG indicated prior to the election that illegals could vote without recrimination. It's about time for voter rolls to be scrutinized and purged. Photo ID should be the law of the land in order to vote. If the Left wants to help "disenfranchised" folks they can haul them to the appropriate clerk's office and help them obtain a valid ID card. The ONT wouldn't be opposed to purple ink on one's thumb either. What do you get when you cross Kathleen Sebeilus and Hillary Clinton?
The United Kingdom's NHS employees are caught in an email nightmare.
The ONT
snorted
remains neutral.
The NHS's 1.2 million employees are currently trapped in a "reply-all" email hell. A "test" email was accidentally sent to everyone who works at the UK health service — prompting a series of reply-all responses from annoyed recipients going out to all 1-million-plus employees of the organisations. An NHS employee told Business Insider that there have been at least 120 replies so far — meaning that more than 140 million needless emails have been sent across the NHS's network today. As a result, they said, its email systems are running "very slow today."
The email problem seems to be the least of their problems at the moment. The NHS is busy
trying to keep cuts secret.
Government and transparency, oil and water.
Full details of 44 reviews of services around the country - which involve closing some A&Es or, in one case, a whole hospital - are yet to emerge. That is because NHS England told local managers to keep the plans "out of the public domain" and avoid requests for information, the King's Fund suggested. Managers were even told how to reject freedom of information requests. The King's Fund report did not include any details of cuts, but from the leaks and plans that have been published so far a partial picture is emerging of what is involved.
When the Left admits Obamacare is a failure this is the crap they will push next. Are you lonely? Do you know someone who is lonely? Have you tried the
sure-fire lonesomeness ender?
Dementia overtakes heart disease as #1 killer in England.
Wow. 40 years?
My how time flies.
Oh yeah, and the ONT Musical Interlude.
David Bowie's Rebel Rebel performed by a 1,000 member band.
When will people learn there are rules to social media use?
Columbia University suspends wrestling team.
Offensive text messages obviously these kids aren't being taught the right things.
Columbia University suspended its wrestling team's season on Monday while it investigates a leak of illicit text messages sent among team members, The New York Times reported. The messages, shared on the private messaging app GroupMe, were peppered with derogatory references to women, minorities, and gay people. Screenshots of the messages were made public by independent student-run news site Bwog. The university described the inflammatory messages as "appalling" in a statement. "Columbia University has zero tolerance in its athletics programs for the group messaging and texts sent by several members of the men's varsity wrestling team. They are appalling, at odds with the core values of the University, violate team guidelines, and have no place in our community," the statement said.
While we are on college students. Good Lord weren't any of them taught about loss and disappointment as children growing up?
The only thing that is missing for their comfort is sitting on Mommy's lap sucking their thumb.
Last week, right after the election of Donald Trump, Barnard's Student Life department released a guided video tour of the Social Justice Lounge encouraging students to visit during its normal hours of operation, Monday through Friday between 9:00 a.m. and 5:00 p.m. As the video shows, the room has "community guidelines," and encourages the use of "I" statements and trigger warnings. It also features framed photos of female activists, "social justice oriented texts" that students may freely borrow, multiple packs of Crayola Crayons, and loose-leaf sheets of coloring pages. According to The Columbia Spectator, students from both Barnard and nearby Columbia University came "running, screaming, and crying" to the campus Quad when Trump's victory was announced, subsequently protested Trump's victory, and even requested that their professors postpone midterms after learning about the news.
Parenting. One of the hardest jobs one will ever have. Over the past several months the failure of certain parents has been on full display.
Meet Chris Burr Martin a 48 year old father of 3.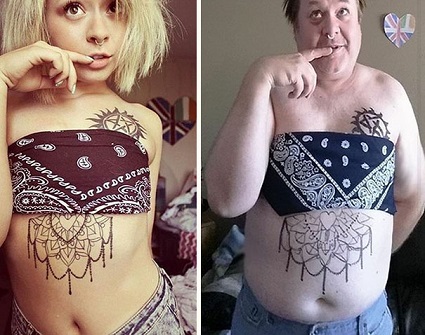 His parenting skills are different. The ONT will give you that.
Beauty is in the eye of the beholder.
54 Million reasons why it is beautiful, or not.
What's the old joke? When I die, I want to go peacefully like my grandfather did. In his sleep. Not yelling and screaming like the passengers in his car.
These folks didn't meet Gramps fate.
WWII, there is a grave for a solider who never existed.
Creative strategies, one of them was "Operation Mincemeat"
The problem with monopolies is that they can do just about anything.
Charter Cable customer sues for bogus charges.
Las Vegas gets "different" type of street lights.
Pedestrian powered street lights.
Not all news is bad news. As a matter of fact here is some Yummy news.
Oreo will be introducing the new Big Crunch candy bar.
The ONT suggests launching it in the states that passed the recreational marijuana laws. Just an idea.
The Genius Award Winner.
Kleenex warning issued.
The feel good story of the day.
As we approach Thanksgiving, why not thank Ace for all of the good work he does.
Hitting the tip jar is an easy thing to do.
ONT Tips, loose change and empty milk jugs can be sent here,
or here petmorons at gmail. Your humble ONT host will be gone until Thanksgiving. Please play nice with the guest COBs. Rumor has it that Ace will be sitting in one night.
The Group, you will find populism here.
The ONT has been brought to you by masculinity.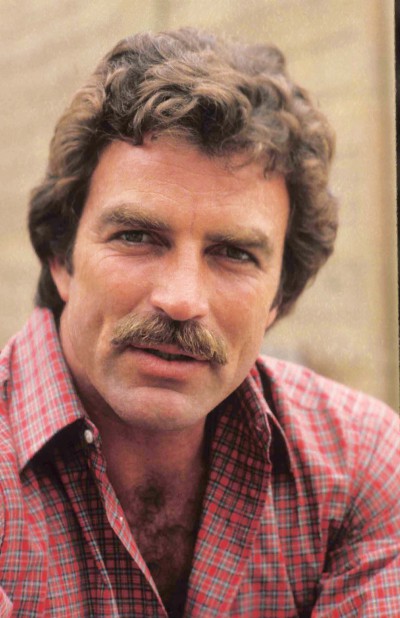 You're welcome 'ettes.
Notice: Posted by permission of AceCorp, LLC. Had their been prizes. The prize(s) that may be awarded to the eligible winner(s) are not transferable, redeemable for cash or exchangeable for any other prize. Had their been prizes.
Posted by: Misanthropic Humanitarian at
10:07 PM