Slummin' With the Morons ONT [Weirddave]
How Not to Make a Sandwich
Tractor-Trailer Truck Carrying Deli Meats Collides With Bread Truck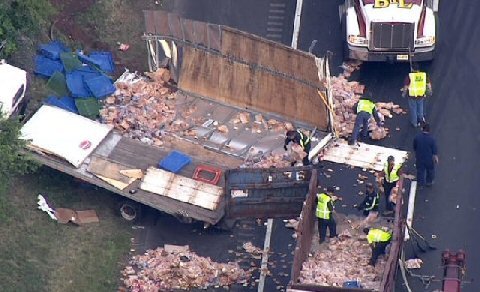 Not optimal, although I'm sure there were edible bits in the middle if you really wanted to eat. Related:
Remember this next time you hear someone ranting against free trade. Without trade, which gives humans the invaluable ability to specialize, even something as simple as making a sandwich becomes virtually impossible. Remember also that there's a lot in that video he didn't do himself-design and manufacture the plane that took him to the ocean, for example. Leonard E. Read made this point brilliantly in his famous essay
I, Pencil
.
Oh, Canada. *Shakes Head*
This may be the most Canadian thing ever.
Manitoba man robs beer store in full goalie gear
You can watch the security footage at the link. I (kinda) get disguising one's identity with hockey gear, but why did he carry the hockey stick too? It just got in the way.
Everyone Should Vote?
Mike Rowe Drops Some Truth Bombs
Related:
The Idiot Vote: The Democrats' Core Constituency
It's a relatively short book that is worth the $3.95 it costs on Kindle, putting a historical perspective on the effects of widening the franchise. I don't agree with all of the conclusions, but in general the thesis has merit, I think. I also found this map on GAB, but there was no attribution as to the sources used to create it, so I do not vouch for its accuracy (I can't make out the "source" text at the bottom).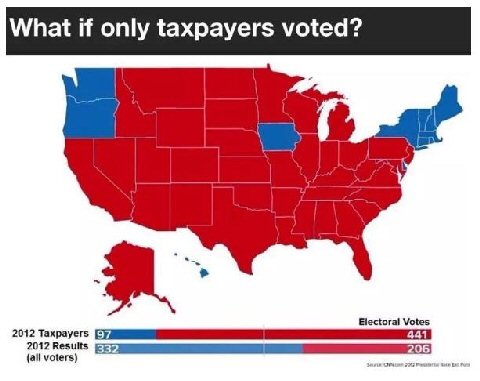 Speaking of GAB, you can still sign up
here
, I know a lot of other Morons have already joined. It's a bit alt-right heavy at the moment, but I bet that will change as they open it up to more people.
Hanging Chads
How the media nearly stole the 2000 election for Al Gore
This article makes a convincing argument that all of the Buchannan voters combined in Palm Beach County wouldn't have mattered if the media hadn't relentlessly pushed the meme that the polls were closed-even though those in the heavily Republican Panhandle weren't.
The Man With the Red Bandana
Heroes walk amongst us every day
, and we never know it until TSHTF. Heartwarming story with a wonderful coda from Twitter.
Islam
Dawah: The Call to Islam is Deceptive, Dangerous and Deadly
Fortress Calais
A BAMF Employee Tells of Her Daily Life in Asylum Hell
Daniel Greenfield: The Lie is Coming Apart
Literal Video
The voice work here is superb, it sounds just like Bonnie Tyler (who, BTW,
thinks the video is hilarious
).
Smart Kids
Pair of 14-year-old friends invent clever hack to stop ice cream dripping down cones
I hope they enjoyed inventing this, because its a grim future given
The Government's War on Fun
. Little is 11, and while he plays far too many video games, I still push him out the door to go ride his bike or run around in the woods. I'll try to report from the gulags after they catch me and prosecute me for insisting that my kid have the chance to be a kid.
Hayek's Hellions MC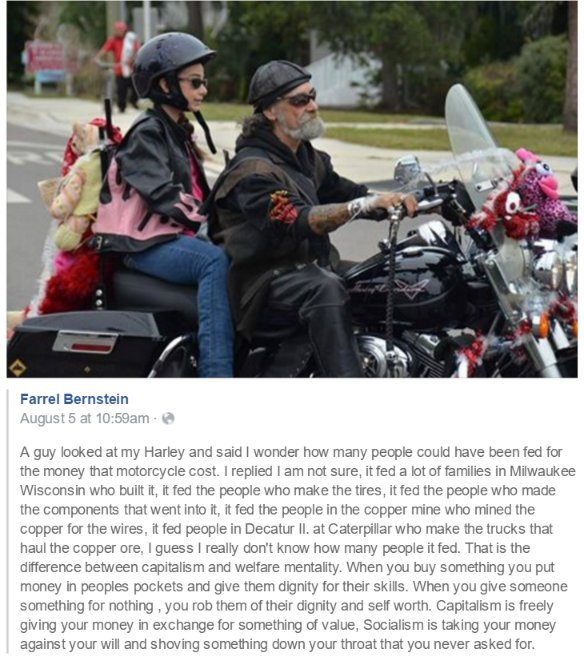 Related: Uncle Milty
My favorite part is at the end when he tells the outraged proto-SJW "I'm on your side. But you're not"
God Nukes Russia
Not really, but he does create interesting
cloud formations
.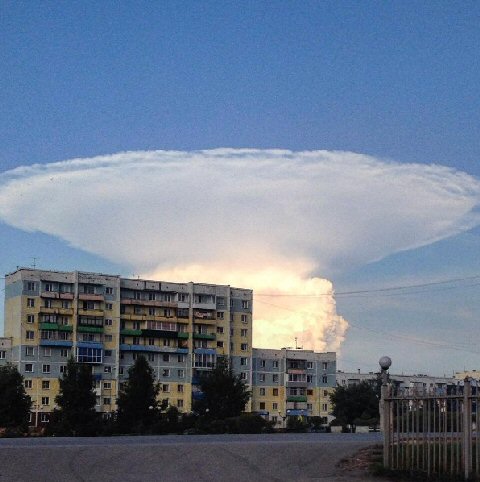 Food
Here's what fruits and vegetables looked like before we domesticated them
Hardest hit: GMOphobes
Black Lies Murder
Bill Whittle lays down some facts.
Feel Good Story of the Night
Conjoined twins who had slim chance of survival will start school this week
. It's easy to forget in the constant barrage of bad news that is our 24/7 media world, but we really do live in an age of miracles. The reason I'm a conservatarian is that I'd like to continue to live in an age of miracles, and I'd like my kids to have the same opportunity. All of this wonder didn't happen by accident, or by government fiat.
Do It Yourself
Tonight's ONT brought to you by the LGBT community: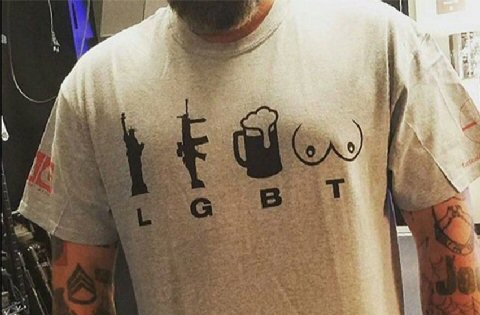 Don't forget
The Yahoo Group
, made from the finest things on Earth.