Overnight Open Thread (8-30-2016) [CBD]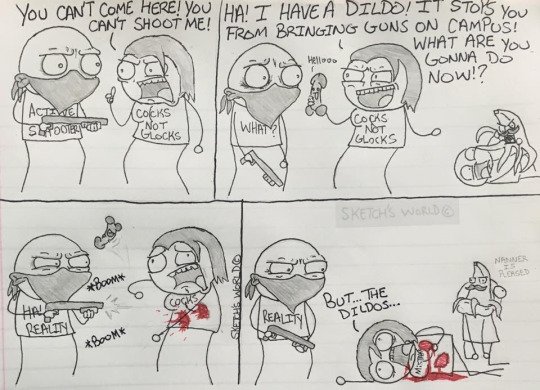 I guess the motto for all of the precious snowflakes who are going to be triggered by the thought of the good guys having guns on campus is
"Bring a dildo to a gun fight!"
[Wait....what?] This is actually even more nonsensical than the typical rabid anti-gun rantings of the Left. Presumably Texas, with its moderate gun laws has many citizens quietly going about their business all over the state while carrying concealed weapons. And because the minimum age for a concealed carry permit is 21, that immediately shrinks the number of possible weapons on campus, probably to a point well below the background percentage across the state. So the hysteria is completely and totally unfounded. But you knew that already.
******
This Year, Let's End the School Supplies Arms Race
Why can't kids re-use old crayons, like they do at my local public library? Their lack of spiffy new wrappers and stubby shapes have never slowed my daughter down from creative drawing. Why can't kids bring their own plastic cup and wash it at the end of the day, instead of making parents buy thousands of Dixie cups that will only wind up in the trash? And why do kids need the world's most exotic calculators, when they are likely only using 20 percent of its functionality?
******
Anyone hunt wild boar from the beach?
******
Abe Yehuda is the Israeli-based incarnation of a blog that used to be called FresnoZionism. It is written by an American Jew who recently moved to Israel. Here he discusses a book, written by a reliably left-wing Israeli author, that exposes perfectly the astonishing conceit of progressives, not just in Israel, but all over the world.
Mrs. Keret's Delusion
is exactly that....the assumption that we have control over the hearts and minds of others.
Shira's statement contains a fundamental mistake: the belief, part of what Dr. Kenneth Levin calls the "Oslo Syndrome," that it is in our power to change reality enough to cause the Palestinians to make peace." A corollary, which she also enunciates, is that if we haven't succeeded, we (our leaders) just haven't tried hard enough. We haven't been creative enough or we haven't had the "courage" to make the concessions that - if we only would take the risk - would bring peace. This is an arrogant position, and one that denies agency to the Palestinians. Some things aren't only up to us. Today's State of Israel has a great deal of power, but it does not have the power to change what is in the hearts of the Palestinians: a combination of false narratives, religious principles, shame, anger, envy and hatred.
******
Why Cryonics Makes Sense
The writer makes some powerful arguments....but it's still nuts.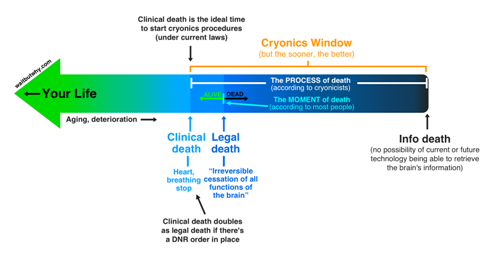 The first person to give cryonics a try was James Bedford, a psychology professor who died of cancer in 1967 at the age of 73 and is doing his thing in a vat of liquid nitrogen in Arizona as you read this. Others slowly began to follow, and today, there are over 300 people hanging out in vats of liquid nitrogen. Now let's pause for a second. A year ago, I knew almost nothing about cryonics, and my impressions of it were something like this sentence: Cryonics, or cryogenics, is the morbid process of freezing rich, dead people who can't accept the concept of death, in the hopes that people from the future will be able to bring them back to life, and the community of hard-core cryonics people might also be a Scientology-like cult.
He should have stopped right there.....
******
Wells Fargo to Hogue Inc: We won't do business with weapons manufacturers.
The destruction of our civil liberties through executive action continues apace.
Operation Choke-point is the scandal-ridden Department of Justice's initiative aimed at punishing making business difficult for those industries they don't like. Payday lenders (ok, these can be dicey but are still better than loan-sharks), coin dealers (precious metals throw a wrench in their fiat currency scam), and firearms manufacturers and dealers (because...guns are icky and stuff) have all been targeted by the Obama's highly-politicized DOJ. Since the Administration's frontal assaults on the Second Amendment have not yielded the results they want, they have resorted to Executive Branch action to try to move the ball. In this they are pressuring financial institutions to deny banking services to the targeted industries.
******
©2023 by AceCorp LLC. All Rights Reserved. Socks and lotion may be purchased at the kiosk in the lobby.
Supple Leopard
TM
Yoga pants are on back order.