Overnight Open Thread (7-10-2016)
That said, I do think NSA's greatest success in the Cold War was preventing us all from being blown to bits in World War III. That's a negative argument which you can't prove of course. But until the advent of real-time photoreconnaissance satellites in the 1970s and 80s, SIGINT was the primary source of early warning of Soviet military activity and in particular was the only real source of strategic warning of Soviet preparations that would precede a nuclear attack. The reassurance that NSA's surveillance gave US leaders that the Soviets could not launch a first strike without us having significant warning greatly reduced the hair trigger of the Cold War nuclear standoff. And we specifically know, as I note in the book, that during some key crises in the Cold War-such as the Suez Crisis in 1956-the information NSA provided was crucial in convincing US leaders that Soviet threats of military intervention were a bluff, not backed up by any actual movement or mobilization of its forces, which greatly helped to defuse those crises. It's not hard to imagine an escalation that could quickly have gotten out of hand had we been in the dark and left to guess what the Soviets were up to.

-- from an interview with Stephen Budiansky, author of Code Warriors
The Statistics Behind Gun Violence: Mass shootings in the U.S. have fallen so much in the past century that the political left has had to redefine what a mass shooting is
On average only 1.28 people were killed during each mass shooting in 2015 (and this may include the shooter).
#BLM Making the Unbalanced Go Off, Get Killed
Of Course: #BlackLivesMatter Rally Segregates Speakers by Race
Why Black Lives Don't Really Matter
Black lives don't matter. How do I know this? Because if black lives really mattered, blacks would stop killing each other. Blacks would stop committing genocide against themselves by aborting more children than they allow to be born.  Blacks would stop consigning generations to poverty by having the majority of their children out-of-wedlock. And blacks would stop treating education as punishment and instead treat it as an opportunity.

Until blacks start changing these pathologies, the whole "Black Lives Matter" movement, with its insistence that everyone has to change except for blacks themselves is nothing more than Progressive kabuki theater aimed at diverting attention from the fact that Democrats are facilitating self-destructive behaviors in the black community and that blacks are using the Democrat propaganda machine as an excuse to avoid the terrible (but not insurmountable) challenges that really claim black lives.
US State Department Expels 2 Russians in Retaliation After Attack on US Diplomat
The Obama administration really wanted to keep this quiet but then Russia started broadcasting the video on domestic television.
China Rattling Its Sabers in the East China Sea
[T]he latest clash on June 17 threatened to turn dangerous, according to a statement by China's ministry of defence on Monday, when Japanese warplanes used fire-control radar to "light up" Chinese counterparts and released infrared flares during evasive manoeuvres. Japan's deputy chief of cabinet on Tuesday denied China's claims.

Both sides agree a pair of Chinese SU-30 fighter-bombers encountered two Japanese F-15 fighters somewhere over the East China Sea, where China and Japan dispute ownership of a group of islands known in Japan as the Senkaku and China as the Diaoyu. The nations also claim overlapping Air Defence Identification Zones, which require foreign aircraft to identify themselves.

Japanese officials say China has increased its military activity in the sea and air, obliging Japan to almost double its scrambling of aircraft to engage Chinese jets over the past three months.
America Now has the Largest Oil Reserves in the World Thanks to Fracking
And against the best efforts of the Obama administration.
The New Nigerian Email Scam Is to Offer Reparations to Victims of Nigerian Email Scams
A kind of diabolical genius since victims are highly likely to be gullible to other scams.
The Code That Took America to the Moon Was Just Published to GitHub, and It's Like a 1960s Time Capsule
Including everything from pop culture references to Shakespeare quotes to coder hopes that their code will be only be a temporary hack. The modern suggested fixes are pretty funny as well.

Weekly Commenter Standings
Top 10 commenters:
1 [608 comments] 'ThunderB' [85.33 posts/day]
2 [485 comments] 'J.J. Sefton'
3 [467 comments] 'Jane D'oh'
4 [459 comments] 'Skip'
5 [449 comments] 'iforgot'
6 [422 comments] 'Insomniac'
7 [389 comments] 'Nevergiveup'
8 [374 comments] 'Mr. Peebles'
9 [357 comments] 'rickb223 TEXIT'
10 [340 comments] 'Mike Hammer, etc., etc.'
Top 10 sockpuppeteers:
1 [140 names] 'SMOD, take me away' [19.65 unique names/day]
2 [55 names] 'The Political Hat'
3 [40 names] 'garrett'
4 [37 names] 'Insomniac'
5 [37 names] 'Mike Hammer, etc., etc.'
6 [36 names] 'Bertram Cabot Jr.'
7 [35 names] 'davidt'
8 [33 names] 'Sandra Flook'
9 [32 names] 'TeamRawDog'
10 [24 names] 'Cicero (@cicero)'
The group. Banned on 12 universities.
Where it's at - the Twitter
Tonight's post brought to you by a view of Mars, taken by Curiosity in Sep. 2015: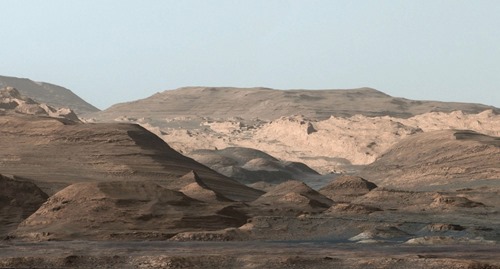 Notice: Posted by permission of AceCorp LLC. Please e-mail overnight open thread tips to the contacts or leave in usual dead drops.
Posted by: Maetenloch at
11:46 PM