Sunday Morning Book Thread 06-19-2016: Mo' Pimpin' [OregonMuse]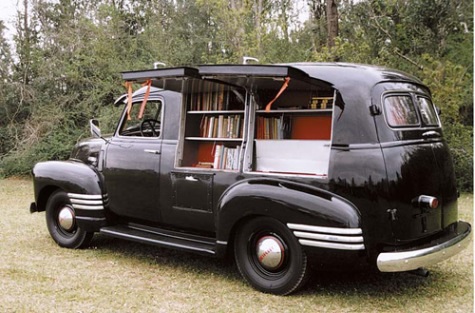 Book Pimpmobile #2
Good morning to all of you morons and moronettes and bartenders everywhere and all the ships at sea. Welcome to AoSHQ's stately, prestigious, internationally acclaimed and high-class Sunday Morning Book Thread, where men are men, all the 'ettes are lovely, safe spaces are where we store our ammo and beer, and if you've seen one snowflake, you've seen them all. Unlike other AoSHQ comment threads, the Sunday Morning Book Thread is so hoity-toity, pants are required. Especially those cargo pants with lots of pockets for extra magazines, because you'll never know when you'll need them. And because it's better to have them and not need them then need them and not have them.
How Can You Have No Books?
This was a tweet from earlier this week:
Darth Sugartits
@alexthechick
No, seriously, if I went into a house with tons of books shelves but no books, I would be all ummmm the f(redacted) are all your books?

8:50 AM - 14 Jun 2016
I must admit I have never seen this oddity, of having only 2 or 3 books on each bookshelf, like some bald guy combing over 4 strands of greasy hair But it reminded me of something worse, back a number of years ago when Mrs. Muse and I were first married, we went to see her family back East. We spent an afternoon/evening with her younger sister, and at one point, I had a few free minutes so I decided to grab something to read. And there wasn't anything. The living room had a giant TV and a gaming console, but no books, no magazines. So I tiptoed into the master bedroom to see if there were any books on the nightstands, but there wasn't any. I checked out all of the other rooms in the house. Even the bathroom. Surely, I thought, there must be a Reader's Digest or some other magazine to pass the time while you do your business, but no, not even that. There were no books in the entire house, period. Not one. I remarked about this later to Mrs. Muse. Her response was that her sister and BiL weren't the "intellectual" type. Well, that's fine, not everybody has to be an egghead. I didn't expect a college professor's house with floor-to-ceiling bookshelves. But not one book? These aren't meth-and-welfare hillbillies, the husband and wife run a very successful business, and they work hard. It's what they spend most of their waking hours doing, which is probably why they don't read. It was so outside my experience that it was actually kind of weird. Not that that they weren't nice people. We had a good time while we were therer. But during the dinner conversations, I just couldn't start any sentence with "Have you read...?"
Possible Opportunity For Science Fiction Authors
Longtime 'ette
Elisabeth Wolfe
tipped me to this:
A post on Tumblr (I know, I know) by someone in the Girl Genius fandom has given rise to a project some of the sci-fi-inclined 'rons and 'ettes, especially Anna Puma and Sabrina Chase, might be interested in: Humans Wanted: A SF Anthology. The general premise is aliens discovering just how good it is to have humans along on their ships for companionship, protection, problem-solving, and general curiosity and willingness to explore. The Kickstarter campaign to fund the project has just opened today: https://www.kickstarter.com/projects/1962286285/humans-wanted-a-sf-anthology/description. According to the schedule posted there, the call for submissions will go out in August and close December 1.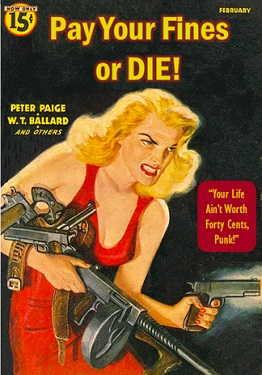 OK, Now THIS Is What I Call A Naughty Librarian
The Betrayal Continues
Continuing on with
American Betrayal: The Secret Assault on Our Nation's Character
, I mentioned that I had not heard back from Ms. West as to whether she will ever return to her original book, which is about the radical Islamic infiltration of the US Government, but I hadn't heard back from her. But then I received a very nice e-mail from Ms. West earlier this week, and not just a generic, boilerplate e-mail, but rather one that replied specifically to my questions. Her response was that she wasn't sure.
Since I finished American Betrayal, I have come to possess an extensive archive of mainly House and Senate investigations into Communist subversion, and there is so much more amazing stuff that "no one" knows about - while it is also quite relevant to today's headlines...
And then she pointed me to
this blog post
where she discusses some of the new stuff. So, the good news is, this vein of ore she's been mining for the past few years isn't even close to being tapped out. Ms. West also said
It used to seem to me as if we were almost looking at sequential penetrations - first Communism, then Islam, sort of like two different layers of sedimentary rock. That seems all wrong to me now, as I have come to understand (even possibly experience?) the enduring threat from the Marxist/globalist movement, which we already know has used Islam as weapon of war.
She then referred to the 1982 book
The Terror Network
by Claire Sterling. I looked this up on Amazon. More than one of the 1-star reviews claim that these stories of the USSR being behind Islamic terrorism are supposdly CIA disinformation put out to discredit the Soviet Union. Even though these appear to be written by reviewers for whom "neocon" is a cuss word, I cannot immediately discount them. But I thought it was common knowledge that the USSR was funneling money to vintage terrorist groups such as the PLO back in the 70s. I mean, why wouldn't they? It's such a target of opportunity that I can't imagine the Soviet regime *not* kicking in a few rubles, and maybe more than a few.
Go Ask Alice
Moron commenter MTF tells me that an original edition of
Alice in Wonderland
is about to go on the auction block. The publishing history of of this children's classic is
a bit complicated
:
1865 would have been the year of publication for the fantastical classic if illustrator John Tenniel had approved the printing of his pictures. Due to Tenniel's dissatisfaction, Carroll cancelled the edition of 2000 and requested the 50 advanced copies produced by Macmillan & Co. of London to be returned.
And now Christie's, the British auction house has come into possession of one of these 50:
The discovery of this first issue comes as a welcome surprise, shining as one of only 22 known copies, 16 of which sit in institutional libraries and only 10 still in their original red cloth. This privately-held, originally bound copy survives as one of the original treasures that galvanized both literature and the art of reading.
There are some excellent photos of this volume at the Christie's link. The estimated selling price is (hold on to your hats) $2,000,000 - $3,000,000. So get your wallets out.
Moron Recommendations
More moron recommendations from ace's
book recommendation thread
: Moronette artisanal 'ette is reading
The First Brain: The Neuroscience of Planarians
by Oné R. Pagán. No, planarians aren't residents of Planar, they're flatworms with some properties scientists love to study. Why? Because
...they possess the remarkable ability to regenerate lost body parts, including complete regeneration of the nervous system. If cut into pieces, each piece of the planarian can regenerate into a complete organism. They are also unique among invertebrates in that they display addiction-like behaviors to many drugs abused by humans. Because of these distinct neurological traits, the planarian is often used as an animal model in neurological research, being used most recently for developments in neuropharmacology.
I remember these little guys from high school biology class. We'd cut 'em in half and watch 'em grow the other half, we'd cut them sort of in half and watch them develop 2 heads, and one comedian took a big fat one and managed to make 3 cuts to produce a single planaria with 4 heads. Just think: if it would register as a Democrat, it would be able to vote 4 times. And then we'd train them to run a simple "T" maze, and when we cut 'em up into little pieces, the ones that regenerated were able to run the maze quicker than the untrained ones. Fun stuff.
___________
Artisanal 'ette is also reading about a young boy who's got more talent in his little finger than 3 of 4 of the rest of us put together:
The Boy Who Played with Fusion: Extreme Science, Extreme Parenting, and How to Make a Star
by Tom Clynes, is the story of young prodigy Taylor Wilson, who:
By the age of nine...had mastered the science of rocket propulsion. At eleven, his grandmother's cancer diagnosis inspired him to investigate new ways to produce medical isotopes. And by fourteen, Wilson had built a 500-million-degree reactor and become the youngest person in history to achieve nuclear fusion. How could someone so young achieve so much, and what can Wilson's story teach parents and teachers about how to support high-achieving kids?
So what's he been up to these days?
Wilson is designing devices to prevent terrorists from shipping radioactive material and inspiring a new generation to take on the challenges of science.
Good for him.
___________
Commenter Alamo recommended, specifically to ace, "The Big Fat Surprise" by Nina Teicholz. Brcause
Given [ace's] interest in dietary guidelines and hatred for big government mendacity this book lies at the current locus of your curiosity and outrage.
This title sounded familiar, and it turns out I mentioned it on a book thread a little over 2 years ago, so I'll just copy and paste: In
The Big Fat Surprise: Why Butter, Meat and Cheese Belong in a Healthy Diet
, author Nina Teicholz challenges the purported connection between fat and heart disease:
She shows that reducing fat, especially of the saturated kind, has been disastrous for health, and that neither olive oil nor fish oils have convincingly been shown to prevent disease. Her groundbreaking claim that more dietary fat leads to better health, wellness, and fitness is sure to spark controversy and conversation everywhere.
What you need to cut is carbohydrates. Me, I love carbs. Carbs are my downfall. Pasta, rice, bread, yeah, pile it on. I wish I had Mrs. Muse's dietary discipline. I'm threatening to go over 200 lbs. Meanwhile, Mrs. Muse kas reduced her weight from a high of 177 back down to 155 lbs. She's done this by using the Weight Watcher's low-carb points system, and it works very well for her.
Books By Morons
This week, I heard from moron author
Jerry Jay Carroll
who let me know that one of his novels,
Top Dog
, has been revised and republished. Carroll taunts me by saying that this, his debut novel, was first published "probably when you were still a kid blowing snot bubbles when you laughed really hard". Yeah, yeah. I suppose his advanced age gives him senior rights. I mean, look at his pic on his Amazon author's page I linked to -- if there's anything that says "you kids get off my lawn", it's that. Anyway, Top Dog is about a Wall Street "Gordon Gekko" type guy who awakes one day and finds himself in the body of a dog and caught up in the cosmic battle of Good vs. Evil. Kind of a Kafka/Tolkien mash-up:
William B. Ingersol sits in an office high above Wall Street conducting cuthroat corporate takeovers. Just another day at work, it seems, business as usual. He puts his head down on his desk and wakes up as a big dog, trying to survive in a strange new world of wizards, fairies and monsters. To get back home, he has to choose between good and evil, devil or angel. That's not as easy as you might think for a man used to playing with a stacked deck, not to mention both sides against the middle.
This new revised version is available for $1.99 on Kindle. Caroll is a former reporter for the San Francisco Chronicle newspaper, and I do remember his byline from my years growing up in the SF Bay Area. He is also the author of
Inhuman Beings
(which has been described as a cross between Raymond Chandler and Philip K. Dick)
What I'm Reading
I'm still in the throes of my commie/KGB/espionage kick. I've just started reading
Clever Girl
, a new bio of
Elizabeth Bentley
, who ran two spy rings for the Soviets from 1938 until 1945. Then she defected, and gave testimony which exposed both spy rings and named over 80 Americans who had engaged in espionage for the Soviets. I think it's hilarious, in light of the
Venona decrypts
and information gleaned from recently opened Soviet archives, that basically confirms and corroborates the testimony of Bentley, Whitaker Chambers, and Joseph McCarthy, watching the progressive left twisting itself into knots trying to maintain their cherished narrative that anti-communism is delusional and McCarthy was the most evil man in America, if not the world. This book's author, Lauren Kessler, takes this approach, and says that Bentley "ushered in McCarthyism", which is obviously the most important thing, and never mind the Soviet spy rings that were busted, who cares about that? Again, it's absolutely hilarious. They're forced to admit that yeah,
Alger Hiss
was a spy, and yeah,
Owen Lattimore
was a spy and yeah,
Lauchlin Currie
was a spy, and yeah,
Harry Dexter White
, if not actually a spy, was pretty much the USSR's go-to guy in Washington, and, in fact, you couldn't swing a dead cat in an FDR administration meeting without hitting a Soviet spy, sympathizer or lickspittle, but even so, Joe McCarthy was still the most evil bad guy in history (except maybe for Nixon). Oh, and M. Stanton Evan's book
Blacklisted by History
that shows that McCarthy was pretty much correct? Just ignore it. Nothing to see here. These aren't the spies you're looking for.
___________
Moronette 'votermom' is putting together a list of moron authors over on the Goodreads site which is intended to be acessible to non-members.
Here is the list she has compiled so far
. Let her know if there's an author she's missing. http://www.bookhorde.org/p/aoshq-authors.html
___________
Don't forget the AoSHQ reading group on Goodreads. It's meant to support horde writers and to talk about the great books that come up on the book thread. It's called AoSHQ Moron Horde and the link to it is here:
https://www.goodreads.com/group/show/175335-aoshq-moron-horde
.
___________
So that's all for this week. As always, book thread tips, suggestions, bribes, rumors, threats, and insults may be sent to OregonMuse, Proprietor, AoSHQ Book Thread, at the book thread e-mail address: aoshqbookthread, followed by the 'at' sign, and then 'G' mail, and then dot cee oh emm. What have you all been reading this week? Hopefully something good, because, as you all know, life is too short to be reading lousy books.