Sunday Morning Book Thread 06-05-2016: Pimp Daddy [OregonMuse]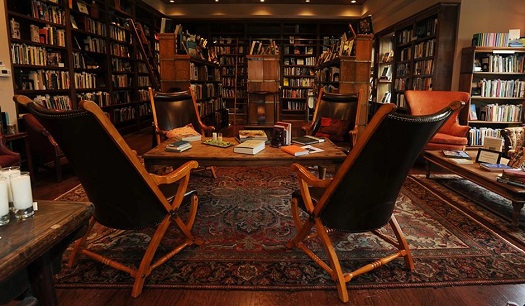 Wellington Square Bookshop, Exton, PA
Good morning to all of you morons and moronettes and bartenders everywhere and all the ships at sea. Welcome to AoSHQ's stately, prestigious, internationally acclaimed and high-class Sunday Morning Book Thread, where men are men, all the 'ettes are lovely, space isn't safe, and if you've seen one snowflake, you've seen them all. The Sunday Morning Book Thread is the only AoSHQ thread that is so hoity-toity, pants are required. Even if you're Haven Monahan, or have a terminal disease. Earlier this week, Mike Hammer, etc., etc. referred to me as a
"crack dealer"
but that he had foiled me by buying only one book after reading the Book Thread last week. I am deeply offended. I'm not a crack dealer. I'm a pimp. I pimp books. In fact, I wanted to start calling myself "The Book Pimp", but then I discovered that there's already
somebody using that name
, so I had to forget it. But, I probably should issue the usual warning about this thread: WARNING: Reading the Sunday Morning Book Thread may be hazardous to your financial health. Major side effects include buyers' frenzy, buyers' remorse, compulsive shopping, wallet shrinkage, credit card cancelitis, lackus fundus, bank account hypertrophy, and cashus interruptus, none of which are covered on the Obamacare exchanges. Now, on with the pimpage:
There Had To Be A First One
So what was the first science fiction novel ever written? Something by Edgae Allen Poe? Or Jules Verne? Perhps it's this one,
The Chymical Wedding of Christian Rosenkreutz
, first published in German in 1616. The
wiki entry
says this:
It is an allegoric romance (story) divided into Seven Days, or Seven Journeys, like Genesis, and recounts how Christian Rosenkreuz was invited to go to a wonderful castle full of miracles, in order to assist the Chymical Wedding of the king and the queen, that is, the husband and the bride.
In order to understand what's going on in this book, you really have to know your Bible:
The story follows the Passover and the seven days of unleavened bread exactly. The instructions for the Passover ritual in the book of Exodus (Exod 12:15) can also be found in detail in the books of Leviticus, Numbers and Deuteronomy. The slaughtering and roasting of the Paschal lamb begins in the evening (near Easter), as does The Chymical Wedding.
But the symbolism doesn't stop there:
The nine Lords are nine books of the New Testament, I Peter, II Peter, James, Jude, I John, II John, III John, the Gospel of John, and the Revelation.
It probably wouldn't hurt to be familiar with alchemy and how it was practiced in the 15th and 16th centuries, either. There's a handsome new edition that's being funded by
a KickStarter project
, or if you can't wait, there is a
public domain pdf
available, too. I read a page or two of The Chymical Wedding, and the style reminded me strongly of
Pilgrim's Progress
, which, coincidentally, is another heavily tale of an "everyman" named Christian who has a number of extraordinary, life-changing adventures of great symbolic and allegorical importance.
'Fargo' Guy Writes Book
Sometimes
you can't catch a break
:
Between 1998 and 2012, Mr. Hawley published four novels, none of which could be called a hit. At a low point, in 2008, there was "The Punch," a family story that sold a mere 281 print copies in the U.S., according to Nielsen BookScan.
Other times, you can:
After [having moved to Los Angeles and] writing and selling three television pilots, [Noah Hawley] took a writer-producer job on the series "Bones" in 2005 and his first feature screenplay, "Lies & Alibis," was released in 2006. "Fargo" premiered in April 2014 and won the Emmy for Outstanding Miniseries that summer.
I really liked the first season of Fargo. The second, not so much. For me, what made the first season was the character Molly, who reminded me a lot of Frances McDermott's pregnant police chief character in the 'Fargo' movie. Anyway, banking on his TV successess, Mr. Hawley is giving book-writing another go, and so his new novel
Before the Fall
will be available on May 31st. The novel is about the aftermath of the crash of a private jet.
With chapters weaving between the aftermath of the crash and the backstories of the passengers and crew members--including a Wall Street titan and his wife, a Texan-born party boy just in from London, a young woman questioning her path in life, and a career pilot--the mystery surrounding the tragedy heightens. As the passengers' intrigues unravel, odd coincidences point to a conspiracy. Was it merely by dumb chance that so many influential people perished? Or was something far more sinister at work?
Amazon also offers
a free preview
of this book, containing the Prolog and Chapter 1, alhough the 'Look Inside' preview of the book itself appears to have Chapters 1 and 2. And Mr. Hawley's good fortune continues:
[Hawley's agent] sold the North American rights for a sum in the high six figures. Sony bought the film rights with Mr. Hawley attached to produce and write the screenplay.
It's like he was knocked down and landed on his butt - in a giant pile of money.
More Like This, Please
This came through a week or so ago as a freebie, but I didn't catch it in time, so now the Kindle edition is $3.99. I'm referring to to the YA novel
Self Defense: A contemporary Fiction Novel
by Uriel Lynn:
After witnessing a terrible act of violence that deeply shakes their world, the five [Israeli] teenagers are forced to come out of their upper-class comfort zone and give reality a straight look in the eye. For the first time, they decide to take responsibility for their personal security and safety.
"Personal responsibility." How quaint. Lynn is a newspaper writer and also served in various Israeli government positions, including a stint as an MP in the Knesset. He "decided 4 years ago to write books, believing that books, in most cases, have more influence on people than opinions in newspapers." Can't disagree there. Exit question: When George Bush's first response to 9/11 was to create the Department of Homeland Security and the TSA, how many said "Great, here comes another bloated, incompetent federal agency to boss us around"? And now, it's a permanent fixture on the American landscape. We're never going to be able to get rid of it. Thanks, George! Here are words that should be instantly repellent to all Americans: "I'm from the government, and I'm here to take care of you."
Moron Recommendations
On one of the morning threads on Thursday, I solicited moron book recommendations as I was a bit short on material this week, and I got a good response. First, the comedians: Anonosaurus Wrecks recommends
Keeping It Real: Tips For Maintaining Your Mental Health
by Glenn Beck, which, obviously, is a work of fiction. Or written by someone else. Kind of like weft cut-loop's choice,
Overcoming Derp: A-a-a-a-a-a-a-an Okie Doke Odyssey
by Brack O'Barmer. Fritz's contribution is
There's Always the Trailer Park
by Bill and Hillary Clinton, which is wishful thinking because even if the FAB gets sent home in disgrace, she and her consort can live like kings on their ill-gotten millions. The
next comment down
consists of one sentence,
Parfait is for Fags
, but I'm not certain whether that's a book suggestion or merely a response to an earlier comment. I kind of prefer it to be a book title, truth be told. Sounds like it would be a totally awesome cookbook. And now on to the real books: Moron commenter garrett recommends
Hard-Boiled Wonderland and the End of the World
by Haruki Murakami. From the Amazon blurb, it sounds pretty wild:
[It] draws readers into a narrative particle accelerator in which a split-brained data processor, a deranged scientist, his shockingly undemure granddaughter, Lauren Bacall, Bob Dylan, and various thugs, librarians, and subterranean monsters collide to dazzling effect. What emerges is simultaneously cooler than zero and unaffectedly affecting, a hilariously funny and deeply serious meditation on the nature and uses of the mind.
According to a reviewer, Murakami combines anumber of genres, science fiction, mystery, film noir, fantasy, magical realism, and cyberpunk, and it all works.
___________
Bruce With a Wang! wants to read
The Book of Honor: The Secret Lives and Deaths of CIA Operatives
by Ted Gup, and after reading the blurb, I kind of want to, too:
In the entrance of the CIA headquarters looms a huge marble wall into which seventy-one stars are carved-each representing an agent who has died in the line of duty. Official CIA records only name thirty-five of them, however. Undeterred by claims that revealing the identities of these "nameless stars" might compromise national security, Ted Gup sorted through thousands of documents and interviewed over 400 CIA officers in his attempt to bring their long-hidden stories to light. The result of this extraordinary work of investigation is a surprising glimpse at the real lives of secret agents, and an unprecedented history of the most compelling-and controversial-department of the US government.
I recall a number of years ago that the CIA station chief of, I think, Athens, Greece, was killed because some lefty rag published his full identity and location. Does anybody else remember that? I wonder if this book talks about that case. And there were no consequences to the perps who did this. We must be the only country in the world where something like this could happen. Also recommended by josephstan.
___________
Here's an anti-recommendation from GnuBreed: the novel
The Unwanted
, by John Saul, who, according to GB, "writes like an emo 6th grade gyrl...He must wear a 3 sizes too small pair of pantyhose while writing; it's the only possible explanation." So, not a fan, then?
___________
And
donna
says she is on a Jane Austen kick, having just finished
Emma
When her former governess finds happiness as the bride of a local widower, the brilliant and beautiful Emma Woodhouse — one of Jane Austen's immortal creations — flatters herself that she alone has secured the marriage and that she possesses a special talent for bringing lovers together. The young heiress next busies herself with finding a suitable husband for her friend and protégé, Harriet Smith, setting off an entertaining sequence of comic mishaps and misunderstanding in this sparkling comedy of English-village romance.
Available on Kindle and elsewhere on the internetz for free.
___________
Alexthechick likes the urban fantasy novel
The Brotherhood of the Wheel
by R. S. Belcher, which she describes as
a take on the Templars going back to the original role of protecting the road. It's very very very obviously a set up for the start of a series but does work as a self contained book. It's a quick, fun read. I like the direct writing style.
She also issues a trigger warning because "there's a long-married couple expecting a kid that shows *gasp* an actual happily married couple who love each other" so progressives might want to cover their eyes and run screaming from the room at this brazen display of heterosexual normalcy. Also:
I re-read The Rook because supposedly the sequel is finally coming out. Again, urban fantasy which is the lines of Hot Fuzz of being both a send up of the genre and a great example of the genre. Our Heroine is a hoot. I love the idea of an organization to fight supernatural stuff getting caught up in being a bureaucracy.
She's right about the sequel.
Stiletto
, the second book of the Rook files, is available for pre-order now, and will be release on June 14th.
What I'm Reading
...[T]hey reward me evil for good, and hatred for my love.
Appoint a wicked man against him; let an accuser stand at his right hand
...let his prayer be counted as sin! May his days be few; may another take his office!
May his children be fatherless and his wife a widow! May his children wander about and beg, seeking food far from the ruins they inhabit!
...May his posterity be cut off; may his name be blotted out in the second generation!
May the iniquity of his fathers be remembered before the LORD, and let not the sin of his mother be blotted out!
Let them be before the LORD continually, that he may cut off the memory of them from the earth!

--(Psa 109:4-26)
This is an example of what are known as "imprecatory" psalms, and they present a problem for Christians since we are exorted to "love [our] enemies" (Luke 6:27) and "bless and not curse" (Romans 12:14). Even an esteemed commentator such as C.S.Lewis got so freaked out by them that he just wrote them off as "wicked" and "devilish" and so the problem for him became: why are such "ungodly" sentiments included in the canon of inspired scripture in the first place (see his book
Reflections on the Psalms
)? As much as I am an admirer of Lewis, I've always thought that he whiffed on this one, and the
Reflections...
chapter where he dealt with the imprecatories veered off in a completely wrong direction. A couple of ministers I know recommended
Crying for Justice: What the Psalms Teach Us About Mercy and Vengeance in an Age of Terrorism
by John Day, so I started it this week, and it's quite instructive. Day's view is that the imprecatory texts are as every bit inspired as the rest of the Bible, so they need to be taken seriously, and therefore are to be incorporated into the life of the Church. It starts out with a fascinating discussion of the concept of "cursing" (not "cussing") as an ancient mideastern cultural institution, with examples from ancient suzerainty treaties and how the biblical maledictions make more sense when viewed in that light. That's as far as I've read so far, and I am eager to read more.
___________
Moronette 'votermom' is putting together a list of moron authors over on the Goodreads site which is intended to be acessible to non-members.
Here is the list she has compiled so far
. Let her know if there's an author she's missing. http://www.bookhorde.org/p/aoshq-authors.html
___________
Don't forget the AoSHQ reading group on Goodreads. It's meant to support horde writers and to talk about the great books that come up on the book thread. It's called AoSHQ Moron Horde and the link to it is here:
https://www.goodreads.com/group/show/175335-aoshq-moron-horde
.
___________
So that's all for this week. As always, book thread tips, suggestions, bribes, rumors, threats, and insults may be sent to OregonMuse, Proprietor, AoSHQ Book Thread, at the book thread e-mail address: aoshqbookthread, followed by the 'at' sign, and then 'G' mail, and then dot cee oh emm. What have you all been reading this week? Hopefully something good, because, as you all know, life is too short to be reading lousy books.