Overnight Open Thread (4-21-2016)
When thinking about why it's so expensive to build in many American cities just remember that the deal of the year is when you build 31,000 square feet of space and only have to destroy 4,000 square feet of space to do it.
Over the past three decades, there has been a massive transfer of authority from parents to kids. Along with that transfer of authority has come a change in the valuation of kids' opinions and preferences. . . . what kids think and what kids like and what kids want now matters as much, or more, than what their parents think and like and want. . . . These well-intentioned changes have been profoundly harmful to kids.

-- Leonard Sax
The essence of conservative thought.
In the matter of reforming things, as distinct from deforming them, there is one plain and simple principle; a principle which will probably be called a paradox.

There exists in such a case a certain institution or law; let us say, for the sake of simplicity, a fence or gate erected across a road. The more modern type of reformer goes gaily up to it and says, "I don't see the use of this; let us clear it away." To which the more intelligent type of reformer will do well to answer: "If you don't see the use of it, I certainly won't let you clear it away. Go away and think. Then, when you can come back and tell me that you do see the use of it, I may allow you to destroy it."

This paradox rests on the most elementary common sense. The gate or fence did not grow there. It was not set up by somnambulists who built it in their sleep. It is highly improbable that it was put there by escaped lunatics who were for some reason loose in the street. Some person had some reason for thinking it would be a good thing for somebody. And until we know what the reason was, we really cannot judge whether the reason was reasonable. It is extremely probable that we have overlooked some whole aspect of the question, if something set up by human beings like ourselves seems to be entirely meaningless and mysterious. There are reformers who get over this difficulty by assuming that all their fathers were fools; but if that be so, we can only say that folly appears to be a hereditary disease. But the truth is that nobody has any business to destroy a social institution until he has really seen it as an historical institution. If he knows how it arose, and what purposes it was supposed to serve, he may really be able to say that they were bad purposes, that they have since become bad purposes, or that they are purposes which are no longer served. But if he simply stares at the thing as a senseless monstrosity that has somehow sprung up in his path, it is he and not the traditionalist who is suffering from an illusion.
A Victory Against Political Intimidation in California
Does Your First Name Signal Your Politics?
Possibly yes.
First, they looked at the most Republican and Democratic names, according to Federal Election Commission donor data. They created a massive table that ranks names by the ratio of Democratic to Republican donors with that name. The data shows that Dylans, Hillaries and Krishnas who have made recent political donations are more likely to be liberals, while Donalds, Brittanies and Dentons are disproportionately conservative.
Head Park Ranger Mocks Constitution While Leading a Tour of Independence Hall
Quotas Come to the USAF Thunderbirds
Attention Perverts/Rapists: Get Your Ass to Target Right Now - Your Dream Has Come True!
The French Government Promises a 20 Minute Massacre Response, Or Your Next One is Free
Charlie Murphy Recounts His Prince Experience
"You want some grapes........bitches!"
Where Have All The Ear Infections Gone?
A new childhood pneumococcal vaccine in 2010 seems to have caused a big drop in ear infections.
The 'Magnificent Seven' Remake Teaser Trailer
But why watch a remake of a remake when you can watch the original: Kurosawa's The Seven Samurai.

If you've never watched it, I highly recommend it. It's long by today's standards but not much longer than Gone With the Wind. And it truly is an epic with time enough to develop each of the characters, strategy, massive fight scenes, as well as humor, love, and a pretty damn good soundtrack.  And American filmmakers have been remaking it and mining from it in various forms for decades. As one critic put it every director ultimately wants to make his own version of The Seven Samurai.
In fact you've probably already seen bits and pieces of it in various movies over the years without ever realizing it.
I looked for a complete version of the movie on the internet but all the ones I found were such low quality that they're not worth it. So you'll have to just rent it.
Related: 16 Epic Facts About 'Seven Samurai'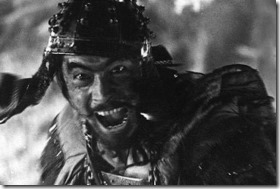 19 Survivors Of Suicide Reveal Their First Thoughts After Realizing They Hadn't Succeeded
I decided to hang myself with an extension cord in the rafters of my garage. I decided to do a quick test run to make sure the beam would hold before saying my goodbyes to my family. During the test run, I slipped off my chair and actually hung myself. The panic I felt during those few moments I was dangling was all it took to convince myself I should live. I needed desperately to tell my mother I loved her before I went. My father too. I could only think of getting out of it, so I could give them their well deserved goodbyes, and let them know how much I loved them. When I luckily managed to get my footing back on the chair, I realized I wasn't ready to go. I had so much love left in me. I felt like it gave me a second chance to realize I didn't want to go through with it. I'm doing well now. I have two beautiful girls, and a man who would give me the moon. I'm happy I had a botched run, because I'm sure I wouldn't have realized how i really felt if I got to text my final goodbyes.
Amateur astronomer Gary Hug with his homemade telescope has discovered over 300 asteroids.
Ronald McDonald Sculpture Arrested In China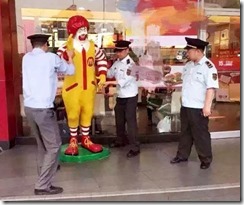 Yahoo group. That is all.
Come on be a smartie and join the yahoo group party! For the children.
And my lo-fi Twitter spew.
Tonight's post brought to you by the Citizen Kane premiere, 1941: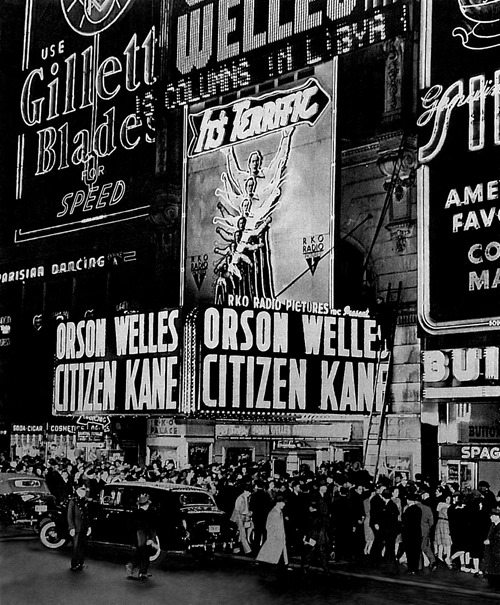 Notice: Posted by permission of AceCorp LLC. Mannequins are for display only. Do not taunt happy-fun ball. No pants. No refunds.
Posted by: Maetenloch at
11:41 PM