Overnight Open Thread (3-28-2016)
Those of long memory may recall that my bestest chicken ever was mille fleur (who, sadly, has joined the choir eternal), so this is a bit of a science experiment: seeing how much of Lucia's personality was mille fleur personality.

There is something to this, you know. Different colors (and certainly different breeds) share personality characteristics. It's uncontroversial in livestock circles; you get into trouble when you apply it to people. Except gingers.

-- Sweasel
So I'm disinclined to get into a Who's Got The Biggest Swinging Islamophobic Dong? contest with you. In that Easter piece I said that Islam cannot abide the other and is incompatible with a pluralist society, and throughout last week I reiterated my call for an end to mass Muslim immigration. If that's insufficiently butch for you, if that's "hampering attempts to stop the Islamization of the west", then please bugger off and get on with stopping the Islamization of the west your own way. And then you wouldn't need to mischaracterize what I wrote and put your words in my mouth, would you?

By the way, this campaign to "stop the Islamization of the west that I'm "hampering", where is it? Is it a club you've formed? Are you the chairman? Can anyone fill in a membership application? Or are you blackballing?

If I sound a little tetchier than usual, it's because Sebastian Faulks' farewell to The Independent put me in a wistful and somewhat elegiac mode, mourning my carefree younger self. So I hope you'll forgive me if a guy who lives with death threats, and "human rights" complaints for "flagrant Islamophobia" with attendant legal bills, and tedious expenses like having to switch hotels at the last minute for security reasons, and US State Department and British Foreign Office advisories warning their nationals it's unsafe to go anywhere near my events, and even crappy restaurants deciding it's too dangerous to honor dinner reservations resents being told he's not puilling his weight and is "hampering attempts to stop the Islamization of the west".
'It Was Like Locusts': Parents Trample Kids, Steal Eggs During Easter Egg Hunt
An Easter egg hunt in Connecticut turned into a shoving match on Saturday, March 26th and ended with broken baskets and children in tears. In this case, it was the adults who could have used a "time out."

The field adjacent to the PEZ Visitor Center in Orange, Connecticut was the site of a holiday Easter egg hunt that was free and open to the public.

..."When it came time for like 10:30, the parents just bum-rushed that area," Nicole Welch said.

"So we started talking to folks and, 'hey, you know, this is supposed to start at a...directed time that we've posted. Let's wait. We'll give a whistle. We'll give the signal to start this.' And that lasted about a minute. And then folks just rushed the field and took everything," Shawn Peterson, PEZ general manager said.

"When my son left he had a broken basket and was hysterically crying," Welch said.

Peterson and his staff tried to regain control, but things quickly spiraled out of control.

"It was like locusts. Everybody just descended and then left," Peterson said.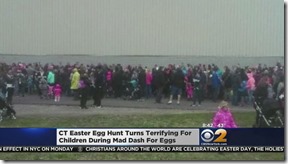 CDR Salamander on an Unremarked Detail of the Brussels Attacks
Brussels, as the HQ of the EU and NATO is the premier target in Europe along with Paris and London, closely followed by Rome and Berlin. The backstory to the attack in question; this was an inside job. That is the nuance.

The attackers were not part of wave of million+ military aged males from radicalized Islamic nations that crashed over the borders of Europe in the last two years. No, these were native born Belgians, the end result of decades of wrongheaded national policies that had no historical record of success. Just the opposite, all of written history showed where polities being supported in Belgium would lead, but history was ignored in the arrogance of the now.

...The next question is; will the Belgian people hold their government accountable? Can they? As we outlined during the 2007 Belgian crisis, the entire nation can be held up by less than 25% of the nation's voters - specifically in this area by the Walloon Parti Socialiste. This sub-plot in the general European disaggregation in the face of waxing Islamism will only get worse.
NYT Columnist: It's Just a Giant Mystery Why People Become Terrorists
"After all this funding and this flurry of publications, with each new terrorist incident we realize that we are no closer to answering our original question about what leads people to turn to political violence," Marc Sageman, a psychologist and a longtime government consultant, wrote in the journal Terrorism and Political Violence in 2014. "The same worn-out questions are raised over and over again, and we still have no compelling answers."
Counterpoint: Heather Mac Donald: Sometimes Jihad is Just Jihad
Why The Government is Fighting The Little Sisters of the Poor: Control and Domination
It has nothing to do with providing contraceptives as even the government admits.
One of the most telling moments of oral argument came during General Verrilli's final two minutes, when Justice Alito highlighted a key government concession-that because some of the petitioners, including the Little Sisters, have a self-insured church plan, the government actually lacks authority under ERISA to make their third-party administrator provide contraceptive coverage. "In that situation," Justice Alito asked, "will the Little Sisters still be subject to fines for failing to comply?" General Verrilli's response was astonishing: "No, we don't think so." In other words, the government said it has no plans to actually enforce the mandate against the Little Sisters-and, by extension, any of the roughly 500 other religious organizations that have self-insured church plans. And even if the government coerced these organizations to sign its form, this would not make contraceptives flow.

This raises an obvious question: If the government has no plan to enforce the mandate against the Little Sisters, why has it been resisting their case for the last three years? Apparently, the government knows it would be senseless to fine the Little Sisters $70 million per year when the forced compliance would not make contraception coverage available anyway. Why did it wait until oral argument in the Supreme Court to make this crucial concession?

At a bare minimum, the concession establishes a complete lack of a compelling interest, or any interest at all, in forcing the petitioners with self-insured church plans to sign a form that will have no legal effect. More broadly, if Congress did not vest the agencies with authority to make the mandate work as to roughly 500 religious organizations, how compelling could its interest be with respect to the others?
Your Daily Hate Click: The Price of Union: The Undefeatable South
In order to become the richest and most powerful country in the world, the United States had to include the South, and its inclusion has always come at a price. The Constitution (with its three-fifths compromise and others) awkwardly registered the contradiction between its democratic rhetoric and the foundational presence of slavery in the thirteen original states. The 1803 Louisiana Purchase-by which the U.S. acquired more slaveholding territory in the name of national expansion-set off the dynamic that led to the Civil War. The United States has declined every opportunity to let the South go its own way; in return, the South has effectively awarded itself a big say in the nation's affairs.
Related: Why Wasn't The Confederate Flag Considered Hate Speech in 1985?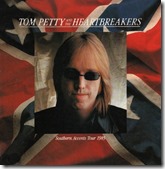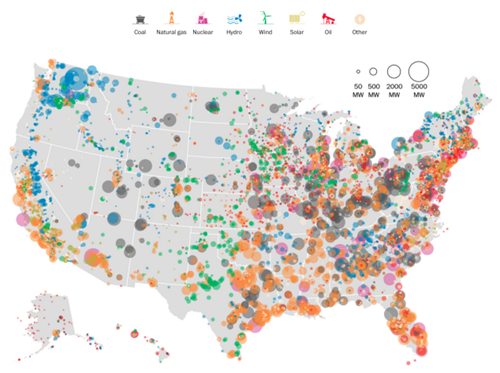 The World's Most Prolific Twitter User Tweets Mostly About Nothing
As Twitter celebrates its 10th birthday today, @VENETHIS will send approximately his 37,771,000th tweet. He's by far the service's most prolific user, according to Twitter Counter, a statistics and analytics service powered by Twitter that tracks the accounts with the most tweets.

Many of the other top tweeters are bots or brands or both - a Venezuelan news curator, an astrological-data provider, a credit-card company pushing offers. @VENETHIS, though, appears to be a real person in Japan2 who today mainly uses the site to find partners and opponents for online games. He looks like any other tweeter, a member of an online subculture lacking in contextual clues for outsiders: He tweets a lot to his 43,000 followers about games such as Splatoon - things like seeking a tag-team match or crowing about a new weapon.

Apple Made Another 4-inch iPhone Because 'Some People Simply Love Smaller Phones'
At an even simpler level, there was still customer demand for a small phone, and Apple decided to respond to it. "Many, many customers have asked for this," Apple CEO Tim Cook says.

The iPhone has gone through quite a few size changes at this point, which has made things a bit awkward for Apple. The original 3.5-inch iPhone was the perfect size because your thumb could comfortably reach every spot on it. Then the 4-inch iPhone was the perfect size because, well, your thumb could still reach every point on it, even if it wasn't always comfortable. Then the 4.7-inch iPhone was - oh who even knows, Apple just announced a bigger phone and then an even bigger 5.5-inch one. There was no explaining it.
Count me in with these people. I've held on to my iPhone 5 because it fits nicely in my pocket and because I can text and reach any point on the screen one-handed, without having to adjust my grip. My wife's iPhone 6 is not nearly as ergonomic. So for me the new iPhone SE is the next model.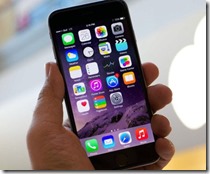 What Does Probability Mean in Your Profession?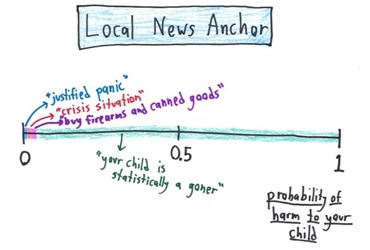 Danish Police Send 250 Drunk Swedes Home
Author Born Without Arms and Legs Admits to Having 5 Mistresses
Five.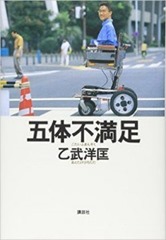 So It Turns Out That Jessica Lowndes and Jon Lovitz Are Not Actually Engaged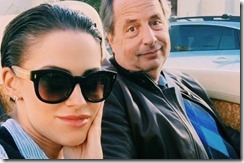 The Yahoo AoSHQ group - it's got electrolytes and shit.
And my twitter thang which I ignore.
Tonight's post brought to you by Freas does Star Trek: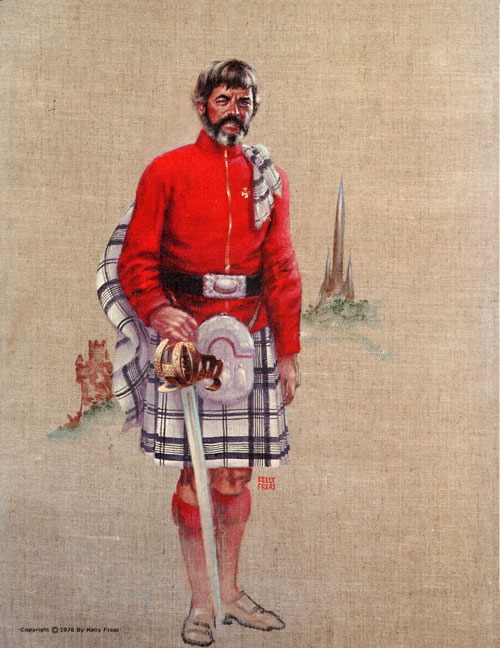 Notice: Posted by permission of AceCorp LLC. Bathroom inspection is on Thursday so if you're on this week's clean-up list, time to get scrubbing.
Posted by: Maetenloch at
10:05 PM