Overnight Open Thread (1-18-2016)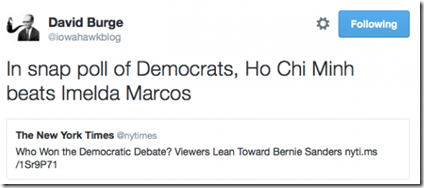 So if I've got this right: The Supreme Court is the totally unsupreme low-level trial court. The Supreme Court Appellate Division is the intermediary court between the non-supreme Supreme Court and the really supreme Court of Appeals. The Court of Appeals is the supreme court to which you appeal decisions from the non-supreme Supreme Court and the mildly supreme Supreme Court Appellate Division.

I'm reminded of the old joke:

"I'd like to have this suit cleaned."

"Certainly, sir. That'll be a week on Thursday."

"But it says 24-Hour Dry-Cleaners."

"That's just the name of the shop, sir."

In New York the Supreme Court is just the name of the shop.

-- Mark Steyn, who is confused and bemused by the confusing and illogical modern American judicial system
Follow-up Question: What in the Hell Was a Pregnant American Woman Doing Hiking Around Afghanistan?!
Finally: AoSHQ Cobs Make It Into the Urban Dictionary
Also this weekend I happened to encounter the term 'angry pirate' along with 'reverse angry pirate' in the UD. And no, your life won't be improved in any way by knowing what these are.
California Colleges to Make Proving Innocence a Punishable Offense
In the future all college students will be porn stars or rapists, possibly both.
Of course the new policy is coming out of California, which led the way in inserting campus bureaucrats into the bedroom with its "affirmative consent" policies. These policies mandate how students must engage in sexual activity - not as a passionate act but as a contractual question-and-answer session. The only way to prove one followed such a policy is to videotape the encounter, but now, California colleges are making such recordings a violation of school policy.

...In a Q&A with the University of California's daily newspaper, the Daily Bruin, Title IX officer Kathleen Salvaty said students could be expelled for recording sexual encounters without consent.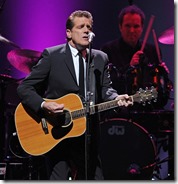 Good Question: Why is George Stephanopoulos Even Allowed to Cover the Clinton Campaign?
Answer here: Because they're all Democratic operatives with bylines
Was Cruz's "New York Values" Statement Actually a "Smear"?
Time magazine and pretty much every NYC-based journalist say yes but Patterico points out via Alex Griswold that the Andrew Cuomo, the Governor of New York, himself made it clear that conservatives are unwelcome in the state and that their values are very different than that of New Yorkers:
Are they these extreme conservatives who are right-to-life, pro-assault-weapon, anti-gay? Is that who they are? Because if that's who they are and if they are the extreme conservatives, they have no place in the state of New York, because that's not who New Yorkers are.
More or less exactly thirty years ago, I saw Alan Rickman in the role that made his name - as the Vicomte de Valmont in Christopher Hampton's Les Liaisons Dangereuses at the Royal Shakespeare Company's Barbican Pit. Theatre critics are overly fond of the phrase "a commanding performance", but I've rarely seen anything as commanding as Rickman on stage that night: he was a very palpable flesh-and-blood embodiment of the title. From about 20 minutes after his entrance, you could feel all around you that approximately 90 per cent of the female audience and 30 per cent of the male were just longing to be taken by him. I made the mistake of inviting a young lady along, and at supper afterwards she did her best not to make it too obvious that she found me wanting by comparison.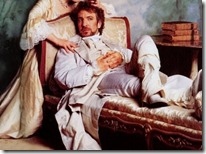 CBS: It is France's fault Muslims rape and kill in France
This combination of poverty and the desire for acceptance is a classic recipe for gang recruitment. We've seen it in Los Angeles. We've seen it in Chicago. Now, we are seeing it in France. Societal conditions breed a population of young men, disenchanted with the establishment and desperately seeking a community of protection and inclusion; then in comes a "brotherhood" of one form or another, purporting to provide exactly those things. It is as 18-year-old Julien Villain, a French-Moroccan resident of Saint Denis explains, "If you look at the situation of people, you understand the path."
Those who have no religion are bound to be forever mystified by the motives of those who are religiously driven. And here I'll quote Bernard Lewis from 1976 again:
To the modern Western mind, it is not conceivable that men would fight and die in such numbers over mere differences of religion; there have to be some other "genuine" reasons underneath the religious veil..This is reflected in the present inability, political, journalistic, and scholarly alike, to recognize the importance of the factor of religion in the current affairs of the Muslim world and in the consequent recourse to the language of left-wing and right-wing, progressive and conservative, and the rest of the Western terminology...
Rumors are that Saudi King Salman, 80, will abdicate in favor of his 30 year old son, Prince Mohammed bin Salman, breaking the traditional Saudi order of succession.
If true, this would be a revolution: the Saudi succession has gone from one septuagenarian to the next in a ritualized pattern for decades. Putting a young and vigorous 30-year-old in the top spot would change the way the country works and, potentially, would make the new king one of the most powerful people in the world.

U.S. officials are clearly hoping this doesn't happen. The defense minister has been associated with the recent line of Saudi policy that has been shaking up the region, and it is predicated on a belief that, with the U.S. no longer a reliable ally, the Saudis have to take their destiny in their own hands.
Fraud Detected In Science Research That Suggested GMO Crops Were Harmful
Naked Woman Goes on Rampage at Georgia Waffle House
Yes there are pics - no you do not want to see them.
News You Can Use: How You Can Actually Win Money While Partying At Vegas Strip Clubs
I'm a bit old school in that I like to enjoy my vices individually on their own but I have no problem with this since as I recall from my wayward youth there's a decent amount of down-time in strip clubs between acts.
For a brief, shimmering moment, Jimmy T. was living a certain kind of Sin City dream: hanging out with beautiful strippers, drinking beer and winning $4,000 in cash.

Jimmy, a bartender who asked us not to reveal his last name, recently pulled off this triumphant trifecta at a strip club called OG's on a bleak stretch of Las Vegas Boulevard. Formerly known as Olympic Gardens, OG's is one of just four jiggle joints in Vegas where you can risk money on lap dances and video poker in the same room - or even at the same time.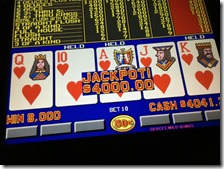 The Yahoo AoSHQ group - it's got electrolytes and shit.
And my twitter thang.
Tonight's post brought to you by true vice stories: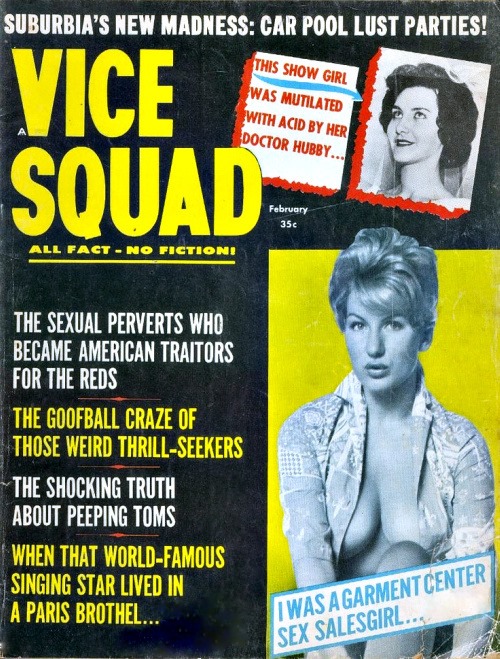 Notice: Posted with permission of AceCorp LLC. Current ewok status: lethargic but still deadly if provoked.
Posted by: Maetenloch at
11:06 PM