Overnight Open Thread (1-10-2016) – Surprise Early Edition
Because I'm out and about and may not have internet access later. Plus some of you probably deserve a pleasant surprise for once.
Where does the asymmetry come from? American conservatives tend to be Christians or Jews. Liberals tend to be atheists or agnostics. (Yes, there are exceptions-to nearly everything, always; but that doesn't mean we can stop thinking.) Almost all human beings need religion, as subway-riders need overhead grab bars. The religious impulse strikes conservatives and liberals alike. But conservatives usually practice the religion of their parents and ancestors; liberals have mostly shed their Judaism or Christianity, and politics fills the obvious spiritual gap. You might make football, rock music, or hard science your chosen faith. Some people do. But politics, with its underlying principles and striking public ceremonies, is the obvious religion substitute.

Hence the gross asymmetry of modern politics. For most conservatives, politics is just politics. For most liberals, politics is their faith, in default of any other; it is the basis of their moral life.

-- David Galernter in What Explains the Vicious Left?
Is This The Smoking Gun of Hillary Deliberately Ordering the Mishandling of Classified Documents?
Second question: Does the law even apply to the Clintons?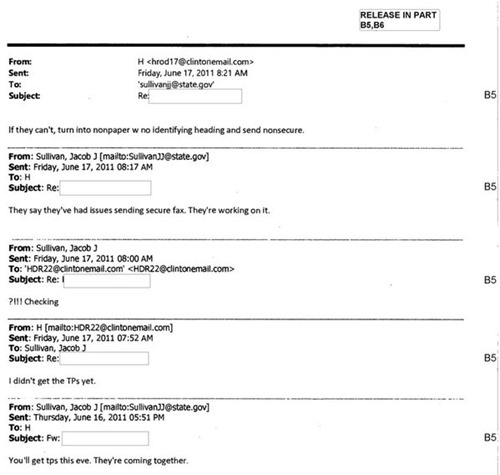 Jonah Goldberg: The Bill Comes Due
I haven't written to you since last year. Saying, "A lot has happened since then," seems like the kind of understatement on par with saying "It's been a bad day," after Cthullu has turned the oceans to blood, commanded that wolverines eat the bait-and-tackle of every man with a vowel in his name, and given the rest hooks for hands and an aggressive case of the crabs.

A modest recap: Roving bands of rape gangs are fanning out across Europe. In Cologne, one of the latter day Vandals taunted the police: "I'm Syrian. I must be handled in a friendly manner. Mrs. Merkel invited me." Knuckleheads in Oregon have seized a wildlife refuge, and some on the left are angry they haven't been summarily slaughtered. The international economy is turning into one long "Buy Gold" commercial. President Obama has responded to a renewed terror threat and chaos in the Middle East by redoubling his efforts to keep the boom in gun sales and NRA donations going for the rest of his presidency. Donald Trump is concern-trolling Ted Cruz because other people might make a big deal about him being a Canadian sleeper agent. Joe Biden says, "My tank tops have a gun show loophole on each side." He also said that he regrets not running for president, "every day." A self-described "Peace Troubadour" who appears to have been raised on an ancient moron burial ground has announced he will hold a "peace concert" in ISIS-controlled Syria. Rumors that his face will grace the new Darwin Award Medal remain unconfirmed. If he goes ahead with the concert, I have a long list of performers he should bring with him. ISIS released a video showing them working with surface-to-air missiles, while we've apparently been shipping missiles to Cuba. Iran expedited its ballistic-missile program and the Obama administration threatened to do something about it but then chickened out. Saudi Arabia and Iran seem minutes away from open war with one another and President Obama's advisers reportedly think his Iran deal is a source of "stability" in the Middle East (one has to wonder if they, too, were raised on ancient moron burial ground). Any day now we will give them somewhere north of $100 billion dollars - you know, for even more stability! North Korea detonated an atomic bomb (which may have been a hydrogen bomb). And Time magazine has already declared Donald Trump the winner.

But there is good news.

For those of us who toiled in the fetid swamplands of the 1990s culture wars, particularly the boggy tributaries fed by Bill Clinton's pants, this is a moment of effulgent wonder.
British Considering "De-Gendering" Their Passports To Avoid Offending the Transgendered
The problem for the sane world though is that a passport is a form of identification and a person's physical gender is a fundamental parameter useful in verifying that the person holding the passport is in fact the person described in the document.
Sweden: 77% of rapes committed by 2% Muslim male population
Meet the real rape culture. (thanks to JTT)
Cologne Media, Police, Politicians Conspired to Cover Up the New Years Eve Mass Sexual Assault by Immigrants
Many Germans, including some of the victims themselves, have accused authorities of a conspiracy of silence over the assaults to stop criticism of the mass immigration policy pursued by Mrs Merkel and her politically-correct supporters. The mainstream media in Germany has, until recently, toed the Government line; a top public broadcaster, ZDF, recently refused to run a segment about a rape case on its prime-time 'crime-watch' show because the 'dark-skinned' suspect was a migrant.

The programme's editor defended her decision, saying: 'We don't want to inflame the situation and spread a bad mood. The migrants don't deserve it.'
This is ultimately a failure of the democratic system. And history has shown that this to be a very dangerous condition in Germany.
Longest Armed Standoff In U.S. History Ends...Due To Apathy
John Joe Gray, from Trinidad, near Dallas, Texas, was arrested in 1999 for biting a police officer after the cop found he was carrying high-powered rifles without a license during a traffic stop.

Gray paid his bond and has since refused to go to court, hiding inside his 47-acre property for 16 years and vowing to shoot any officer of the law who tries to make him leave.

The bearded grandfather, his children, grandchildren and friends have armed themselves with pistols and rifles and patrolled their grounds ever since - with the county sheriff choosing not to send cops in for fear of them being killed.
Prosecutors dropped the charges two years ago but never notified the sheriff's office.
Henderson County Sheriff Ray Nutt was informed that the charges had been dropped last we, and responded with shrug, "Joe Gray has been in prison out there himself, in my opinion, for 14 years."

Gray's self-imposed exile on land without electricity or running water was far longer than the prison sentence he would have faced for the 3rd degree felony.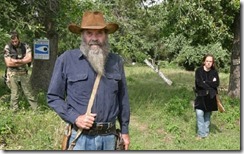 Neanderthal Genes Gave Modern Humans a Strong Immune System, Allergies
How to Make Gunpowder From Beer and a Few Local Items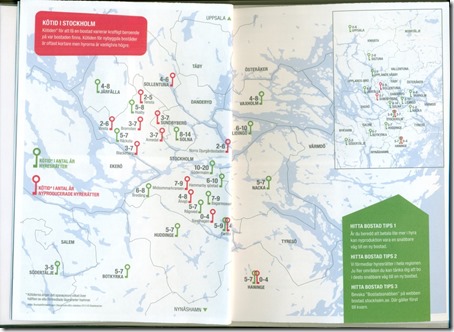 The image above is a scan of a booklet sent to a rental applicant by Stockholm City Council's rental housing service. See those numbers on the map? That's the waiting time for an apartment in years. Yes, years. Look at the inner city - people are waiting for 10-20 years to get a rental apartment, and around 7-8 years in my suburbs. (Red keys = new apartments, green keys = existing apartments).

Stockholm City Council now has an official housing queue, where 1 day waiting = 1 point. To get an apartment you need both money for the rent and enough points to be the first in line. Recently an apartment in inner Stockholm became available. In just 5 days, 2000 people had applied for the apartment. The person who got the apartment had been waiting in the official housing queue since 1989!
You had ads for Fotomat booths, metric system PSAs, and even trailers for softcore porn.
115 Current Ways to Scream 'Status'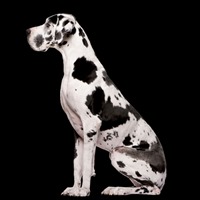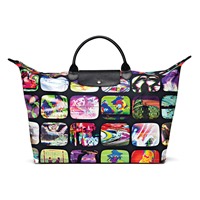 The Playboy Mansion is For Sale
The catch is that the buyer can't take possession until Hugh Hefner dies.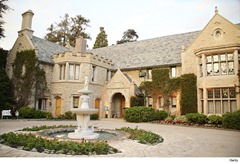 Weekly Commenter Standings
Top 10 commenters:
1 [519 comments] 'J.J. Sefton' [72.89 posts/day]
2 [404 comments] 'ThunderB'
3 [358 comments] 'Ricardo Kill'
4 [358 comments] 'Sven S Blade a.k.a. El Assassin@sven10077'
5 [344 comments] 'FenelonSpoke'
6 [327 comments] 'Anna Puma'
7 [314 comments] 'Lizzy'
8 [302 comments] 'Misanthropic Humanitarian'
9 [300 comments] 'Vic-we have no party'
10 [287 comments] 'Bertram Cabot Jr.'
Top 10 sockpuppeteers:
1 [119 names] 'SCOAMF' [16.71 unique names/day]
2 [70 names] 'The Political Hat'
3 [55 names] 'Bertram Cabot Jr.'
4 [47 names] 'Cicero (@cicero)'
5 [46 names] 'Edward M Kennedy'
6 [43 names] 'Emily the deerkin'
7 [40 names] 'andycanuck'
8 [38 names] 'Prince Ludwig the #Problematic'
9 [36 names] 'wth'
10 [32 names] 'BB Wolf'
The group. Banned on 12 universities.
Where it's at - the Twitter
Tonight's post brought to you by so many misunderstandings: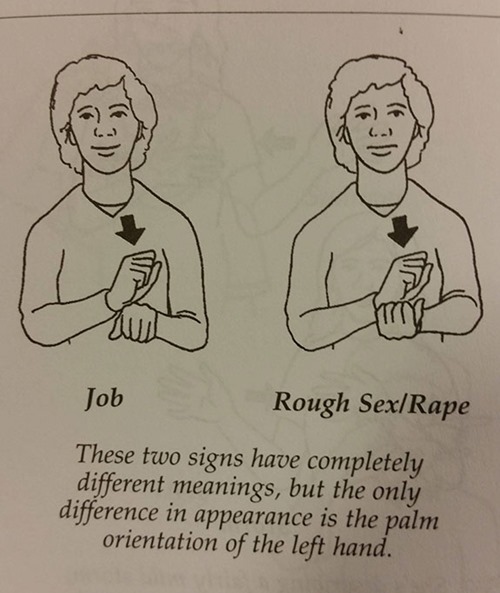 Notice: Posted by permission of AceCorp LLC. Please e-mail overnight open thread tips and decent nude selfies to maetenloch at gmail. Otherwise send them to Ace.
Posted by: Maetenloch at
08:19 PM