Sunday Morning Book Thread 10-25-2015: The Way We Live Now [OregonMuse]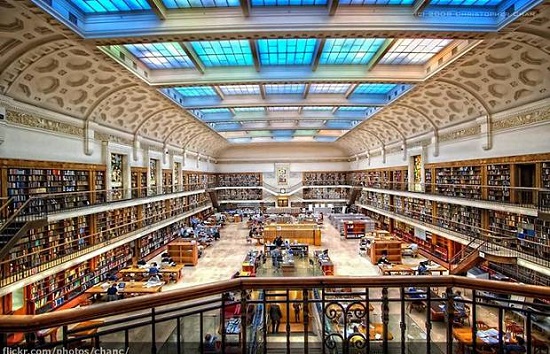 Mitchell Library - Sydney, Australia
From
last week
:
239 I come for a picture of a beautiful library. I get a photo of a bunch of scuzzy, smelly radicals.

Posted by: Tuna at October 18, 2015 01:31 PM (JSovD)
Yeah, last week's pic was mighty unpleasant to look at, now that I think of it. Only one missing from that Royal Flush of Ugly was Keith Richards. So I hope today's photo is more aesthetically pleasing. Good morning to all of you morons and moronettes and bartenders everywhere and all the ships at sea. Welcome to AoSHQ's stately, prestigious, internationally acclaimed and high-class Sunday Morning Book Thread. The Sunday Morning Book Thread is the only AoSHQ thread that is so hoity-toity, pants are required. Or kilts. Also, assless chaps don't count. Serious you guys. Kilts are OK, though. But not tutus. Unless you're a girl.
One of the beauties of studying literature is that it allows a voice from another time, another place, to challenge the given assumptions of our own. And one of the dangers of the postmodern university is that it inverts that process, keeping us in a comfortable bubble of our own received opinions, while standing in judgment over--and therefore unable to appreciate the brilliance of--great works of literature of the past.

Posted by: Smallish Bees at September 20, 2015 11:41 AM (yjhOG)
The Irresolvable Divide
A couple three weeks ago, I discussed Dick Cheney's new book,
Exceptional: Why the World Needs a Powerful America
and was thoroughly unimpressed by his analysis wherein he pretty much blames Obama for greatly diminishing of America's role as the pre-eminent country in the world. As if everything was just fine until he showed up. But what about Jimmy Carter? Don't forget that feckless little rodent. Jimmy Carter was making a career out of sucking up to America's enemies and pissing off our allies long before Obama's political career was a twinkle in Billy Ayers' eye. So it didn't start with him, So how did we get here? Why do we live now the way we live now? Earlier this week when Rush brought up this topic
on his Monday show
:
RUSH: There's a great book out there. The guy is at the Manhattan Institute. His name is James Piereson. His book is entitled Shattered Consensus. And there's a chapter -- actually a couple chapters -- on the Kennedy assassination. The theme of the book is the partisan divide in this country is greater than ever and may not be solvable, and thus there may have to be a revolution for there to be unity in the country. And his effort is to explain the divide and why it exists, why the hyperpartisanship. And the Kennedy situation and the aftermath is a fundamental aspect or part of his theory, and it is the most amazing thing.
Shattered Consensus
by James Piereson argues that the present mess has been building up for a long, long time:
1. The Jeffersonian Revolution of 1800 that overthrew the Federalist idea that the USA should be governed as a very indirect "democracy" elected by the 5% of property owners. As president, Thomas Jefferson and the acolytes he brought with him to the national Congress and state legislatures, expanded democracy by mandating that every adult white male, including those without property, should vote.

2. The Civil War. The outcome of that war yanked us away from the notion that the USA was a Union of States. The victorious North amended the Constitution to reflect its idea that the USA is a Union of Individuals who elect a national government that is supreme over the states in guaranteeing civil rights for all.

3. The Great Depression of the 1930's. FDR's New Deal established the national government as the arbiter of economic growth by expanding its scope in regulating labor and business relations and managing a social welfare state.
Is there any going back, is there any decent future without first us being visited by the SMOD and The Burning Times? I don't know, but I take heart in this: I remember the days when the USSR stood astride the earth like a colossus, and I remember thinking that there was just no way that it was going to ever be defeated, no way it would ever give up its plans of imposing international communism on every country on the globe without a nuclear conflagration. I thought the USSR was therefore here to stay, because nobody wanted to go that route. The future was pretty grim. And then one day in 1989, poof, it was gone. Just like that. Of course it wasn't "just like that", the USSR was unsustainable and had been heading for a collapse for a long time, but nobody saw it coming, and that's my point: Right now, I can't see the progressives giving up without a fight, nor do I see how their poison can once and for all be expunged, but the events of 1989-1991 showed me how limited my vision is. So my hope is that once again, my vision will turn out to be inadequate. Yeah, it ain't much, but it's all I got.
More Old Horreur
From this list of
Great Moments in Gothic Fiction: A History in 13 Books
, which lists a number of pre-Lovecraft, pre-Poe horror novels, here are some items that didn't get mentioned last week:
The Monk
, by Matthew Lewis, described as
the epitome of the early "horror" genre, which was considered more masculine. It's an incredible read even today, with more rape, murder, Satan worship, and women locked in dungeons than you can imagine. And there are plenty of moldering bodies and grisly scenes.
Kindle edition is FREE. And then there's
The Mysteries of Udolpho
by Ann Radcliffe, which, like her other books,
The Italian
and
The Romance of the Forest
, featured
innocent young women caught up in intrigue plots involving forced marriages, absconded inheritances, and imprisonment in exotic castles with suspicious noises and mysterious goings-on. There is plenty of innuendo in her novels, and even some violence, but it is mostly the element of the unknown which makes them so scary.
There's also the vampire novel
Carmilla
by J.S. Le Fanu, first published in 1872:
Around the same time that manmade monsters entered the canon, vampires crawled out of ancient myths and legend and into novels. They've never left since. The first vampire, the titular subject of J.S. Le Fanu's Carmilla, was a proto-lesbian bloodsucker, a predecessor of the sexy vampires who litter literature today.
I remember seeing the Proto-Lesbian Bloodsuckers open for Alice In Chains at the Rose Garden in 1993.
The Original King James
This appears to be quite a find:
An American scholar has found what he says is the earliest known draft of the King James Bible, hidden in a 400-year-old notebook in a British library.
That must have been some notebook. Actually, it wasn't the entire Bible, just a small part:
The notebook had been cataloged in the 1980s as "verse by verse biblical commentary" with "Greek word studies, and some Hebrew notes." Inside, Professor Miller found 70 pages in Samuel Ward's handwriting.
Ward was one of the translators commissioned to work on the project in 1604 by King James, specializing in the Apocrypha. The Times (of London) Literary Suppliment has
a more detailed discussion
. Ward's handwritten pages
...represent not just the earliest draft of the KJB now known to survive, but one utterly unlike any previously found. Ward's draft alone bears all the signs of having been a first draft, just as it alone can be definitively said to be in the hand of one of the King James translators themselves. It also stands as the only draft now known to survive of any part of the Apocrypha in the KJB, and the only draft yet to be discovered in Cambridge, one of the three initial centres of the Bible's composition. The true value of Ward's draft, though, lies less in the sheer fact of its uniqueness, and more in what the draft, in its uniqueness, helps to reveal about one of the seventeenth century's most extraordinary cultural achievements.
Moron Recommendations
A long moron lurker recommends a novel written by an author buddy,
Calx
, by Richard Largaux, that asks the question
Is Western culture the result of random good fortune, or is it an outcome of design by otherworldly super-sentience? Philosopher John Walker roams America delivering a narrative that suggests the latter, and a controversial message evolves to a dangerous manifesto as both supporters and detractors are motivated to action by their misinterpretations, driving the nation to its second civil war.
Which, interestingly enough, fits right in with the theme of today's book thread. How about that? Anyway, it's available for free on kindle unlimited, $2.99 if not. Largaux's earlier novel,
Counting Trees
, also looks like it might be interesting:
A conflict between a reclusive shipping magnate and a savage Russian oligarch over restitution for a stolen freighter attracts and consumes a host of disparate characters who are products of violent evolutions in conquered Hungary in the 1950s, dissolving Rhodesia in the 1970s, war-ravaged Afghanistan in the 1980s, lawless Russia in the 1990s, and the brutal Caribbean trade routes of the 2000s.
Sounds Clancy-ish, and I mean that in a good way.
___________
Moron commented 'Breaker Morant's Least Favorite Prisoner' e-mailed in a couple of recommendations. The first is
The Last Resort: A Memoir of Zimbabwe
by Douglas Rogers, about which he says is "the best damn book I've read that I can't get anybody else to read". Here is how BMLFP describes the book:
This is a story about the author's parents, who live in Zimbabwe. Right before the country collapsed into (government created) chaos, the author's parents bought a small resort in the hills of eastern Zimbabwe. The Last Resort tells their story about what they had to do and how they had to adapt in order to survive in a country descending into chaos. It's an entertaining and frequently amusing read. It also recently made a list of 10 best books about Zimbabwe (ignore the fact that the list is from the Guardian and focus on the fact that the book made the list...)
Well, if those commie retreads at the Guardian liked it, maybe that speaks well for the book's cross-cultural appeal. He also likes the 'Red Gambit' series of alt-history books, wherein WWIII breaks out in 1945, and many of the reviewers praise the author's thorough knowledge of WWII-era military history. The story is told "from the point of view of the soldiers in the frontline, aircraft pilots, submarine and tank commanders and on to the Supreme Commanders on either side of the divide." The first one is
Opening Moves
, and is followed by
Breakthrough
Stalemate
Impasse
Sacrifice
Initiative
With titles like that, you know the author has got to be a chess-player. Also some trigger warnings from BMLFP:
There is no sense of revisionism that you sometimes get with modern historical fiction. On a cautionary note, the author wants to tell a good story, but he doesn't want to romanticize war, so many times the combat scenes are quite graphic and violent.
Books By Morons
Lurking moron Chris has a strange handicap: he has written a book, but finds himself reluctant to pursue any serious advertising for it, although he does want you to read it. He has it up on Smashwords for free and it's called
The Talent Diary
. Let me help him out with a bit of advertising:
Sixth grader Samantha Branson is a normal, everyday girl, playing with her friends, and having a great time building the "clubhouse" in the bamboo covering her backyard. And her twelfth birthday is almost here. She is planning a fantastic party with her friends.

But her grandfather is also coming, with a gift she may not want but will not be able to refuse. Changes come fast for Samantha as she discovers a family secret even her parents know nothing about.
As I said, it's available for FREE, so you've got nothing to lose
___________
So that's all for this week. As always, book thread tips, suggestions, bribes, rumors, threats, and insults may be sent to OregonMuse, Proprietor, AoSHQ Book Thread, at the book thread e-mail address: aoshqbookthread, followed by the 'at' sign, and then 'G' mail, and then dot cee oh emm. What have you all been reading this week? Hopefully something good, because, as you all know, life is too short to be reading lousy books.