Sunday Morning Book Thread 10-18-2015: The Beat Goes On [OregonMuse]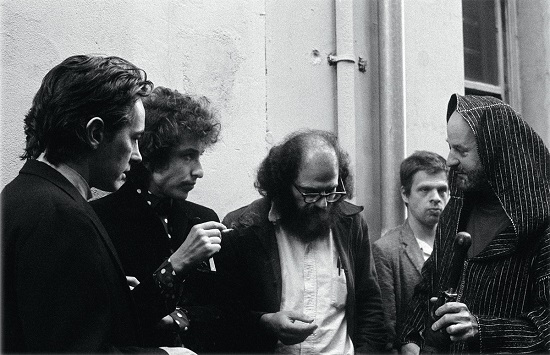 "Look, I'll Explain It Again: This 'Free Speech' Thing We're Always On About, It's Only For Our Side, Get It?"
Alternate caption
: "Well Guys, This Society Has Given Us Success, Respect, Admiration, and Comfortable Lives. Let's Destroy It!" (thanks to
goatexchange
) Good morning to all of you morons and moronettes and bartenders everywhere and all the ships at sea. Welcome to AoSHQ's stately, prestigious, internationally acclaimed and high-class Sunday Morning Book Thread. The Sunday Morning Book Thread is the only AoSHQ thread that is so hoity-toity, pants are required. Or kilts. Also, assless chaps don't count. Serious you guys. Kilts are OK, though. But not tutus. Unless you're a girl. For those of you morons who are interested in the identities of those pictured in the rogues' gallery above (stolen from
http://www.mrporter.com/journal/the-tribute/that-beatnik-look/295
), we have
Michael McClure
on the far left side, and standing next to him is
Bob Dylan
, then
Allen Ginsberg
, and the dude in the ersatz hoodie is
Lawrence Ferlinghetti
. I have no idea who that disgruntled-looking young man is in the background. This photo from 1965 was taken in the alley behind the
City Lights Bookstore
in San Francisco.
Howling Mad
Hey, remember when the left used to
howl
with outrage about censorship and oppression and mindless conformity? Yes, those were the good old days, the days when great gouts of flaming anguish and despair would burst forth like coronal mass ejections from the overfed, over-sexed, and over-stuffed hearts of beatniks and hippies, because nothing, and I mean absolutely NOTHING, was worse than having to live in the most prosperous, free, and secure country in the history of the human race, which was America in the 1950s. Not any more, though. No longer does the left see the best minds of their generation destroyed by madness, starving hysterical naked, dragging themselves through the negro streets at dawn looking for an angry fix. Nope, none of that. And no more angelheaded hipsters burning for the ancient heavenly connection to the starry dynamo in the machinery of night, not even for any of those who poverty and tatters and hollow-eyed and high sat up smoking in the supernatural darkness of cold-water flats floating across the tops of cities contemplating jazz. No, that's all gone. Nowadays, they're busy shouting down conservative speakers on campus, organizing high-tech lynchings of Supreme Court nominees, bakery store owners and pizza shops,
and getting the fire chief of Atlanta fired because he wrote a book they didn't like
:
Fire Chief Kelvin Cochran — the subject of recent controversy over remarks made in a self-published religious book — has been terminated from the Atlanta Fire Rescue Department, Mayor Kasim Reed announced today.
Oh, do tell:
Among what city leaders said were troubling remarks in the fire chief's book was a description of homosexuality as a "perversion" akin to bestiality and pederasty. Reed said in November that such writings were inconsistent with the city's employment policies and opened an investigation into potential discrimination within the fire department. The findings of that investigation have not yet been released.
Because a discouraging word should never be heard (FORBIDDEN BY LAW!). Maybe Cochran could've saved his job by claiming the book was meant to be 'ironic'. I almost wish he had. OK, so the book Cochran, a serious Christian, wrote is
Who Told You That You Were Naked?
, which is an exposition on what the Bible teaches about guilt, shame, forgiveness, and redemption:
This profound question, "Who told you that you were naked?, meant much more than, "Who told you that you do not have on clothes?" From God's perspective nakedness meant so much more. It meant condemnation and deprivation to his most precious creation-mankind. Though He reconciled Adam's condition by clothing him in coats of lambs' skin, Adam never got over what he had done. Condemnation has dominated ever since. Now we have a more permanent solution. We have been clothed with Christ!
It's not exactly a study of Plotinus Poe St. John of the Cross telepathy and bop kabbalah because the cosmos instinctively vibrated at their feet in Kansas, and also, Cochran isn't plowing any new ground here. That God dealt with the effects of sin by killing an animal so that Adam could be 'covered' and how that is a foreshadow of Christ is well known theological territory. The book isn't really about homosexuality as such. But it does not look favorably upon it, so Cochran must be expelled from the academies for crazy & publishing obscene odes on the windows of the skull, vanishing into nowhere Zen New Jersey leaving a trail of ambiguous picture postcards of Atlantic City Hall. So, all the dull greyness, the oppression, all the mindless conformity that Allen Ginsberg used to howl about, is now not only being enthusiastically embraced, but also rigidly enforced, by the left. My question is, will the architects and enablers of the new oppression ever be called to account for their cultural tyranny by a new Angry Young Poet? I would like to think so. Even though things are falling apart, and the center isn't holding, I'm rather optimistic about this. It may be that this new AYP has already been born, and is just waiting in the wings until the time is right for his emergence onto the stage to confront the progressive Spiritus Mundi. And the left, which has been marinating in mindless conformity for years, will never see it coming. Groovy, man.
Ye Olde Horreur
Interesting article
about the origins of the "horror story" genre:
However, the true "flowering" of stories of horror (picture the emergence of creeping, pustulant vines rather than flowers) began in the late 18th century. Horace Walpole's Castle of Otranto (1764) invented out of whole cloth the genre that became known as the Gothic horror or Gothic romance. Walpole sought to combine medieval ideas about the supernatural with the realism of the modern novel. Above all, he sought to create an atmosphere of terror, a world in which anything could happen and often did: A giant helmet falls from the heavens, crushing Conrad on his wedding day; immense limbs appear within the castle itself; mysterious blood flows; and a hodgepodge of other bogeymen wander in and out of the tale.
The Castle of Otranto
is available for free on Kindle, and most likely elsewhere as well.
The Gothic romantic phenomenon was not limited to English-speaking countries. The French roman noir ( "black novels" ) and the German Schauerroman ( literally, "shudder-novels" ) were equally popular.
And don't forget the Americans. Washington Irving got into the act with his now-classic
The Legend of Sleepy Hollow
and
Rip Van Winkle
. And Nathaniel Hawthorne was also fascinated by strange stories, with tales such as
Dr. Heidegger's Experiment
, and
Septimius Felton, or The Elixir of Life
, which was published posthumously.
The Vampyre; a Tale
, by John William Polidori, was the first popular novel dealing with the vampire phenomenon. It was published in 1819 and was quite successful, being translated into French, German, Spanish and Swedish and also adapted into not one, but several stage plays. Also check out the delightfully purple prose of
Varney the Vampyre
by James Malcolm Rymer:
"Her bosom heaves, and her limbs tremble, yet she cannot withdraw her eyes from that marble-looking face...With a plunge he seizes her neck in his fang-like teeth—a gush of blood, and a hideous sucking noise follows. The girl has swooned, and the vampire is at his hideous repast!"
Now that's some good, flatulent stuff right there. Read
the whole thing
to see more suggestions for early horror stories.
Moron Recommendations
Moron lurker 'Locomotive Breath' heartily recommends
The Great Christ Comet
by Colin Nicholl (PhD, University of Cambridge) which forcefully and eloquently argues that the Star of Bethlehem was actually a great comet. LB says:
Some very heavy hitters in astronomy and theology are heaping praise upon this scholarly, yet very entertaining read that makes a "compelling case that the Star of Bethlehem could only have been a great comet. Taking a fresh look at the biblical text and drawing on the latest astronomical research, this beautifully illustrated volume will introduce readers for the first time to the Bethlehem Star in all of its glory."
Although the Kindle edition price-tag of $27.99 means that I won't be getting to this one for awhile.
___________
Now that ace has
renewed the AoSHQ book club
with 'Hound of the Baskervilles', I received an email from a lurking moron who says:
For those hobos / moron(ette)s who can't be bothered to actually read words on (e)paper, there are several free, public domain audiobooks of 'Hound of the Baskervilles' on LibriVox. Here's a list that has a bit more info than their default search:

http://aplt1.com/results?sort=title&solo=on&dramatic=on&q=baskervilles&language=EnglishThis email paid for by a FREE app that makes the great stuff from LibriVox easier to navigate and listen to:

https://itunes.apple.com/us/app/aplt1-free-audiobook-player/id1025263484

No Android app yet, but the aplt1.com website works fine there.
Books by Morons
As has been mentioned in the book thread comments last week, the latest (third) installment of the 'Amy Lynn' series by moron commenter 'Oldsailors Poet' has been published. OSP e-mailed earlier to tell me about it:
I think it's the best so far. It's a Spy Thriller/Romance. Manly Romance, not girlie. However, I still don't allow porn in my books...The good guys are still good. The Bad guys are really bad and per usual, a heaping helping of, AMERICA, F*CK YEAH!!! ... This is a more classically written book. I think the cover is spectacular.
But wait, there's more:
Also, to celebrate #3, the foundation book, Amy Lynn, will be free on Kindle Oct 17th and 18th. Those 'rons who have yet to give her a shot may do so for free.
The new on is
Amy Lynn, The Lady Of Castle Dunn (Volume 3)
, and here is the Amazon blurb:
She made a deal with the CIA… They gain access to her extraordinary talents and she gets the chance to protect children…and avenge them. But in the world of high stakes covert operations, things are never so simple. In an Oklahoma mansion… A dying businessman makes a deal with the devil and opens a door to unimaginable evil.
Unfortunately, it's not yet available on Kindle. The Kindle release should have already happened, but it has been unaccountably delayed. Hopefully, soon. In the meantime, here is a link to the first book in the series,
Amy Lynn
, available today for FREE.
___________
Moron commenter 'Long Running Fool' has finished his non-fiction book,
Surviving the Home Inspection: The Essential Seller's Guide
, which
gives every home-seller the tools to reduce the stress involved with selling a home, save money, and sail through the inspection. Written...by a veteran inspector...[t]his book moves beyond the "lipstick-on-a-pig" advice and gives you the knowledge to select the improvements most likely to aid you-and the ones to avoid as they'll cost you more than they make for you.
So, if you're looking to sell your house, this is a book you might want to take a look at. LRF is also the author of the running-themed novels
Finishing Kick
,
Trail of Second Chances
, and also a novel a service dog that changed two lives,
A Walk with Rose
.
___________
Moron author 'V the K' had his website redesigned, and I think it looks pretty good. You can take a look at it
here
. And while you're there, you might want to check out the 11th installment of his 'Worlds Apart' series:
It has been nearly 5 years since the Pathfinder Ship Pegasus left the Eventide system; more than a century since it entered the Orion Quadrant on its quest to find Earth. The worlds it has called upon have been, in turn, abandoned, primitive, and desolate.

At Eventide, the crew of Pegasus detected a signal and decided to follow it. They hope it will lead to an opportunity to reconnect with their homeworlds.

In fact, the signal is calling the ship to its end.
Worlds Apart Book 11: Charlemagne
is available on .ePub, .pdf, and .mobi for $3.99. Also
Kindle
.
___________
So that's all for this week. As always, book thread tips, suggestions, bribes, rumors, threats, and insults may be sent to OregonMuse, Proprietor, AoSHQ Book Thread, at the book thread e-mail address: aoshqbookthread, followed by the 'at' sign, and then 'G' mail, and then dot cee oh emm. What have you all been reading this week? Hopefully something good, because, as you all know, life is too short to be reading lousy books.