Sunday Morning Book Thread - 11-12-2023 ["Perfessor" Squirrel]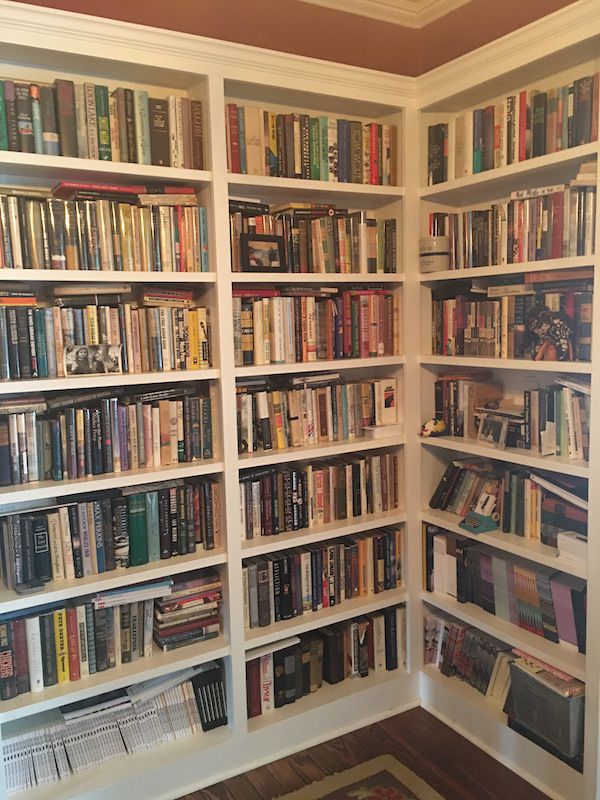 Welcome to the prestigious, internationally acclaimed, stately, and illustrious Sunday Morning Book Thread! The place where all readers are welcome, regardless of whatever
guilty pleasure
we feel like reading. Here is where we can discuss, argue, bicker, quibble, consider, debate, confabulate, converse, and jaw about our latest fancy in reading material. As always, pants are required, unless you are wearing
these pants
... So relax, find yourself a warm kitty (or warm puppy--I won't judge) to curl up in your lap, and dive into a new book. What are YOU reading this fine morning?
PIC NOTE
I went searching for "personal library" and found the pic above, which was linked to this article: For the Love of Books:
8 Perspectives on Building a Personal Library.
I feel a personal library is very much an expression of one's views and personality. I love examining the books in personal libraries to see if I can get a sense of the owner's perspectives on life, the universe, and everything.
DRAGON EX MACHINA
Earlier this week, I was reading a trashy Forgotten Realms novel (
Elfsong
by Elaine Cunningham). It's entertaining fantasy fluff to read while I waited for Jim Butcher's newest book (
Cinder Spires 2 - The Olympian Affair
) to land on my doorstop. SPOILER: The conclusion of Cunningham's novel involves a literal "dragon ex machina" to swoop in and save the day for the heroes. It caught me by surprise so I had to read that passage a couple of times to be sure that I understood what was happening. Yep. The heroes are gearing up to battle the villain in a climactic showdown of magic, mayhem, and music. The dragon that was an important mid-book challenge then swoops in out of nowhere, snatches up the villain in its claws and carries her off to be devoured. After that, all the heroes have to do is clean up the magical mess she left behind, with relatively little difficulty. Definitely an anticlimactic ending to an otherwise entertaining story. Then the main character is rewarded for his efforts with a wildly disproportionate reward, gaining an enormous amount of power and prestige that seems a bit unwarranted. Anyway, the "deus ex machina" (or "god from the machine") is a very old literary trope going all the way back to Greek and Roman theater, when an actor portraying one of the gods would literally be lowered onto the stage at the end of the play to resolve all of the conflicts with a wave of his hand. Nowadays, I think it's often seen as a fairly weak or contrived way for an author to conclude a book, as if the author is not quite sure how to end it, so comes up with a solution from out of nowhere. This can lead to a rather unsatisfying conclusion for the reader. We want a cool ending to a story, but it should make sense within the context of the story and should be properly be built up so that we feel satisfied by the ending. A deus ex machina solution can rob us of that. What are some stories that disappointed you due to a deus ex machina? (Or dragon ex machina?)
++++++++++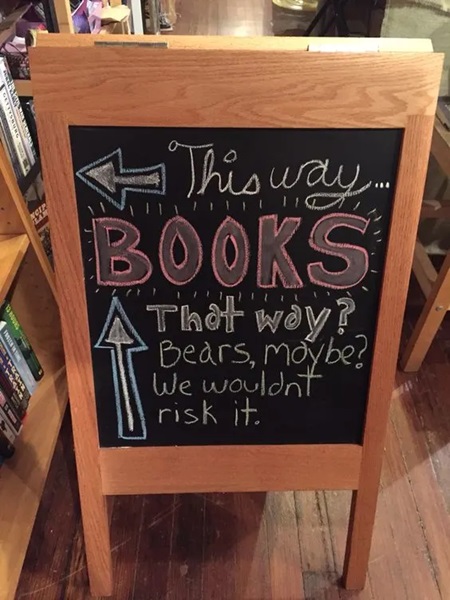 ++++++++++
BOOKS BY MORONS


Hi Perfessor, Just proud father here that asks you to please plug my daughter's new book, Foxfire.
Not a bad read actually. Northern lights, nefarious characters and an ancient evil?
Here's a copy of the cover.
I just downloaded a few of our recommendations. I'.m a voracious reader and a huge military science fiction fan. Thanks
Don In a remote Finnish resort, a group of potential investors gather to enjoy the Arctic beauty and the mesmeric Northern lights. But many of the guests aren't who they appear to be, and everyone is hiding something--from the gaudy Americans to the adventurous German and Australian couple to the quiet Yakuza and his former Geisha wife. Owner Mattais and his skeptical daughter, Aino, have ignored family legends, dismissing the warnings of honoring their ancient forest as silly, old-fashioned traditions. But when the guests start to be picked off one by one, their blood soaked in the snow, the old tales don't seem so far-fetched anymore. A spectre haunts the forest and the survivors must decipher who--or what--is taking revenge.

MORON RECOMMENDATIONS

I am reading a book by Rick Renner entitled, Christmas The Rest of the Story. It is the story about Jesus' actual surroundings when He came to earth. I am amazed at the detail that is available but almost never taught as we rely on a familiar narrative and comfortable stories. I would recommend for the coming season to give us a fresh view of the Greatest Story Ever Told. Posted by: StewBurner at November 05, 2023 10:14 AM (Guh8+)

Comment:
Based on StewBurner's recommendation, I went ahead and ordered myself a copy. Looking forward to reading it this holiday season!
+++++

This week I read a fascinating book, A Gentle Madness: Bibliophiles, Bibliomanes, and the Eternal Passion for Books by Nicolas A. Bashbanes. This was recommended here months ago. The first half of the book is devoted to the ancient libraries and collections with Alexandria being the foremost. There is a section on the history of early printing. The second half deals with collections amassed in the late 1800's through contemporary times. While reading, I was reminded of the awe I felt about forty years ago when I toured the Huntington Library in San Marino, CA. Among the many treasures on display was a Gutenberg Bible, Shakespeare folios, and a manuscript of Chaucer's Canterbury Tales from about 1410. Looking down over all was Gainsborough's Blue Boy. I think any book lover would love this book. Posted by: Zoltan at November 05, 2023 10:15 AM (7EvEN)

Comment:
I don't remember seeing this recommended on the Sunday Morning Book Thread, but I'm happy to include this recommendation now! Although I am unlikely to ever read the books that are carefully archived and catalogued in Europe's great libraries, I do have a sense of awe and wonderment whenever I see pictures of them. Even walking into a large library here in America is, for me, something special, as I can *feel* the weight of all that knowledge, just ripe for the picking. That's one of the reasons why I *love* working in a library building, even if I don't work directly for the library itself (that's just where my office is located).
+++++

This week I read the third book in The Groundskeeper series by Cedar Sanderson. This is a series of three (so far) novellas, maybe 40-50 pages each or so, available on KU if you subscribe. They are pitched to the YA audience but I enjoyed them very much. A young woman takes a job as groundskeeper at a cemetery instead of going to college. As this is an urban fantasy/light horror series, she soon finds many supernatural entities haunting the grounds. Each installment revolves around a mystery which requires investigation. The heroine, Chloe, is assisted by her boss; he is an older man with a mysterious background. (I love the wise mentor trope, so I greatly enjoy their scenes together.) I will note that the stories leave a few background issues unexplained, but this seems to be a running issue and I think it's because the heroine's POV limits what the reader is told. Recommended. Posted by: Dr Alice at November 05, 2023 10:16 AM (oFuPp)

Comment:
Sounds like a fun, engaging series that can keep one entertained for an hour or two (depending on reading speed.) Kind of reminds me of a less serious version of Dean Koontz'
Odd Thomas
(though that series is surprisingly light-hearted in places). Odd Thomas is a short-order cook by day, but solves quirky situations involving the dead at night. In the first book he hangs out with the ghost of Elvis Presley.
+++++

I'm currently reading The Coming of the Horseclans, the first novel in a long series of heroic fantasy adventures in a post-Apocalyptic USA that has been transformed into the time of Alexander the Great's Successors. The central figure is a seemingly immortal man who can telepathically speak to animals, and is searching for anyone else who is like him, leaving legends in his wake. Posted by: exdem13 at November 05, 2023 12:50 PM (W+kMI)

Comment:
When I saw the cover of this book on Amazon, it just screamed out "1980s pulp fantasy." That's not necessarily a bad thing. I enjoy reading trashy fantasy novels the same way some folks like to read trashy mysteries or trashy romance novels. It's just a fun, engaging pastime. More Moron-recommended reading material can be found
HERE
!
(1000+ Moron-recommended books!)
+-----+-----+-----+-----+
WHAT I'VE ACQUIRED THIS PAST WEEK


Christmas The Rest of the Story by Rick Renner -- Beautifully illustrated book with lots of fascinating details about what was happening in and around Israel during Jesus' birth, life, and death. I'm savoring it as I read through it...(thanks to StewBurner for the recommendation!)


The Cinder Spires Book 2 - The Olympian Affair by Jim Butcher -- Captain Grimm is sent on a mission to Spire Olympia to seek allies to wage war against the Spire that nearly destroyed Spire Albion.


WHAT I'VE BEEN READING THIS PAST WEEK:


Proxima by Stephen Baxter - Humanity takes its first steps among the stars by colonizing an earthlike planet around our nearest stellar neighbor, Proxima Centauri (part of the Alpha Centauri trinary solar system).


Forgotten Realms Harpers Book 8 - Elfsong by Elaine Cunningham -- The history of the Realms is being changed by an ancient former Harper seeking vengeance against her fellow bards. Mostly, I just wanted to read something quick and trashy while waiting for other books to show up...


The Cinder Spires Book 2 - The Olympian Affair by Jim Butcher -- Captain Grimm is sent on a mission to Spire Olympia to seek allies to wage war against the Spire that nearly destroyed Spire Albion.


That's about all I have for this week. Thank you for all of your kind words regarding the Sunday Morning Book Thread. This is a very special place. You are very special people (in all the best ways!). The kindness, generosity, and wisdom of the Moron Horde knows no bounds. Let's keep reading! If you have any suggestions for improvement, reading recommendations, or discussion topics that you'd like to see on the Sunday Morning Book Thread, you can send them to
perfessor dot squirrel at-sign gmail dot com
. Your feedback is always appreciated! You can also take a virtual tour of OUR library at
libib.com/u/perfessorsquirrel
. Since I added sections for AoSHQ, I now consider it OUR library, rather than my own personal fiefdom...
PREVIOUS SUNDAY MORNING BOOK THREAD - 11-05-23
(NOTE: Do NOT comment on old threads!)