Food Thread: A True Smorgasbord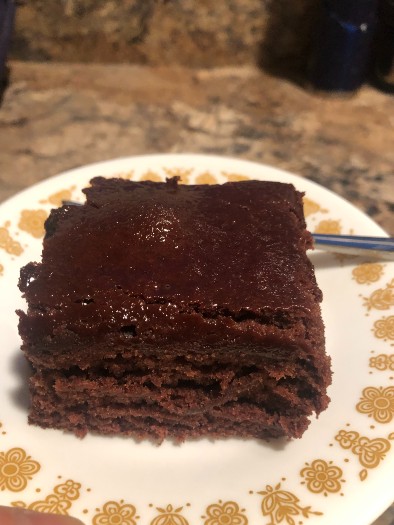 ***
Good afternoon Foodies. The Honorable CBD is on a secret mission. If I tell you anymore I will have to ban you. So let's avoid that shall we.
Today's opening photo is Mamma Misanthrope's "Crazy Cake".
My Mother grew up in the great depression. This cake was from that era. She made it frequently as I was growing up. But, I haven't had it in years. As can happen with families when parents pass on or move into nursing facilities her recipe card box and many of her cook books end up missing. Fast forward to 2023. One of my cousins came to visit Casa Misanthrope this year. In her possession were several recipe card boxes which had been her Mother's. Long story short: As we were going through the boxes I found the recipe for Crazy Cake in my Mother's handwriting. She had written it out and had given it to my aunt. The handwritten recipe concludes with the following sentence: "I use to put caramel or chocolate frosting. Now I buy the cheapest can in the store." That piece of cake in the photo has no frosting. But, if you want to make a delicious frosting for it.
Simple and tasty chocolate ganache FTW.
Now that you saw the cake and have frosting idea I suppose you want to make Crazy Cake. Here goes:
***
Crazy Cake
3 cups flour
2 tsp soda
2 cup sugar
1/3 cup cocoa
1 tsp salt
2 tbsp vinegar
1 tsp vanilla
2/3 cup oil
2 cups of water at
room temperature
Sift first five ingredients together 3 times.
Put into a 9"x 13" pan ungreased
Make three wells in the cake mix
In the first well put the vanilla
In the second well put in the vinegar
In the third well put in the oil.
Pour water over the mixture.
Stir lengthwise with fork until well blended.
Bake at 350 for 30 minutes.
Let cool and add frosting if you so choose. Too be honest, the cake is good enough not to need frosting. This coming from a pie guy.
***
I like my eggs scrambled. You? I'm not sure.
But if you like poached eggs this may be the link for you.
Make Better Poached Eggs by Freezing Them First
Freezing eggs locks in their round shape, and makes it harder to overcook the yolk. The internet says you can and can't freeze whole raw eggs, so naturally I went and tossed a couple eggs in the freezer. Senior food editor Claire Lower was able to make baby fried eggs with frozen eggs; surely there are other secrets the frozen ovum hides. (Besides the miracle of life.) It turns out there is at least one, and it just might change the way you poach eggs here on out. The average poaching method is simple on paper. Simmer water and gently drop an egg into it. Cook it for four or five minutes. When you fish it out, the egg white will be set and the yolk will be runny. But in reality, the egg white flies off, the yolk breaks, the yolk overcooks, or the egg sinks to the bottom and cooks flat. Oh, and that 3-D balloon shape? Well, it's just impossible to get.
***
How Cocktail Programs Have Evolved in American Fine Dining the Last 20 Years
The restaurant Appletini still has its place, but it's far better now "I shook it myself!" exclaimed the server with glee. One of his arms was ceremoniously folded across his back as he set a Manhattan before me at an upscale Midtown New York City restaurant. There was some impressive froth on that drink, and I didn't have the heart to send it back for a stirred do-over. I soon found out it was restaurant bar policy that every cocktail, regardless of recipe (with or without juice), was shaken there — not because of a signature style preference, but because they thought they had to. This Manhattan incident occurred at least 20 years ago, before cocktail culture had caught up to most fine dining beverage programs in mainstream America. During a recent visit to Union Square Cafe, I was presented with a Last Straw. The summer cocktail deftly balances the sweet-tart-aromatic elements of gin, rum, strawberry, rhubarb and basil, served as a clarified punch with a piped savory basil ice cream garnish, ingredients that come straight from the same nearby Greenmarket that also inspires the seasonal kitchen menu (the joke is that the cocktail takes two days to make and as many minutes to drink). Another cocktail on the list is a subtly smoky Margarita twist made with watermelon, mezcal and hot honey that's neither too sweet nor aggressively spicy. These drinks are a far cry from the "name your tini" culture I remember from the early days of the original namesake location (established by Danny Meyer in 1985, USC relocated to Park Avenue South in 2015). As an in-joke, there's now a Dirty Appletini on the menu, served with pickled apple.
***
I normally poach my brats in beer and onions then finish them off on the old charcoal grill. A famous Sconnie guy has a different recipe.
***
I'll be the first to admit I'm not sophisticated. I'll take my cheese cake without olive oil.

Forget Whipped Cream — Where's the Olive Oil? A good idea has become ubiquitous.
I asked the pastry chef Zoë Kanan. "Olive oil can be a calling card for sophistication," she explained, and "sophisticated desserts cost more money." A flourish of EVOO is a quick way to elevate any dessert's ingredient list that — bonus — adds a nice, natural shimmer. It's not as if the idea is new — Lilia has offered vanilla soft serve with olive oil, honey, and fennel pollen for years — but the ubiquity is. And before you even ask, yes, Graza has gotten in on the action with a collaboration at Caffè Panna. The shoppy-shop brands — Brightland, Branche, and all the other status oils with bottles that look like they were designed for Byredo hand soap — are almost certainly one reason for olive oil's current ascent in forward-thinking pastry kitchens.
***
Something from my ONT photo stash, perhaps you'll enjoy.....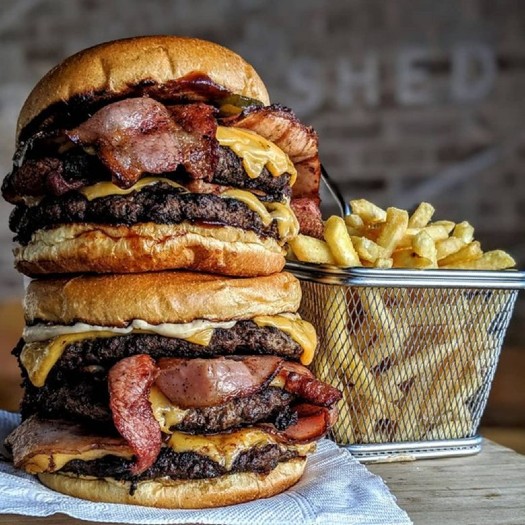 Are Mystery Clicks allowed here in this prestigious thread?
***
CBD wanted me to remind you:
And don't think that the rest of you are off the hook with maple syrup and French Toast: I'm still watching you! And I am watching you perverts who shake Manhattans and keeping a list for the Burning Times.
He's not here. Eat your French Toast as you damn well please. You can email him your tilapia recipes & charcoal briquettes to: cbd dot aoshq at gmail dot com
Posted by: Misanthropic Humanitarian at
04:00 PM