Quick Hits
CNN notched another record low in ratings.
Ratings-challenged CNN hit rock bottom in a key viewership demographic last weekend -- another sign of the difficulties facing incoming boss Mark Thompson. The cable news network logged its worst weekend ratings on record in the all important 25- to 54-year-old demo, according to the latest Nielsen data released Tuesday. CNN -- which launched in 1980 and bills itself as "the most trusted name in news" -- totaled just 55,000 viewers for its weekend slate of shows that include Sunday political programs "State of the Union with Jake Tapper and Dana Bash," and "Fareed Zakaria GPS." The network's Sunday primetime lineup, which featured "The Whole Story with Anderson Cooper" and "Stanley Tucci: Searching for Italy," drew 43,000 in the demo. The ratings are the network's worst since 1991 -- the earliest TV data is readily available. Data prior to 1991 is largely not digitized. CNN's overall viewership wasn't much better. The network logged 345,000 total viewers, trailing Fox News' 683,000 and MSNBC's 424,000. ... "CNN is a ratings embarrassment," an industry insider said. "At least with Thompson they will have a direction."
Joe Manchin has moved to reverse the decision to suspend the Senate's dress code, or the so-called
Roberts Rules of Retards.
West Virginia Democratic Sen. Joe Manchin has floated a proposal to reverse changes to the Senate dress code that permit members of the upper chamber to dress as they please. Senate Majority Leader Chuck Schumer confirmed this week that senators, but not their staffers or reporters, would no longer be subject to dress requirements. The move appeared to accommodate Pennsylvania Democratic Sen. John Fetterman, who prefers to dress in athletic shorts and a hoodie. The change prompted scoffs from lawmakers, especially Republicans, and Manchin now seeks to revert the dress code to its prior regulations. The proposal reportedly would set the dress code to align with the rules that immediately predated Schumer's changes, The Hill reported. It remains unclear how many lawmakers have endorsed the proposal, though Democratic and Republican senators such as John Cornyn, R-Texas, and Dick Durbin, D-Ill., have both expressed support for revising the dress standards.
Dick Durbin?
Apparently yes.
Senate Majority Whip Dick Durbin (D-Ill.), the No. 2 Senate Democrat, blasted the recent dress code easing for Sen. John Fetterman (D-Penn.) -- and suggested the upper chamber "needs to act on this." "I'm concerned about it. The senator in question from Pennsylvania is a personal friend, but I think we need to have standards," Durbin told "The Briefing with Steve Scully" on SiriusXM in an interview airing Friday. Senate Majority Leader Chuck Schumer (D-NY) confirmed the policy change Sunday, while insisting, "I will continue to wear a suit." "I can't understand exactly what he was thinking at that point," a seemingly baffled Durbin replied when asked about Schumer's rationale for the switch. "I want to give him the benefit of the doubt until I speak to him but I think the Senate needs to act on this."
Zelenskyy is returning to Ukraine's capital, Washington, DC, to meet with his subjects.
Ukrainian President Volodymyr Zelensky is returning to Washington less than a year after he last visited, seeking to solidify support for his country as chaos on Capitol Hill threatens both the U.S. economy and America's support for Ukraine. Standing side by side with President Biden will send a signal of America's commitment to Kyiv's fight against Russia's invasion. But his meetings with lawmakers are likely to highlight the growing skepticism over the cost of ongoing U.S. support for Ukraine in Congress, which ultimately has control over additional military and financial assistance. Criticism has been the loudest in the House, where a growing group of far-right Republicans want to cut off funding entirely. But even in the Senate, where Majority Leader Chuck Schumer (D-N.Y.) has said there's "unanimity" in support for Ukraine, there's significant fractures on what that support entails. Sen. Rand Paul (R-Ky.) has earlier put up roadblocks in the Senate on passing funding for Ukraine, delaying for at least a week a $40 billion aid package in May 2022. When the Senate brought the bill to a vote on the floor, Paul led 10 other senators in opposing the measure. Asked by The Hill on Monday night if he would attend the meeting with Zelensky, Paul quipped, "Is that a welfare hearing? What is that for?" "I don't think we should be sending any more money," he said. "I'm just not for sending them any more money." Biden has requested $24 billion in additional funding for Ukraine, to include security, economic and humanitarian assistance for Kyiv, and funds for "countries and vulnerable populations worldwide impacted by Russia's unprovoked and brutal invasion of Ukraine."
US troops might miss paychecks during the shutdown, but the Army of the Republic of DC, the Ukrainian Army,
will keep getting their regular pay from Uncle Samya.
I Meme Therefore I Am 🇺🇸
@ImMeme0 BREAKING: The Pentagon will exempt its Ukraine operations from a potential shutdown if lawmakers can't agree on a deal to fund the government by the end of the month. This means America will be sending tens of billions of your tax dollars to Ukraine regardless.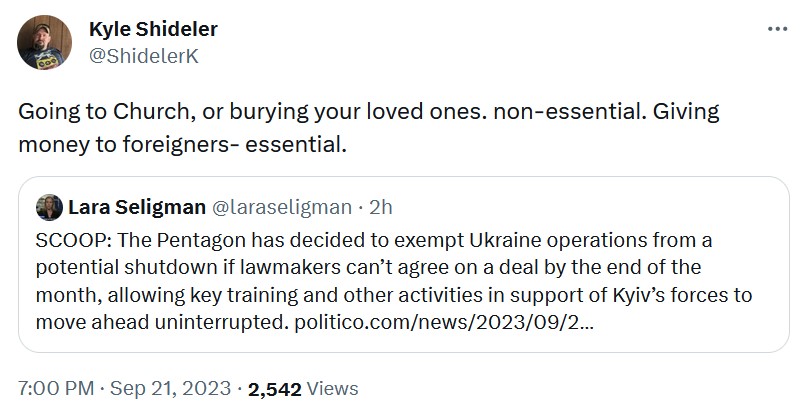 When people tell you who they are, Listen.
Good Lord All Mighty, look at Joe Biden. He can barely stand. Nursing Home Joe had an episode of dementia later:
General Mark Milley, last seen losing a war against Type 2 Diabetes,
says the idea that the military is "woke" is "utter made-up bullsh*t."
Do you notice? All of The Regime curses now. Do you remember in 2015 when they pretended to fall away upon their fainting couches when Trump said the s-bomb or f-bomb? Now they all do it, 24-7.
Haley Britzky
@halbritz Milley on 'woke military': "First of all, it's all bullshit. Second, these accusations are coming from people who don't know what they're talking about. They're doing it for political purposes. Our military wasn't woke 24 months ago, and now it's woke?"

Um, yes, fat liberal pusy bitch:
A transgender extremist says that children too young to speak communicate that they're trans by grabbing
barrettes out of their hair.
This isn't just a little girl exploring her world and learning she can manipulate small objects with her hands; this is a little boy (AFAB) demanding puberty blockers.
'I have a colleague who is transgender, and there is a video of him as a toddler, so he was assigned female at birth, so there is a video of him as a toddler, tearing barrettes out of then-her hair and throwing them on the ground and sobbing. That's a gender message.'
Billboard Chris
@BillboardChris The speaker is Dr. Diane Ehrensaft. She'a a psychologist at UCSF Benioff Children's Hospital. She co-authored the APA's Gender Affirmative Model -- An Interdisciplinary Approach to Supporting Transgender and Gender Expansive Children. Cult members are running medical and psychological institutions.
Mark Milley immediately appointed this pyrsyn Commandant of the Marine Corps. Kim Iverson went looking for prior cases in which J6 "insurrectionists" had been charged with one single count of "being present in a restricted area," as Known Federal Agent Ray Epps was, to see what those "insurrectionists" were charged with. Although hundreds of people have been charged with this, only six have been charged with
only
this, as Epps was. Of those six people: One got 24 hours supervised probation, no jail time. One was subject to house arrest for three months. No jail, but a kind of jail. The other four were sent to jail from between 90 days to eight months. Think Ray Epps will spend any time in jail? Because I sure don't.
Posted by: Disinformation Expert Ace at
06:50 PM